For months, if not for years, the municipal market has been walking the "high wire" of confidence and performance, all while certain high profile issuers (Stockton, Detroit, and Puerto Rico) and external events filled the headlines with decidedly unflattering commentary and predictions. It seems that friends and fans of the muni asset class need to be reminded that their tax-free investment class continued, predominantly, to perform well in 2016. I believe that this, substantially, remains the case.
Positive Muni Performance in the First Half of 2016
As shown below, munis continued to offer attractive returns relative to other assets: The performance of the broad Barclays Municipal Bond Index was a positive 4.33%, and muni high yields were also strong with a 7.98% return, as measured by the Barclays High-Yield Municipal Bond Index. Munis outperformed Treasuries, investment grade corporates, and U.S. equities, all while providing the added benefit of federally tax-free yields. During this period, issuers, perhaps emboldened by the near historically low rate environment, came to market with over $200 billion in new bonds - a higher volume than a year ago.
Munis Offered Attractive Returns in the First Half of 2016
January 1, 2016 - June 30, 2016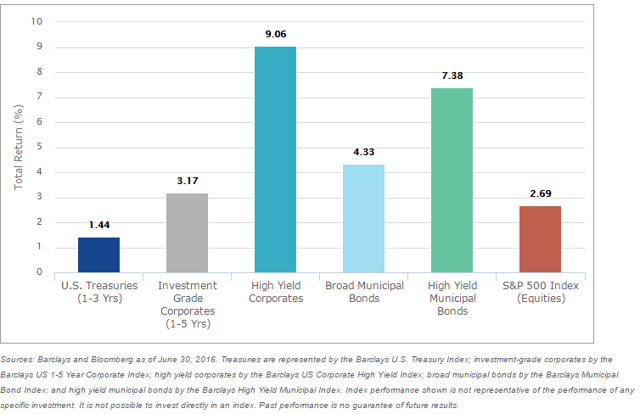 Munis Continue to Thrive Amid Headline Drama
The backdrop drama narrative, which provided a springboard for the market to improve in the first half of 2016, centered on the uneven economic performance of our economy, which resulted in a hesitant Federal Reserve initiating no rate increases. Further, worldwide instability brought on by acts of terrorism and a most surprising Brexit vote in the United Kingdom, led to sharp rallies in U.S. Treasuries, with municipals following this lead.
At the same time, the drama that played out in the hallways of San Juan and Washington, which resulted in the signing of the PROMESA legislation (the Puerto Rico Oversight, Management, and Economic Stability Act) effectively creating a "stay" in politico-economic activities on the island, set the stage for a default of significant proportions of the Commonwealth's 15 issuers of tax-exempt securities.
Yet the muni market continues (as I have suggested in prior posts) to avert its eyes from these recent negative events to generally deliver both reliable income streams and returns that compare favorably to many other asset classes. This might be the most underappreciated feature of municipals that investors seem to rediscover over and over again.
Munis Retain Their Popular Profile
The high wire walk that the muni market seems to have expertly navigated is likely to continue for the foreseeable future, in my opinion. With some sovereign yields in Europe in negative territory and foreign interest in munis stimulating demand, the asset class overall has retained its popular profile and is focused on the other end of the wire without concern for the roiling waters below.
Post Specific Disclosures
The Barclays High Yield Municipal Index covers the high yield portion of the USD-denominated long-term tax-exempt bond market. The index has four main sectors: state and local general obligation bonds, revenue bonds, insured bonds, and pre-refunded bonds. The Barclays Municipal Bond Index is considered representative of the broad market for investment grade, tax-exempt bonds with a maturity of at least one year. The Barclays US 1-5 Year Corporate Index includes US dollar-denominated, investment-grade, fixed-rate, taxable securities issued by industrial, utility, and financial companies, with maturities between 1 and 5 years. The Barclays US Corporate High Yield Index represents the universe of fixed rate, non-investment grade debt. Eurobonds and debt issues from countries designated as emerging markets (e.g., Argentina, Brazil, Venezuela, etc.) are excluded but, Canadian and global bonds (SEC registered) of issuers in non-EMG countries are included. Original issue zeroes, step-up coupon structures, 144-As and pay-in-kind bonds (PIKs, as of October 1, 2009) are also included. The index includes corporate sectors. The corporate sectors are Industrial, Utility, and Finance, encompassing both US and non-US Corporations. The Barclays US Treasury Index represents the US Treasury component of the US Government index. The S&P 500® Index consists of 500 widely held common stocks covering industrial, utility, financial, and transportation sector; as an Index, it is unmanaged and is not a security in which investments can be made.
IMPORTANT MUNI NATION® DISCLOSURE
This content is published in the United States for residents of specified countries. Investors are subject to securities and tax regulations within their applicable jurisdictions that are not addressed on this content. Nothing in this content should be considered a solicitation to buy or an offer to sell shares of any investment in any jurisdiction where the offer or solicitation would be unlawful under the securities laws of such jurisdiction, nor is it intended as investment, tax, financial, or legal advice. Investors should seek such professional advice for their particular situation and jurisdiction.
VanEck does not provide tax, legal or accounting advice. Investors should discuss their individual circumstances with appropriate professionals before making any decisions. This information should not be construed as sales or marketing material or an offer or solicitation for the purchase or sale of any financial instrument, product or service.
Please note this post represents the views of the author and these views may change at any time and from time to time. MUNI NATION is not intended to be a forecast of future events, a guarantee of future results or investment advice. Current market conditions may not continue. Non-VanEck proprietary information contained herein has been obtained from sources believed to be reliable, but not guaranteed. No part of this material may be reproduced in any form, or referred to in any other publication, without express written permission of VanEck. MUNI NATION is a trademark of Van Eck Associates Corporation.
All indices listed are unmanaged indices and do not reflect the payment of transaction costs, advisory fees or expenses that are associated with an investment in a fund. An index's performance is not illustrative of a fund's performance. Indices are not securities in which investments can be made.
Any discussion of specific securities mentioned in the commentary is neither an offer to sell nor a solicitation to buy these securities.
Municipal bonds are subject to risks related to litigation, legislation, political change, conditions in underlying sectors or in local business communities and economies, bankruptcy or other changes in the issuer's financial condition, and/or the discontinuance of taxes supporting the project or assets or the inability to collect revenues for the project or from the assets. Bonds and bond funds will decrease in value as interest rates rise. Additional risks include credit, interest rate, call, reinvestment, tax, market and lease obligation risk. High-yield municipal bonds are subject to greater risk of loss of income and principal than higher-rated securities, and are likely to be more sensitive to adverse economic changes or individual municipal developments than those of higher-rated securities. Municipal bonds may be less liquid than taxable bonds.
The income generated from some types of municipal bonds may be subject to state and local taxes as well as to federal taxes on capital gains and may also be subject to alternative minimum tax.
Diversification does not assure a profit or protect against loss.
Investing involves substantial risk and high volatility, including possible loss of principal. Bonds and bond funds will decrease in value as interest rates rise. An investor should consider the investment objective, risks, charges and expenses of a fund carefully before investing. To obtain a prospectus and summary prospectus, which contain this and other information, call 800.826.2333 or visit vaneck.com/etfs. Please read the prospectus and summary prospectus carefully before investing.