The oil and gas industry has recovered since mid-February when it traded at $33.00 and natural gas traded at $2.00, and most oil and natural gas producers' price per share along with the Energy Select Sector SPDR ETF (NYSEARCA:XLE) has climbed 30% since mid-January. The World Bank believes that crude oil will trade on average at $42.00 per barrel during 2016, (Figure 1) and that the price is expected to continue increasing moderately over the next 4 years. The price of natural gas is expected to recover in 2016 and 2017 as well (Figure 2).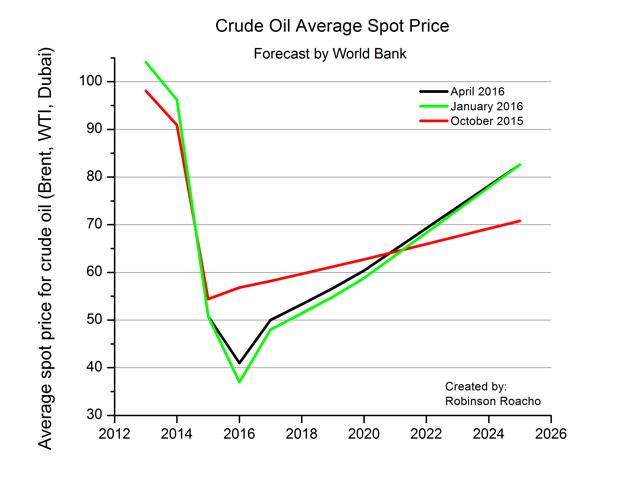 Figure 1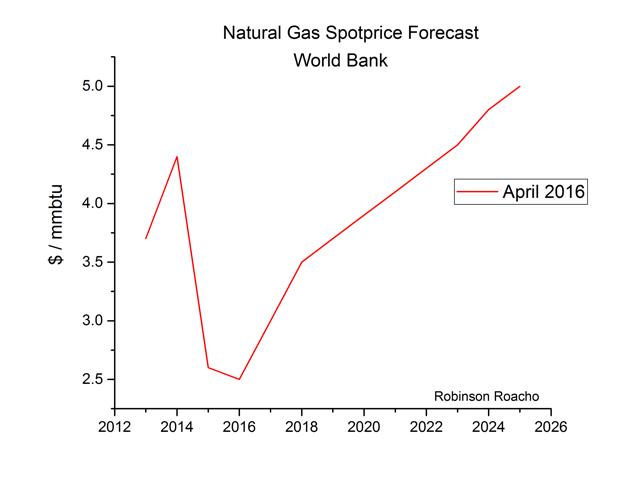 Figure 2
Although I am confident that the price of crude oil and natural gas will rise over the next years, the recovery will be slow because many professionals have concerns about a possible global recession. I fear that many companies will not be able to survive the slow recovery and some will declare bankruptcy. Stone Energy (NYSE:SGY) is one example of a company that has a very high chance of going bankrupt within the next year despite the recent bounce in its price per share.
In the financial aspect, during 1Q 2016, SGY reported declining revenue from $153 million to $80.6 million on a YOY basis. Net loss "narrowed" from $507 million to $187 million due to a smaller write-down of oil and gas properties. This performance is unsustainable. However, these financial metrics should be the least of your concerns if you are considering investing in SGY or if you already have.
Liquidity is important for business, and looking at a company's debt provides hints about the survivability of the corporation. SGY has $283.5 million of convertible notes due on March 1st, 2017. It is unlikely that SGY will be able to repay the notes outstanding because the company cannot return to profitability and the company has only $23.8 million left to borrow (Figure 3).

Figure 3
Moreover, SGY has senior notes due on 2022 paying a whopping 7.5% coupon rate. SGY must pay $57.7 million per year in interest representing 71% of the total sales this quarter. Many companies would repurchase these notes and reissue notes with lower coupon rates. However, SGY does not have any cash available to repurchase these treasury notes, and it will continue to suffer the interest expense burden, if the company survives.
Some investors believe that the current price per share of SGY makes it a possible takeover candidate. However, I believe that those days are long gone because the company has no equity but only debt.
The take home message
SGY has maxed its credit card out. There is no sustainable way for SGY to repay the debt due on March 2017 because the company does not have any liquidity and reissuing debt will be difficult and the proceedings will be minimal. Therefore, we may be seeing the last days of SGY. I do not doubt that SGY can rally 20-30% more from here, but at the moment, it is behaving as a penny stock, and it should not be considered investable.
Disclosure: I/we have no positions in any stocks mentioned, and no plans to initiate any positions within the next 72 hours.
I wrote this article myself, and it expresses my own opinions. I am not receiving compensation for it (other than from Seeking Alpha). I have no business relationship with any company whose stock is mentioned in this article.