Introduction
I recently conducted an exhaustive review of the 2015 performance of 15 of the largest publicly traded gold miners. The focus of my review was on determining the cost efficiency of these miners, especially as it resulted in free cash flow for shareholders.
I calculated the cost effectiveness of current operations, cost effectiveness of overall business, and long-term cost effectiveness of each of these miners using the methodology I outlined in my most recent True Vine Letter. (Please refer to this methodology for a complete understanding of the approach taken in this article and how it compares to the commonly reported cash costs, all-in sustaining costs, and all-in costs commonly reported by miners.) These cost measures are similar to those reported by the miners, but they add value by bringing a consistent, cash flow focused approach to a broader industry analysis.
The results, some of which I will outline in this article, provide beneficial benchmarks to investors active in or considering gold mining investments.
Gold Majors
I would loosely define gold majors as miners whose prominent business is gold mining and have at least 1 million ounces of annual production. Of the 15 miners I looked at, all but one had 2015 gold equivalent production of at least 1 million ounces. The one that did not was included because of its substantial reserve base.
Here is a list of the 15 miners I looked at, ranked by the size of their proven and probable gold reserves:
| Gold Major | Proven & Probable Ounces of Gold Reserves (end of 2015 fiscal year) |
| --- | --- |
| Newmont (NEM) | 81,610,000 |
| Barrick (ABX) | 76,693,733 |
| Newcrest (NCMGY; NCMGF) | 75,000,000 |
| AngloGold Ashanti (AU) | 51,690,000 |
| Gold Fields (GFI) | 46,064,000 |
| Goldcorp (GG) | 40,720,000 |
| Kinross (KGC) | 33,222,000 |
| Sibanye (SBGL) | 30,988,000 |
| Harmony (HMY) | 29,100,000 |
| Eldorado (EGO) | 24,886,000 |
| Agnico Eagle (AEM) | 19,075,000 |
| Polymetal (POYYF; AUCOY) | 17,651,000 |
| Yamana (AUY) | 15,893,000 |
| Randgold (GOLD) | 14,600,000 |
| Nord Gold (NRDVY; NORD on London Stock Exchange) | 14,008,000 |
| | |
| Total | 571,200,733 |
These 15 majors produced 35.6 million ounces of gold in 2015 which was 35% of the total global production of 101 million ounces. Their 571.2 million ounces of proven & probable (P&P) reserves is enough to supply the world for 4.3 years, given 2015 demand of 131.65 million ounces.
Mine Life
The average mine life (P&P Reserves/2015 Production) for the producing mines of these majors was 18 years. Here is how they ranked from highest to lowest: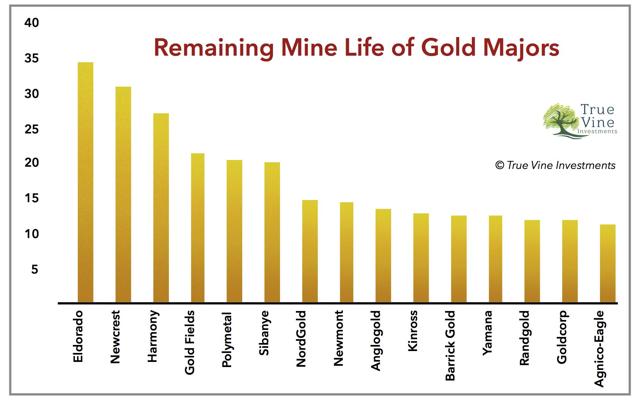 Eldorado has the longest remaining mine life at 34.4 years, while Agnico Eagle has the shortest at 11.4 years.
Mine life has important implications for future cash flows. In general, a longer mine life gives a company more room for delaying the deployment of capital necessary for sustaining its production levels. It potentially also makes production increases from existing assets more immediately achievable with less capital intensive investments. Conversely, a longer mine life may mean that a miner is not as well positioned as it could be to capitalize on higher gold prices in the near to intermediate term. In other words, if it would have invested more in the past, it could now have a higher rate of production (lower mine life) to capitalize on higher gold prices. Worse yet, it could also mean a miner has invested in high cost production in past years that it is now working to scale back, with the subsequent production decreases leading to an inflated mine life.
Taken this reasoning a step further, having a longer mine life than its peers is generally only positive to the extent that a miner is producing a higher amount of free cash flow per ounce than its peers. If we multiply mine life by a miners free cash flow (as determined by my long-term cost effectiveness methodology), then we have a theoretical metric that tells us how much more free cash flow per ounce of P&P gold reserves that a miner could continue to generate, given their remaining mine life. (This metric multiplied by 2015 production would then tell you the total free cash flow over the remaining mine life years.) Here is how these companies ranked, based upon this metric: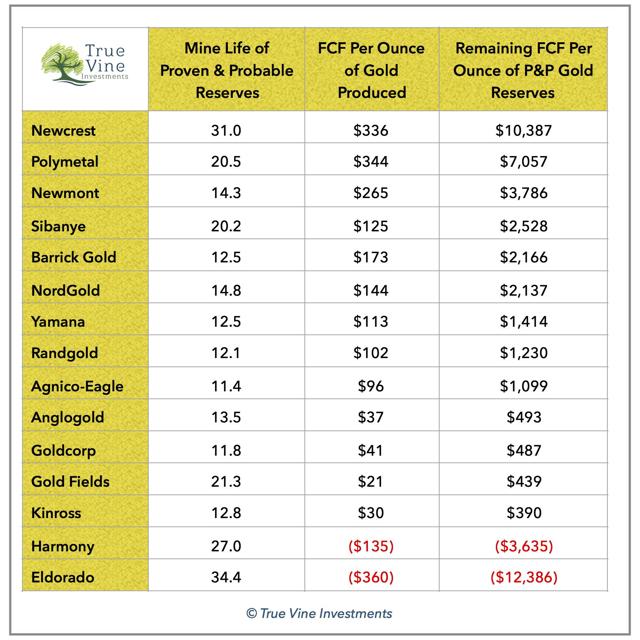 (Note: production levels were calculated using gold equivalent ("GE") production or, for miners who also produce only silver and do not report GE production, a gold-to-silver ratio of 60 was used)
The average free cash flow per ounce produced by these majors was $89 and the average mine life was 18. Thus, the average remaining FCF per ounce of P&P gold reserves was $1,602.
Simply based upon this metric, Newcrest would appear to be exceptionally well positioned. They have the second longest mine life and their free cash flow per ounce was almost 4 times the average.
At the other end of the spectrum, Eldorado and Harmony have very long mine lives, but also negative free cash flow. This may point to a high cost reserve base and/or poor past investments.
Cost Effectiveness of Current Operations
My most basic cost measurement measures the cash costs of a miners current operations on a per ounce basis. It provides a good idea of the structural nature of a company's overall gold mining operations, aside from taxes, finance costs, and ongoing capital requirements. Here is how these majors ranked: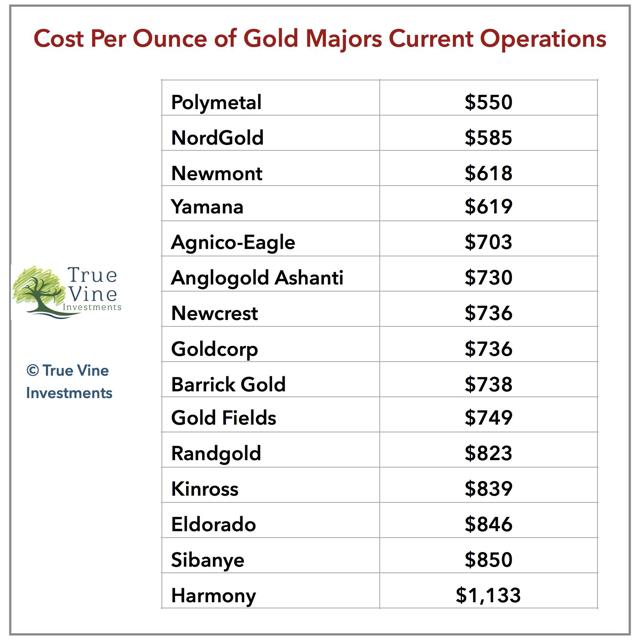 (Note: production levels were calculated using gold equivalent ("GE") production or, for miners who also produce only silver and do not report GE production, a gold-to-silver ratio of 60 was used)
The average cost of current operations (per ounce) for the group was $750. This is a notable benchmark for investors assessing the cost structure of a miner's current base operations.
Operating primarily in Russia and Kazakhstan, Polymetal and Nord Gold have clearly benefited from the devaluation of the ruble and the tenge. Outside of these Russian based producers, whose cost advantages could evaporate in a higher oil price environment, Newmont and Yamana would appear to have exceptionally low structural operating costs. For Newmont, this resulted in the 3rd highest level of free cash flow per ounce (see 2nd table above).
Cost Effectiveness of Overall Business
Taking the cost of current operations one step further, and adding finance costs, taxes, and sustaining capital expenditures, we come up with a measure of the cost per ounce for the overall mining business. Here is how these majors ranked: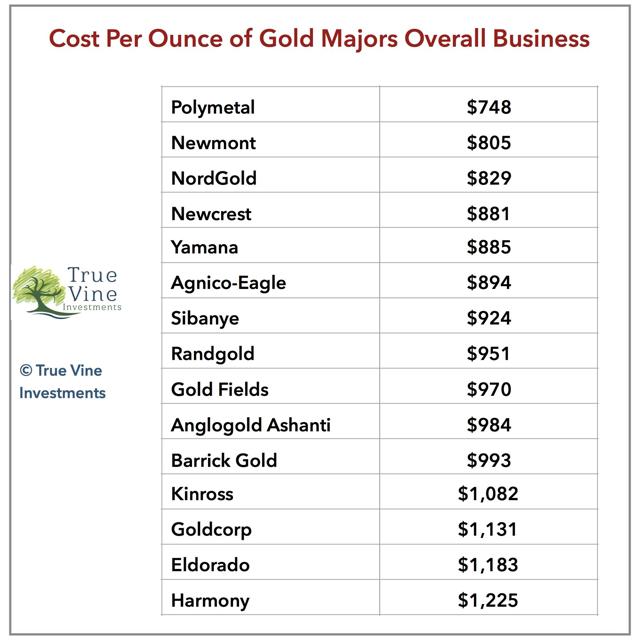 (Note: production levels were calculated using gold equivalent ("GE") production or, for miners who also produce only silver and do not report GE production, a gold-to-silver ratio of 60 was used)
Not surprisingly, we have the same cast of leaders here as well.
Conclusion
A thorough analysis of the costs and mine life of these gold majors points to a handful of leaders - notably, Polymetal, Newcrest, Nord Gold, and Newmont. Investors who are bullish on gold may want to investigate them further.
At the very least, I hope that this analysis provides investors with useful metrics that they can use to benchmark other intermediate or junior producers.
Important Regulatory Disclosure
I am an investment adviser and owner of True Vine Investments, a Registered Investment Advisor in the State of Pennsylvania (U.S.A.). I screen electronic communications from prospective clients in other states to ensure that I do not communicate directly with any prospect in another state where I have not met the registration requirements or do not have an applicable exemption.
Any investment advice or recommendations involving securities referenced in this article is general in nature and geared towards a readership of sophisticated investors. This article does not involve an attempt to effect transactions in a specific security nor constitute specific investment advice to any particular individual. It does not take into the account the specific financial situation, investment objectives, or particular needs of any specific person who may read this article. Individual investors are encouraged to independently evaluate specific investments and consult a licensed professional before making any investment decisions.
All data presented by the author is regarded as factual, however, its accuracy is not guaranteed. Investors are encouraged to conduct their own comprehensive analysis.
Positive comments made regarding this article should not be construed by readers to be an endorsement of my abilities to act as an investment adviser.
Disclosure: I/we have no positions in any stocks mentioned, and no plans to initiate any positions within the next 72 hours.
I wrote this article myself, and it expresses my own opinions. I am not receiving compensation for it (other than from Seeking Alpha). I have no business relationship with any company whose stock is mentioned in this article.
Editor's Note: This article discusses one or more securities that do not trade on a major U.S. exchange. Please be aware of the risks associated with these stocks.