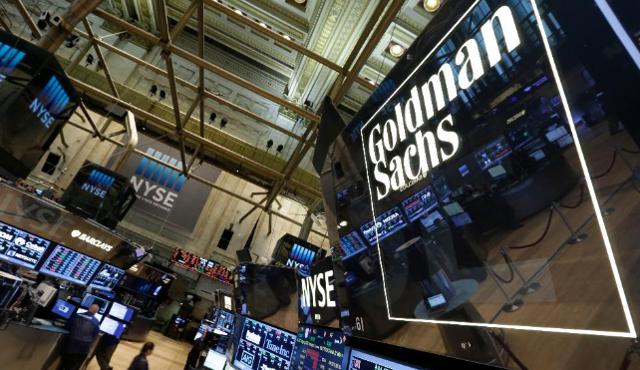 Goldman Sachs' (NYSE:GS) business has always been a little tougher to value than the other financials because it doesn't have any true competitors; its model is different from the rest after the thinning of the herd that took place during the crisis. In addition, GS' earnings differ wildly from analyst estimates on a regular basis so volatility in EPS adds to the potential for confusion. That being said, GS briefly fell under $140 twice this year, causing me to become very bullish. But after the most recent run from $138 to $161 in a virtual straight line, is GS still worth owning here after Q2 earnings?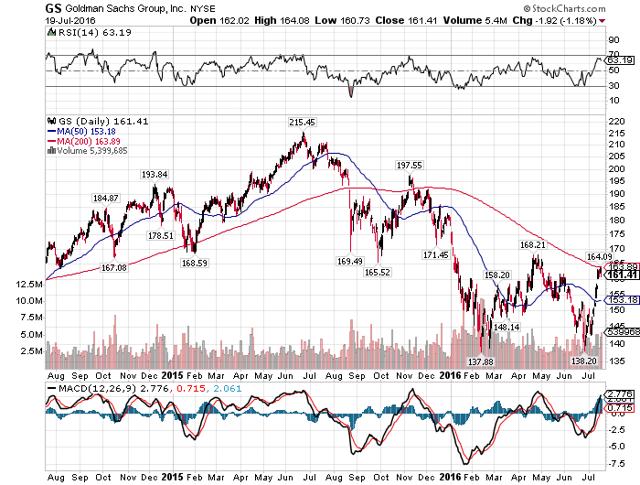 GS' headline numbers were very strong indeed against estimates during Q2 as it beat revenue expectations by several percent and EPS blew estimates out of the water. The problem is that under the surface, things aren't quite so rosy. GS' revenue was off almost 13% as the company's many moving pieces largely went in the wrong direction when compared to last year's Q2.
Investment Banking was 11% lower against last year's Q2, Institutional Client Services was up 2%, Investing and Lending was down 38% and Investment Management was down 18%. Those are really horrible numbers and that is why GS' total revenue was off as much as it was. That isn't to say there weren't pockets of strength - FICC and debt underwriting come to mind - but most of GS' major revenue categories showed declines against last year's totals.
That being said, Q2's numbers were quite strong against this year's Q1 so while Y/Y comparisons are tough, sequential comparisons are much better. And while I don't like Y/Y declines of the magnitude we saw in Q2, the fact that GS is improving materially on a sequential basis is an unequivocal positive. We all know the environment for GS is weak and likely will remain that way for some time. Equities revenue is terrible and the lending and investment management businesses are both in the tank. Things can change quickly for GS due to the nature and diversity of its revenue streams but for now, it seems weak results are here to stay for the foreseeable future.
On the expense side, GS is doing a much better job as its headcount was down 5% in Q2. That helped send compensation and benefits accruals down 13% for the quarter but that was primarily a result of lower revenues. GS has a highly discretionary compensation structure so that expense line item tends to rise and fall with revenue. Still, the cost savings in Q2 were welcome considering the headline loss of revenue. The real savings were in non-compensation expenses, which fell 40% against last year's Q2 due to lower litigation and regulatory expenses. That's great news and while the big banks are never really out of the woods when it comes to litigation, the multi-billion dollar suits against them seem to have dried up.
A couple of weeks ago, I said to buy GS before earnings came out based upon its then-reasonable valuation and what most perceive as a sizable capital return authorization. The stock was $146 at the time and sits at $161 today, a sizable gain indeed. But what about now that we have the earnings release? Is GS still a buy?
I'll admit that I'm a little turned off by GS' volatile revenue stream and the fact that predicting what it will produce with any sort of reasonable accuracy is challenging. And with ROE still remaining very low for GS - just 8.7% in Q2 and 7.5% for H1 - it certainly isn't back to its old self in terms of profitability. I suspect it never will be but to be honest, I thought by the middle of 2016 we'd have seen more progress. GS is still reasonably valued at fractionally under its tangible book value of $166 so I'm not saying GS is a short by any means. But with weak revenue and no real catalysts to see it move higher, I'm not sure what would get GS to break through to the upside.
Talk of bringing back some form of Glass-Steagall certainly isn't going to help and I suspect that if the Donald looks like he may win general election, GS is going materially lower. A lot can happen between now and then so that is certainly not my base case, but if the GOP is serious about this and they can win the general election, GS may be in some trouble.
In addition, GS has some significant overhead resistance not only from its recent top at $168 but more importantly, its 200DMA. That line continues to fall as shares have tanked in the past year and while the slope is flattening out, it is likely to be strong resistance until GS can convincingly push through it. The stock was pretty obviously rejected at the 200DMA this week so unless bulls have a very quick and convincing change of heart, I think GS is going lower short term. Until the 200DMA flattens out and GS can make a run at piercing it to the upside, I think the stock is going to be range bound. That being said, if it goes to $140 or below again, buy it with both hands.
GS isn't expensive right now but it really shouldn't be; it doesn't have the sort of upside catalysts one would want to see. As I said, I thought GS would be further along than it is right now and with H1 ROE of just 7.5%, it still has a long way to go. Capital returns will help - although we don't know exactly how much - and GS will continue to make lots of money and build capital. But as an earnings growth story, I think GS is fairly valued right now so I don't see a reason to own it at this price.
Disclosure: I/we have no positions in any stocks mentioned, and no plans to initiate any positions within the next 72 hours.
I wrote this article myself, and it expresses my own opinions. I am not receiving compensation for it (other than from Seeking Alpha). I have no business relationship with any company whose stock is mentioned in this article.