TripAdvisor (NASDAQ:TRIP) has been climbing steadily since its YTD trough in February. This begs the question - is there more room to grow? From my research, I find that the consensus view has a rosy outlook on the adoption of Instant Booking (aka. IB), mobile usage and the non-hotel segment. I see 3 factors leading the stock price lower: 1) revenue being pressured as a result of limited growth on the user side and commission per click (aka. CPC); 2) new, highly anticipated initiatives such as IB and growth of Other segments stall; and 3) premium valuation turns more in line with the industry norm.
Industry Outlook And Current Market Dynamics
Gathering data from a number of sources such as eMarketer and Phocuswright and making my own estimates, I built a TAM analysis on the online travel industry. Online travel spending is expected to grow worldwide and the U.S.'s contribution to the global market is also expected to tilt higher. Excluding the corporate travelers, whose market is dominated by Amex and Concur, I project a 7% CAGR in global consumer online travel spending that TRIP may benefit from.
As of the end of 2015, TRIP boasts 350 million monthly average users (MAU) which represents 11% yoy growth. It homes 290 million reviews (82 million added in 2015 alone) on more than 5.3 million accommodations, restaurants and attractions. TRIP is also building out its ability to book restaurant tables at over 3 million reviewed restaurants. With the push to mobile, TRIP reached 290 million downloads of its mobile app at the end of 2015, with average monthly unique visitors via smartphone and tablet devices growing at 32% yoy.
Currently, TRIP is trading at a premium to its peers, in both its immediate peer group (i.e. Expedia (NASDAQ:EXPE) and Priceline Group (PCLN)) and the broader internet group (e.g. Facebook (NASDAQ:FB), Alphabet (NASDAQ:GOOG) (NASDAQ:GOOGL), Yelp (NYSE:YELP)). The higher valuation is supported by consensus view of ability to grow from a low trough, optimism on IB and new products, and strong user generated content.
Investment Thesis
1) Revenue under Pressure from Stagnating User Growth and CPC Compression
a) User Growth Slows
The revenue stream with the most investor focus is click-based advertising (64% of the revenue), which is a function of 1) number of hotel shoppers, 2) conversion of hotel shoppers into revenue contributors, and 3) CPC. I believe that the number of shoppers and the conversion rate are stalling and possibly declining in the future. MAU declined for the first time in 2Q15 since TRIP went public.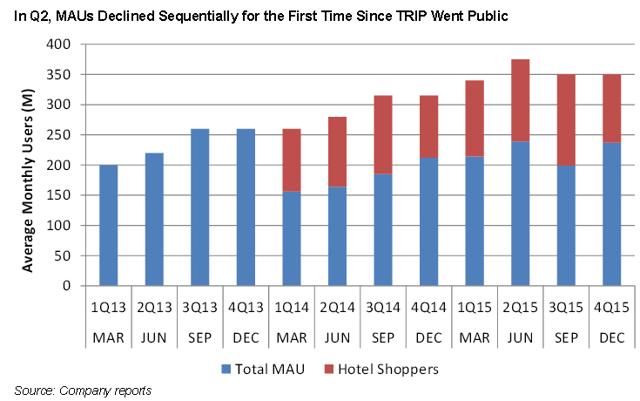 Although the absolute number of hotel shoppers is still growing yoy, changes in MAU ultimately dictate the growth in shoppers, repeat sales and TRIP's ability to charge higher CPC. Also, by the nature of the online travel industry, I do not foresee TRIP meaningfully growing its market share. As mentioned, click-based advertising accounts for 64% of the revenue, and revenue from PCLN and EXPE totals to 46%. This gives TRIP very little bargaining power when negotiating on terms such as CPC. A source estimated that EXPE and PCLN have around 66% combined market share. With the rest of the market rather fragmented, it is difficult for TRIP to stack up quickly. Another concern is that TRIP has the lowest direct vs. Google-directed traffic among the players.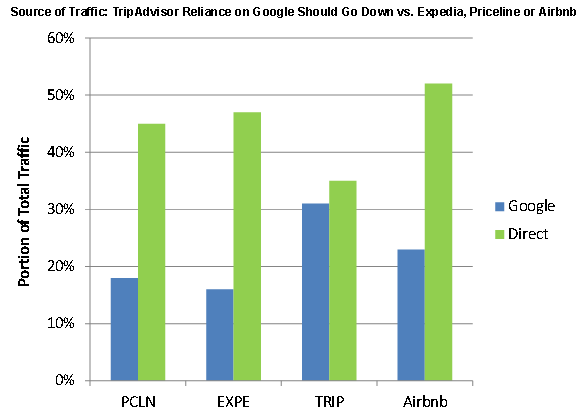 [source of the graph: sell side research]
This means elevated spending on sales and marketing not only now but also likely much more in the future, especially since Google announced that it will place Google's own content ahead of organic search results and Google is building aggressively its own travel platform. Perhaps one of the biggest concerns is TRIP's reluctance to actively expand into China. The penetration of online travel in Asia is only 27%, compared to 45% in Europe and 43% in the U.S. China has a large influence in the region. TRIP's management publicly stated that it has no interest in working directly with Ctrip (NASDAQ:CTRP) which has 75%+ market share in China, and it has sold a Chinese subsidiary in 2015. With the developed markets' growth plateauing and reluctance to actively compete in one of the largest economies, I see decline in shoppers traffic.
b) CPC Being Compressed When Adopting IB and Mobile
On the CPC side, revenue per shopper, which is a proxy for CPC, has been declining in the past two years. Part of this is due to industry wide evolution, offering competitive pricing. The biggest reason for above-average decline at TRIP is because of the push for adoption of IB and mobile. It is believed that TRIP currently gets paid 15-20% on its original CPC products, and has been offering suppliers a 10-15% commission on IB. The biggest suppliers, such as PCLN and largest hotel chains, are paying the lower end of the 10-15% range when asked to move to IB. As these players are often the most popular choices among hotel bookers and moving to IB does not largely affect consumer behaviors, I see the overall revenue shifting down, since the possible slight increase in volume is not expected to offset concession on commission. In addition, I do not believe that mobile is a source of accelerated growth for TRIP. The monetization and margin on mobile are about one-third of those on desktop. It is estimated that mobile traffic grew from 40% in 1Q14 to nearly 60% in 4Q15 while mobile revenue grew from 10% to 20% of total revenue, and the gap is widening. There are already formidable competitors in the mobile space. Google launched its travel platform on mobile called Destination. PCLN has spent a lot of effort partnering up with Facebook. Both Google and Facebook are similar to TRIP in that they have a lot of user generated content but they are arguably superior to TRIP given the other products in their broader ecosystems, making it harder for TRIP capture the growth of on the mobile side.
2) Highly Anticipated Initiatives such as IB and Growth of Other Segments Do Not Deliver
a) Overly Optimistic on the Growth IB Brings
The biggest initiative that the current premium valuation hinges on is that IB adoption will drive growth starting 2H16. I disagree. IB was first rolled out in 2H14. As we saw in a previous graph, MAU actually declined/plateaued in 2Q15 when the management started a more aggressive rollout and this took a toll on revenue. TripAdvisor's main goal in rolling out IB has been to close the 4 - 5x monetization gap on its hotel shoppers when compared to PCLN and EXPE. This lofty goal became more nebulous as TRIP has been offering major suppliers 30% discount on commissions charged. As discussed, I see TRIP has very little bargain power to raise the price in the short to medium term because of its revenue structure, reliance on IB's success and the industry nature. An alternative way to reach revenue parity is to improve conversion by 25-30%; however, this is difficult to do in the near term especially when resources are pulled away to invest in IB and the Other segment. Furthermore, I see IB growth slowing and likely soon hitting a roadblock. 8 out of 11 largest hotel chains are already on IB, representing around 22% of total available hotel rooms around the world.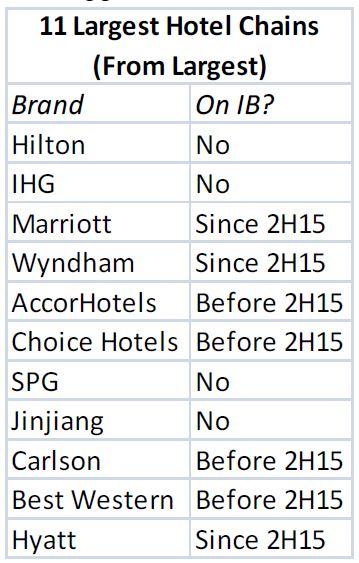 [source: based on company earning calls]
While Simon Property Group (NYSE:SPG) may be a low hanging fruit after the Marriott (NYSE:MAR) acquisition, certain brands such as Jinjiang which is dominant in China and rest of Asia may be a huge challenge. The contributions from smaller hotel chains do not allow TRIP to scale up quickly because even the 9th to 11th largest hotel chains contribute to just around 2% of the available hotel rooms globally. Investors also optimistically expect EXPE to join IB soon, creating more scale for TRIP. However, I do not believe this move will be accretive to TRIP in the near term, even if it went through. EXPE would likely get a favorable commission rate just like PCLN did. As evident in the 4Q15, this actually hurts revenue. Many investors believe that IB is good for TRIP's long term growth. It makes booking simpler which may lead to higher booking rate and repeat sales. However, through a channel check conducted by Pacific Crest with 25 independent hoteliers in the U.K. and 20 in the U.S., they found that only two hotels in the U.S. have seen any material TRIP bookings through IB. At the same time, 73% of the respondents saw higher OTA bookings (how TRIP's original click-based advertising business operates) as a percentage of the total over the past 12 months. Another aspect of IB that the management highlighted was 10% repeat sales from IB in 2015. However, we must take the number with a grain of salt. This may be the first year that TRIP can reliably track its repeat sales. Click based ads direct consumers to external sites and TRIP's ability to track purchases stop there. A 10% repeat sales without basis for comparison is meaningless. Repeat sales occur naturally as time passes and better tracking becomes available. Last but not least, I am concerned about IB because the management has been very opaque about the whole progress and operation. From a behavior finance perspective, because it is such a crucial initiative, if it is going well, the company will be disclosing more info to boost investor confidence. The rollout of IB contributed $36M and $25M headwind to revenue and EBITDA, respectively, in 2015. The opaqueness points to large amount of uncertainty in IB's success.
b) Exponential Growth of the Other Segment is Difficult to Achieve
About 25% of the revenue is from vacation rental, local tour and restaurant bookings. The management expects this segment to grow into a $1 billion business in the long term. Assuming that long term means 5 years, TRIP needs to grow this segment at 22% CAGR. This is difficult to achieve. The vacation rental market is already dominated by HomeAway (owned by EXPE) and Airbnb. Flipkey, the vacation rental site owned by TRIP, has all sorts of issues such as unfair and expensive fee structure, inaccurate listings, technical difficulties, unresponsive support staff etc. On the local business side, while the market potential is huge, the fragmented nature makes execution and sustained, large growth extremely difficult. For example, Groupon (NASDAQ:GRPN) topped $1B revenue in 2011 but have been struggling to maintain just single digit growth in the last 3 years. The cost of penetrating local market is also very high, putting more and more pressure on margins. Similar stories are observed at Angie's List and Yelp. Last but not least, TRIP is building out its ability to book restaurant tables at over 3 million reviewed restaurants. While this helps fulfill TRIP's goal of being a one-stop shop for travel planners, it won't help growing the revenue, as evidenced by SeatMe (owned by Yelp) and Table8 (owned by Amazon (NASDAQ:AMZN)). Furthermore, the biggest player in the restaurant reservation space is Opentable, which is owned by PCLN. We see little competitive advantage TRIP may offer with its own booking system.
3) TRIP's Current Premium Valuation Implies Large Room to Fall and Little Room to Gain
The table below shows comparative valuation as of 4/12/16. We can see that TRIP trades at a premium relative to its immediate competitors and the broader internet group. The higher valuation is supported by consensus view of ability to grow from a low trough, optimism on IB and new products, and strong user generated content. TRIP's premium valuation has already priced in all the growth upside but as our analysis earlier shows, TRIP is unable to monetize effective from its rich content. The new product initiatives (IB, mobile, the Other segment) all pose high failure rate. Therefore, I believe that the stock has little room to gain but large room to fall.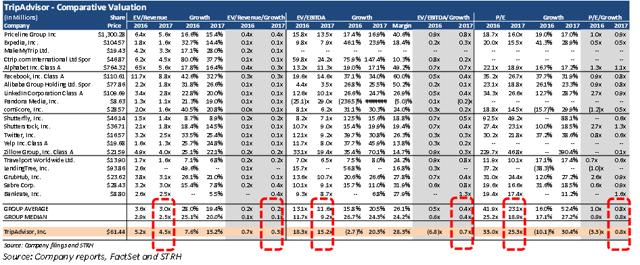 Even though TRIP has always tended to trade at a premium to its peers, the premium of its forward EV/EBITDA reached 1.3 standard deviation above its historical 2-year mean at the end of June.
I have also done a DuPont analysis of its earnings in the past few years. I see that profitability (various margin measures) has been declining steadily though the company has become better at managing balance sheet (asset turnover, tax burden ratio, interest burden ratio, leverage ratio). As an investor, I want to prioritize return and growth.
Conclusion
In summary, TRIP has been working on some interesting initiatives, which have drawn a lot of investors' attention. However, its revenue seems to have little room to grow. Its two major initiaitves, growing IB and the Other segment, have been stalling. Therefore, it does not warrant a premium valuation priced by the current market.
General disclaimer
The content contained in this blog solely represents the opinions of the author. None of the analysis or opinions is reflective of her employer or her clients. She does not hold long or short positions in TRIP. The commentary in this blog in no way constitutes a solicitation of business or investment advice. In fact, it should not be relied upon in making investment decisions, ever. It is intended solely for the entertainment of the reader, and the author. In particular this blog is not directed for investment purposes at US Persons.
Disclosure: I/we have no positions in any stocks mentioned, and no plans to initiate any positions within the next 72 hours.
I wrote this article myself, and it expresses my own opinions. I am not receiving compensation for it. I have no business relationship with any company whose stock is mentioned in this article.