In a note shortly after the Brexit vote, hedge fund Charlemagne Capital noted that the old belief about political risk being significantly higher in emerging markets than in developed world has taken a hit. The hedge fund's Co-CIO Julian Mayo wrote that apart from Brexit, the possibility of populists winning elections in Italy and France and even the U.S. means that the pricing of risks across developed markets should rise.
Charlemagne Capital's report certainly highlights some valid points. Their confidence in emerging markets also stems from the asset class's performance this year. Year-to-date, the iShares MSCI Emerging Markets Index (ETF) (NYSEARCA:EEM) has gained more than 10%, outperforming the S&P 500 by more than two times.
Having said that, one can never be complacent with emerging markets. Turkey reminded investors of that. Last weekend, Turkey saw a failed military coup. The Turkish lira and equities fell sharply. The coup did not have any major impact on global markets though. Markets in Europe opened higher on Monday and U.S. equities finished at fresh record highs. However, Turkey has reminded that emerging markets remain a risky bet. The risk though should not deter from investing in emerging assets.
Global Liquidity
Emerging assets tend to do well in times of excess liquidity. The 10-year price chart for EEM quite clearly shows this.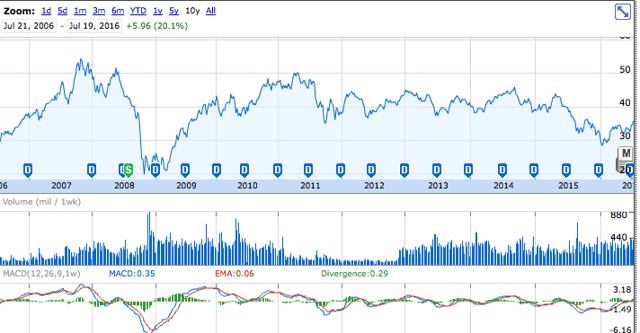 Google Finance
EEM peaked towards the end of 2007 just as the housing market in the U.S. began to fall apart. Following the financial crisis of 2008, we saw a sharp drop in EEM as investors pulled money out of risk assets. The recovery in EEM began as the Fed announced an unusual measure, quantitative easing. The excess liquidity provided by the Fed boosted not just the S&P 500 but even emerging markets. EEM recaptured the levels it was at in late 2007 by 2011. This was when the Fed completed its second round of QE, as quantitative easing came to be known as. Following the end of QE2 in the second quarter of 2011, EEM fell sharply. It began recovering in early 2012 just as speculation over a third round of QE began. The third round began in September 2012 and we can see a recovery in EEM.
Emerging markets remained more or less stable during the third round of QE except for a brief period in 2013 when talks of winding down QE3 by the Fed sparked a sell-off, especially in the most vulnerable emerging economies. We again saw a sharp drop in 2015 as the Fed began considering a rate hike. The rate did not come until the end of last year but EEM struggled.
As 2016, the outlook for EEM was bearish as Fed was expected to hike interest rates at least four times. That changed quickly though as a sell-off in global markets at the start of the year forced the Fed to be cautious. As the possibility of a rate hike in 2016 diminished, EEM bounced back sharply.
The good news for EM bulls here is that rates are going to be lower for longer. The strong jobs report for June has brought a solitary rate hike for the year back on the table. But the pace of rate hikes is going to be slow, given the global uncertainties. As I have said in earlier articles, apart from Brexit, another major worry is the state of euro zone banks, especially Italian banks. The Fed has also scaled back its rate forecasts for 2017 and 2018 at its last meeting.
Other developed world central banks meanwhile are continuing with their expansionary monetary policies. The recent victory of the ruling coalition in Japan's upper house was followed by fresh stimulus measures from the Bank of Japan (BoJ). The European Central Bank (ECB) is continuing with its QE program. The excess liquidity in global markets will continue to support emerging markets, especially at a time when the fundamentals of many emerging economies are improving.
Improving Fundamentals
In a recent report, Morgan Stanley's Global Investment Committee (GIC) said that economic activity in the emerging markets had been contracting since last fall but recent indicators point to a recovery, The GIC noted that its MS & Co. Global Trade Leading Indicator is "inflecting positive." Meanwhile, its IIF Growth Tracker suggests Q2 GDP growth of 4.7%.
The GIC also noted the Emerging Markets Composite PMI has moved above 50. A reading of above 50 on the PMI indicates expansion. There is a strong correlation between PMI and emerging market equities as the chart from Morgan Stanley below shows.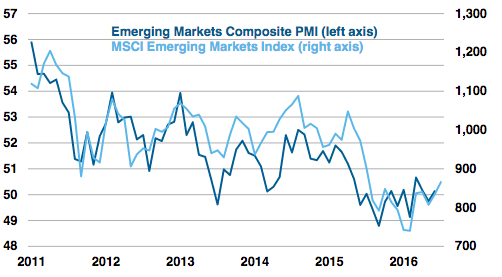 Morgan Stanley GIC Report
The favorable outlook for emerging markets, combined with excess liquidity in global markets means that there is a strong case for EEM. The events in Turkey last weekend have once again highlighted the political risk involved when investing in emerging markets. But the potential returns on offer mean that emerging markets are worth the risk right now.
Disclosure: I/we have no positions in any stocks mentioned, and no plans to initiate any positions within the next 72 hours.
I wrote this article myself, and it expresses my own opinions. I am not receiving compensation for it (other than from Seeking Alpha). I have no business relationship with any company whose stock is mentioned in this article.