After a miserable 2015, high yield stocks have been off to the races in 2016, giving investors more than a 10% return YTD measured with the High Yield Corporate Bond ETF (NYSE: HYG). The fundamental case for this strong move is lacking, to put it mildly. Under the surface there is turmoil brewing, and while investors are understandably desperate for yield, corporate bonds are a surefire bet right now to lose a lot of money.
Recent Performance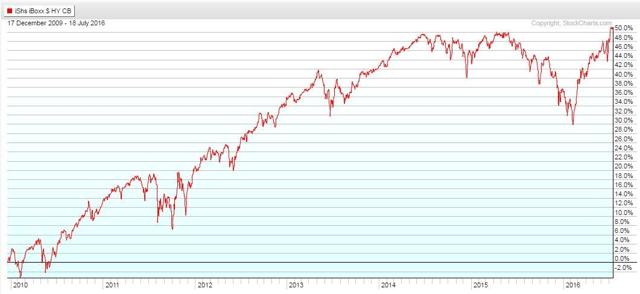 Since the financial crisis, high yield has given investors a solid return. Between 2010 and 2015, junk bonds gave investors a 50% return including dividends. In 2015, with quantitative easing out of the picture and rates not rising, HYG finally saw a strong correction. Starting in early 2016, however, that trend has sharply reversed, and HYG is back at the 2015 highs (again, including dividends).
So what is going on? One can only speculate, but it seems that investors have confidence that the economy is on track since the Fed finally raised interest rates in December. You have to wonder why HYG has not fallen since then as the Fed has not followed through on its promise to continue raising rates, but investors continue to eat up the junk.
Fundamentals
Early in 2015 I posted an article detailing the poor outlook that corporations were facing. Profits were dropping while inventories were rising, and I predicted that this would create a crisis in high yield and we would eventually see rising defaults a spike in yields. I turned out to be correct in at least one of those predicions as delinquencies have risen substantially since that time.
For high yield investors, the chart below ought to cause panic-fueled dread. Delinquency rates have doubled year over year. Usually most would think that would spell doom for bonds. However, quite the opposite has happened, and there seems to be massive demand for corporate junk. Yet comparing the spread on high yield debt and delinquencies, we have a huge problem.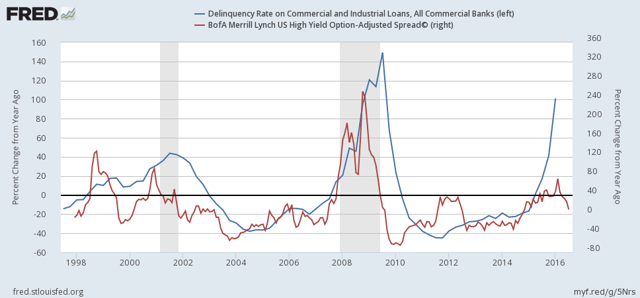 Over the past 20 years, the option-adjusted spread follows very closely the delinquency rate. In other words, when delinquencies go up (NASDAQ:BLUE), yields go up (red). When bond yields go up, the value of junk bonds go down. So for now, we see a huge discrepancy between delinquencies and yields.
This kind of disparity is unprecedented in the past 20 years. While yields are heading back to unchanged on the year, delinquencies are soaring. Unless there is a huge revision in the data coming and Q2 surprises massively to the upside, high yield investors are in for some big pain. Right now, high yield is a crowded trade, and the fundamentals are awful.
Summary and Action to Take
The situation in high yield is untenable right now, and unless something drastic changes, investors are in for big losses. Sell HYG now if you are holding any, and set up a short instead. If Q2 delinquencies hold steady or rise, there are massive gains to be made on the short side of HYG. The crowd is completely wrong right now, and that means that you have a great opportunity to prove them wrong.
Disclosure: I am/we are short HYG.
I wrote this article myself, and it expresses my own opinions. I am not receiving compensation for it (other than from Seeking Alpha). I have no business relationship with any company whose stock is mentioned in this article.