As you can see from the chart below, Amazon (NASDAQ:AMZN) has been on a huge run up, with total returns of 245% over the last 5 years. The company has proven to be a dominant force consistently increasing their sheer size through huge revenue growth. However, as Amazon has seen triple digit growth in their valuation, investors may not be so motivated any more to jump on the bandwagon that feels like it has already passed them.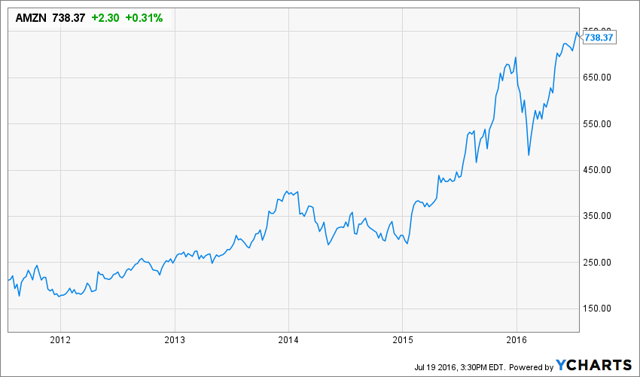 Source: YCharts
Valuation
I think this is the hardest part for the Amazon bulls and bears to wrap their heads around. The bulls are focused on topline valuation multiples and the bears are focused on bottom line valuation multiples. Across the topline, Amazon is trading at a price to sales ratio of 3.1 and across the bottom line they are trading at a price to earnings of 304. The problem is that Amazon is a large industry leader and yet still a large growth stock, which makes valuing their equity troublesome. A 3.1X revenue multiple is actually not high given the company's growth rate, however a PE of 304 seems high for the investors seeking value in Amazon. I think the truth lies somewhere in the middle of the bulls and the bears. Below I've outlined a quick 10 year DCF, which uses a 10% discount rate and 5% terminal growth rate.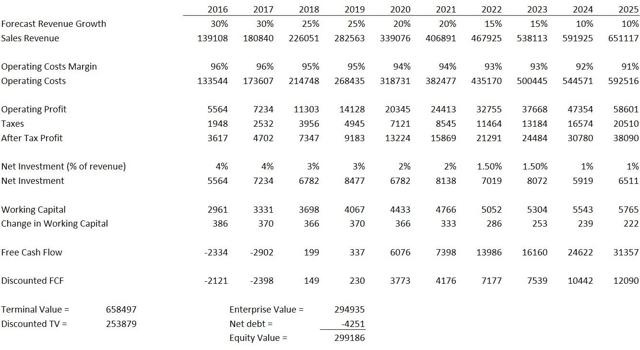 Source: Author
As you can see, I have Amazon's equity valued at about $300 billion. This is model is far from perfect, rather I created it to get an idea of where I would feel comfortable investing in Amazon. This would imply a 13-14% downside. However, we pay premium prices for premium companies, and I do believe Amazon falls into that category. With that said, I do feel like 13-14% is a premium I probably wouldn't feel comfortable paying today. A double digit premium like that would add too much risk to this type of investment in my opinion.
Balance Sheet
If a company grows at a significant rate or produces big cash flow on their assets, then most investors don't really place much importance on their balance sheet. However, while Amazon has shown strong growth, they haven't shown us great ROA or ROE. As Amazon stock is up 325% since 2012, stockholders' equity has increased 90%. Fortunately, Amazon carries a small amount of debt of only $8.2 billion in long-term debt, which places their debt/equity ratio at only 0.6. Right now Amazon is moving along with sufficient capital to meet their short term financing needs, however I would imagine a need to increase their debt position within the next year or 2 for capital expenditures and in order to keep a strong liquidity position. Their current ratio sits at 1.08, which is not traditionally a good ratio, but is good enough for a thinned margin company like Amazon.
Overall, Amazon's balance sheet has a lot of strength, however not from a valuation standpoint. When the market values their equity at $347 billion, it makes the price to book ratio of 23.7 seem a bit worrisome. Typically, it's easy for investors to wrap their heads around paying that kind of money for a well-established company like Amazon if they still maintain strong growth and have a good track record of strong ROA and operating margins. Unfortunately, Amazon has only shined along their topline, which could result in a weakening balance sheet in the future. However, Amazon's current market cap is valued by their future earnings potential. Most investors see big ROA and ROE in the future, which explains the high valuation multiple to their book value, but nevertheless, it is an added risk to this specific investment.
What Will It Take For A Correction?
Amazon's valuation has been consistently outgrowing their actual growth by leaps. I think most people would agree that at a certain point the stock would have to either hit a plateau or a correction. I would imagine that phase would come sooner than later for Amazon. Wall Street's estimates will not be easy hurdles for Amazon to outshine and push their stock price that much further up. EPS estimates for 2016 are 5.37 and for 2018 up to 17.61, with some estimates over 21. Hitting these bottom line estimates and keeping large growth along their topline won't be an easy task, and given Amazon's PE and PB ratios, I would imagine a poor earnings report could result in decent amount of volatility on the downside.
Conclusion
Amazon has had an incredible run up in price and there is no way for me to say whether or not it will stop, but it should certainly slowdown from here. I see this stock trading at a premium today, but I also see huge growth on the horizon for Amazon, which can justify the small premium to many investors. Investors looking for a stock over a 5 or 10-year span will probably find Amazon as an attractive investment, as I believe this is a long-term winner. However, if investors are looking at a 12-month timeline, I would wait for a correction on this one.
Disclosure: I/we have no positions in any stocks mentioned, and no plans to initiate any positions within the next 72 hours.
I wrote this article myself, and it expresses my own opinions. I am not receiving compensation for it (other than from Seeking Alpha). I have no business relationship with any company whose stock is mentioned in this article.