Following my last article I will pursue the creation of a portfolio of high-profile companies in a long-term context which pay increasing dividends over the years. This is the third company selected and I will add seven others soon which will take into account several key factors mentioned below.
With a history of success and a solid performance Unilever (NYSE:UL) is the right company to keep for the very long-term. The stocks are traded through American Depositary Receipts (ADRs) in the same manner as any other shares in U.S. companies. Unilever's ratio is 1:1 - one ADR represents one underlying Unilever PLC share. Being a dividend growth stock it meets all the key factors for the components of this portfolio:
1. Excellent generation of free cash flow
2. Sound earnings per share and strong valuation
3. Stock appreciation over the years
4. Very limited drawdown potential
5. Dividend yield of around 3% (including dividend growth)
Unilever has been doing business since the 1880s and now is a modern company that reached a unique place in the world market with more than 400 brands. UL is an Anglo-Dutch multinational consumer goods company - the world's third-largest after Procter & Gamble and Nestlé.
As of December 31, 2015, Unilever's Levered Free Cash Flow (LFCF) was $5.17B and it had 3.03B shares outstanding.
LFCF per share was: $5.17/3.03= $1.71 per share.
If we take UL's last closing price of $46.98 and divide that by $1.71, we get 27.48. It means that the company is trading around 27 times its LFCF which is a good result.
By analysts consensus we have EPS of ~$2.10 for full-year 2016. Taking a P/E of 20 we arrive at a current value of $42 per share. However, it is not included here the potential for future growth and the company's promising ability to develop its products especially in emerging markets. We may use a basic discounted cash flow (NYSE:DCF) analysis with conservative assumptions:
FCF at 7% CAGR reaching ~$11.20B in 5 years
A 20x multiple against FCF in 5 years gives Terminal Value
WACC (Discount Rate): 6%
Cash minus debt: -$13.27B
Thus, with a total market value of ~$187B and supposing that there will be the same number of fully diluted shares outstanding (3.03B), we arrive at a value of $61.70 per share.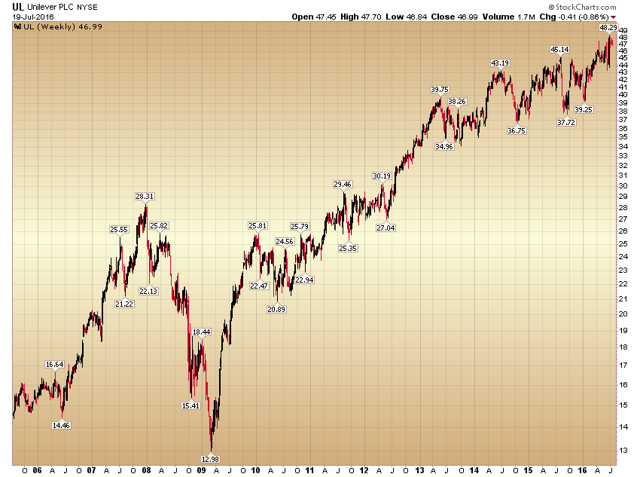 Charts courtesy of StockCharts.com
To evaluate the margin of safety of this stock we are going to analyze the extent of its downfall in market crashes. In the 11-year weekly chart above historical price data is adjusted to remove gaps caused by stock splits, dividends and distributions. By making these adjustments, all price movements are caused by pure market forces. Nevertheless, as historical prices are adjusted they aren't exactly the "real" prices at some point in the past. For the present analysis this is the kind of charts we need. However, if someone wants to see the unadjusted chart please click here.
This chart shows that the only significant drawdown happened in the Great Recession with a top at $28.31 in early 2008 and a fall of 54.1% to $12.98 one year later. Then, in less than a year share prices were back in the previous range and fully recovered in mid 2011.
The company's dividend has been growing at 8% CAGR since 1979. UL currently pays $1.46 per share which represents a dividend yield of 3.1%.
Conclusion
Brexit impact is expected by analysts to be minimal especially over the long run. Unilever reports in euros which has been stronger than the British pound. Even if the euro falls against the dollar the company will benefit from its US revenue.
Never forget that this is a long term investment in a valuable company. It should also be noted that this portfolio is supposed to be relaxed because the intention is that investors are not worried while receiving their significant and growing dividends. However, stock prices - even from those companies like Unilever that provide safety - have ups and downs and investors must be prepared to endure their variation cycles. The company will report earnings tomorrow, but I trust that its share price may fairly endure potential issues.
Note: This virtual Portfolio is only intended to be a guide for investors.
Disclosure: I/we have no positions in any stocks mentioned, and no plans to initiate any positions within the next 72 hours.
I wrote this article myself, and it expresses my own opinions. I am not receiving compensation for it (other than from Seeking Alpha). I have no business relationship with any company whose stock is mentioned in this article.
Additional disclosure: The author of this article gives only his personal view and opinion, never making any investment advice to buy or sell specific securities. Investors in financial assets must do so at their own responsibility and with due caution as they involve a significant degree of risk. Before investing in financial assets, investors should do their own research and consult a professional investment adviser.