Public real estate companies in Mexico have grown at an impressive pace over the past 5 years, yet there is still important room for growth. This market's potential going public is massive. Private funds will likely eventually monetize their assets, either in the public market (IPO or CKD), or by selling their assets to FIBRAs (Mexican REITs) and public C-Corps.
Around 60% of the Mexican Real Estate market is still in private hands, leaving important room for growth in the near future. Out of the more than US$40 billion managed by private equity firms in Mexico, 37% are related to real estate activity, according to Amexcap.
Market capitalization of Public Real Estate companies account for ~ MX$300 billion. FUNO represents the largest FIBRA with a market cap of above MX$100 billion.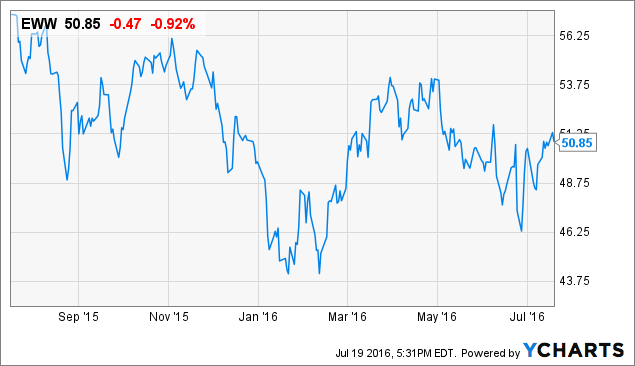 Moreover, in the past five years more than 50% of the public equity transactions in the Mexican Bolsa have been related to the sector. FUNO, Danhos, Terrafina and Macquarie are the largest FIBRAs in the market and they all went public in the past five years. In addition to 6 follow-on offerings between the four, other smaller players have hit the equity markets recently, with Vesta and GICSA as the only C-Corps in the sector.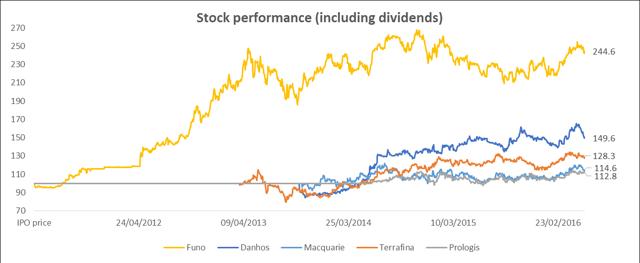 Only in Mexico City, more than 1.5 million sqm of office space are being built. The incoming large wave of supply has pressured rents in the market with minor increases in USD terms. Other markets like Guadalajara have a very large population compared to the very small office supply. The figures reported by brokers of only ~350k sqm seem to be little considering that there are ~1.5 million formal workers in the state. This has to do with the way office space is seen in less developed markets inside Mexico, as the majority of the spaces are sold rather than leased. Little by little, the market is transitioning to a more professional model with better quality assets, which will most certainly require institutional funds.
Office rents are in the low end of those charged in LatAm. According to C&W's report "Office Space across the World", a tenant is able to rent a square meter in the CBD for a little more than US$30/month, compared to Brazil where rents are closer to US$100/month. It is true that rents in Mexico are being punished by the big wave of supply entering the market and by the large pipeline coming in the near future (~30% of the total Class A inventory), but we believe the discount is too large considering the benefits that the two markets have to offer. It is also noteworthy that while office rents seem to be dollarized, tenants will only take a fraction of the MXN depreciation and thus pay a slightly lower rent in USD.
Competition for premium assets has increased lowering transaction cap rates. As the market keeps growing and becomes more professional, there is increasing competition for the best quality assets. Institutional investors from inside and outside Mexico are now willing to pay lower cap rates as land in premium locations has become scarce and the potential growth derives most of the times from the redevelopment of existing properties.
A couple of years ago, transaction cap rates for retail and office space were above 8%, whereas today premium assets for above 7% are considered well-priced. One rare exception was a recent acquisition made by FUNO, as they acquired a 60k-plus square meter office development at a 9% cap rate; while they do carry some development risk, it seems to be minor as the building is already being pre-leased.

All in all, incentive misalignment and liquidity seem to be the biggest concerns for institutional investors looking at Mexico's public Real Estate market. Speaking to institutional investors, the fee structures offered by the FIBRAs may come out as unaligned with investors and with incentives to keep buying properties regardless of the terms and the quality of the asset. FUNO, for instance, makes money by issuing more equity-management fee is a % of the book value of the equity-and by acquiring assets from third parties, charging a 3% fee.
Players like Danhos, Prologis and Terrafina charge their management fee based on investment properties. In terms of liquidity, FUNO, with an ADTV of ~US$10 billion, is the only name institutional investors can trade without the fear of losing too much value at the exit. The rest of the FIBRAs trade below US$3 billion per day: plenty of room for improvement.
Disclosure: I/we have no positions in any stocks mentioned, and no plans to initiate any positions within the next 72 hours.
I wrote this article myself, and it expresses my own opinions. I am not receiving compensation for it (other than from Seeking Alpha). I have no business relationship with any company whose stock is mentioned in this article.