With the Republican convention taking place this week and the Democratic convention next week, it's time to start thinking about the impact of politics on investing markets. Stock prices are strongly affected by fiscal and monetary policy both directly and indirectly (though the economy). Since politicians want the economy and the stock market to be doing well in election years, it shouldn't be surprising that there's a four year U.S. stock market cycle based on presidential elections. This is only one of several stock market cycles, however, and it needs to be considered how the various cycles overlap each other. There also appears to be a decennial cycle where years ending in certain numbers see strong stock prices and other years see weak ones Market observers have also noted a seven year crash cycle. The weakest parts of at least one of these cycles will be with us until early 2018.
Historically, the presidential election year tends to be an OK year for stocks with the S&P 500 being up somewhat less than average (6.5% versus 7.9% going back to 1960). This figure is skewed, though, by the Credit Crisis collapse in the fall of 2008. Excluding that, the S&P 500 was up 9.1% versus 8.8% in presidential years. While there is usually a rally in a presidential year, the market actually tends to go down in a race with no incumbent running, as is the case in 2016. The S&P 500 falls 4% on average (data going back to 1928) in this scenario. If the cycle follows its historical patterns, stock prices will be weakest in the second half of 2017 and the first half of 2018.
U.S. Stock Performance During the Presidential Cycle
Image source: Ritholtz.com
The final stock market outcome in 2016, however, depends very much on which candidate is elected. The market is likely to react much more favorably to Hillary Clinton because of her mainstream views. Donald Trump, on the other hand, is seen as volatile and unpredictable. No one knows exactly what he would do as president. The stock market hates uncertainty and is likely to sell off if Trump wins the presidency in early November. Investors should expect more than a 4% annual drop in this scenario, but the market would probably rally strongly in November if Clinton is elected.
According to a theory of a 10-year stock market cycle, seven is not a particularly lucky number for the stock market (years ending in five have historically been the best ones and years ending in three are even worse). In 2007, the market was volatile in the summer, but didn't start turning down until October. The real devastation didn't take place until 2008. In 1997, there was a mini-crash in October, but once again worse things happened in 1998, when the Nasdaq plunged 30% in August. Ten years earlier, in 1987, the worst U.S. stock market crash ever took place. Crashes have their own patterns, though, independent of the decennial cycle.
Chart of Historical U.S. Stock Performance by Year of the Decade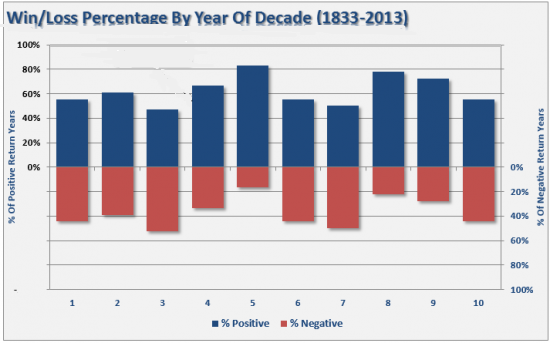 For the crash cycle, the word crash shouldn't be taken literally, but to indicate market weakness. This certainly took place in 1973, when the worst bear market up to that time since the depression began. The market was also weak in 1980 when the first of two back to back recessions started. Then, 1987 saw a mega crash. In 1994, stocks were weak, but avoided a full-blown bear market. In 2001, stocks were in a major bear market that only ended in the fall of 2002. In 2008, the Credit Crisis took place and devastated stock prices. The next major market incident was due in 2015 (Although 2016 could be argued for, if you take the end dates of the previous drops . The market actually bottomed in 2009). The most positive year in the decennial cycle should have been 2015 though, so maybe the two cycle effects cancelled each other out.
If the crash cycle is going to show up, it would probably have to do so by this fall at the latest. Any number of incidents could make this happen. The world is in an unstable political period at the moment with three major surprises in the last month - the BREXIT vote in the UK, the terrorist incident in Nice, France and the attempted coup in Turkey (a NATO country that is trying to join the EU). Additional incidents should be expected and quite possibly much worse ones and these can take place as early as this August. While those can't be timed exactly, what takes place in October before the presidential election can be. If the polls show a win for Trump to be likely (polls are currently within the margin of error), this will definitely affect stock prices negatively. If they are even somewhat close, he could still win. All the last polls for the Brexit in the UK predicted it would fail, and they were all wrong.
So, what should investors do? This is no time for complacency. While the S&P 500 and Dow Industrials have just broken to new highs recently, they have done so on low volume (never a good sign). If they fall back below their breakout prices, then it should be assumed that the new rally attempt has failed. If the market starts to sputter as the fall begins, it will be a good idea to lighten up on stocks and consider shorting broad-based stock ETFs like SPY, DIA, QQQ, and IWM.
Disclosure: I/we have no positions in any stocks mentioned, and no plans to initiate any positions within the next 72 hours.
I wrote this article myself, and it expresses my own opinions. I am not receiving compensation for it (other than from Seeking Alpha). I have no business relationship with any company whose stock is mentioned in this article.