Last week I talked about why Ford's stock (NYSE:F) has been cheap for a while. Investors are still scared of a potentially catastrophic loss, not unlike the one that caused many auto companies to go bankrupt during the last recession. The fact that vehicle sales are at historical highs has heightened this fear.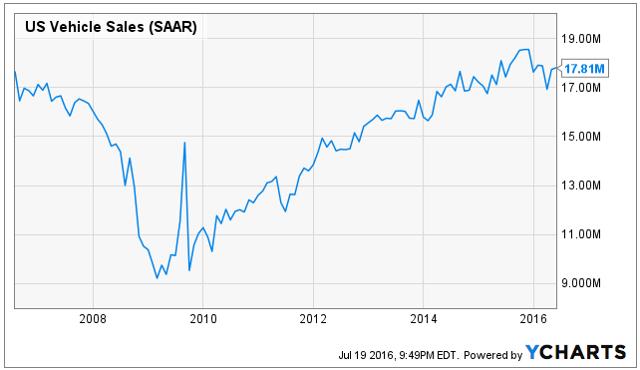 Some readers were curious about my estimation of Ford's probability of bankruptcy. Unfortunately, I do not believe that this is something that can be quantified; so I was quite surprised when I learned that a website gave a precise figure of 49%, which was supposed to be the probability of Ford going bankrupt in the next two years.

Source: macroaxis.com
While I do not believe that the chance of bankruptcy can be readily quantified, especially to such precision, I do know if I see fundamental errors.
Swimming In Profits
For a company to go bankrupt, there must be signs of financial stress. The most straight forward metric is earnings. Is Ford losing money? Absolutely not. In fact, Ford is swimming in it, which is why the stock looks to be so cheap in the first place. In the first quarter, the company generated $2.5 billion of net income. Since net income takes everything into account, the fact that it is positive means that we can be sure that the company can service its debt (i.e. not go bankrupt) under current market conditions.
For a company to make money today but to go out of business in two years, a lot of things have to go wrong with the economy. You can read about some of my macro coverage here, but the bottom line is that I do not foresee any stress in the economy at the moment. After all, this is the reason why the Fed is thinking about raising the interest rate, not decreasing it.
Miscategorization Of Debt
Ford had $151 billion of debt as of Q1. Debt goes into the calculation of various ratios concerning financial health, such as the leverage ratio (assets/equity), which stood at 8x as of FYE 2015 (Macro Axis calculates the ratio annually). If we keep equity as a constant, lower debt will imply lower assets, and lower assets produce a lower leverage ratio, which would decrease the chance of a bankruptcy. But why would we "cheat" by reducing the debt to calculate the leverage ratio?
There are different forms of debt, and in Ford's case, differentiating financial debt from operating debt is key. There are other names, but I define them as follows: financial debt is debt that is used to fund non-financial assets (e.g. a manufacturing plant) whereas operating debt is debt used to fund financial assets (i.e. like a bank).
Ford's financial statement makes the distinction very clear. Financial debt belongs to the automotive sector and operating debt belongs to the financial services sector. As of Q1, the company had $13 billion of financial debt and $128 billion of operating debt. So most of the debt is actually being used to fund financial assets! As you probably know, banks carry a huge amount of liability, so the leverage ratio is expected to be high. That's because the assets backing the liabilities are financial assets, so they can be easily valued and can be used as collateral (not always in the legal sense, but in that lenders are willing to lend more).
In essence, the aggregate leverage ratio of 8x is not reflective of the risk characteristics of Ford. If we look at just financial debt, the leverage ratio in 2015 would decline to just 5x for the automotive sector, which isn't atypical for a manufacturing company. Unfortunately, I'm unsure of the precise impact this will have on the expected chance of bankruptcy (in my view it's not a useful measure anyways), but you can bet that the probability will decline substantially.
Conclusion
I believe that the 49% chance of bankruptcy is not a useful measure of Ford's current level of financial distress. The company is making boatloads of money and the economy isn't about to collapse any time soon, hence the company should be able to service its debt obligations in the near-future. Furthermore, miscategorization of debt inflates the leverage ratio to 8x when it should be closer to 5x.
Click the "Follow" button beside my name on the top of the page to be updated with my latest insights. To learn more about the V20 Portfolio, whose goal is to compound capital at 20% over the long term, I encourage you to read the introduction to my investment process. Premium subscribers get full access to the V20 Portfolio.
Disclosure: I/we have no positions in any stocks mentioned, and no plans to initiate any positions within the next 72 hours.
I wrote this article myself, and it expresses my own opinions. I am not receiving compensation for it (other than from Seeking Alpha). I have no business relationship with any company whose stock is mentioned in this article.