Yesterday, both building permits and housing starts data got published. As usual, traders watched monthly changes. In this article, I will show you the year-on-year change and the correlation with homebuilder stocks. The other thing that bothers me is the fact that building permits are considered to have low impact. The opposite is true. Building permits are the most important leading indicator as you will see in this article.

Source: DailyFX
Building permits came in at 1153K which is slightly above expectations. Housing starts came in stronger too.
On a year-on-year basis, building permits are down almost 14%. Housing starts are down about 2%. As you can see in the graph below, the upside for homebuilding stocks is very limited at this point. The pressure is growing rapidly.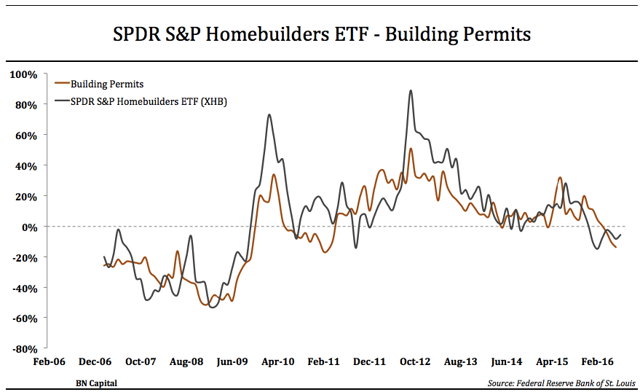 If we compare homebuilding stocks and housing starts, we see a way more optimistic picture. The only problem is the fact that housing permits are not leading and way too volatile.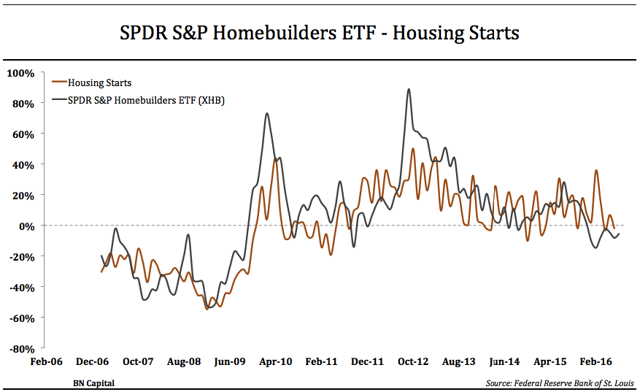 Slow building growth/contraction made it nearly impossible to get any alpha while trading homebuilders on the long side. Homebuilders [SPDR Homebuilding ETF XHB) are unable to outperform the market (SPDR S&P 500 Trust SPY].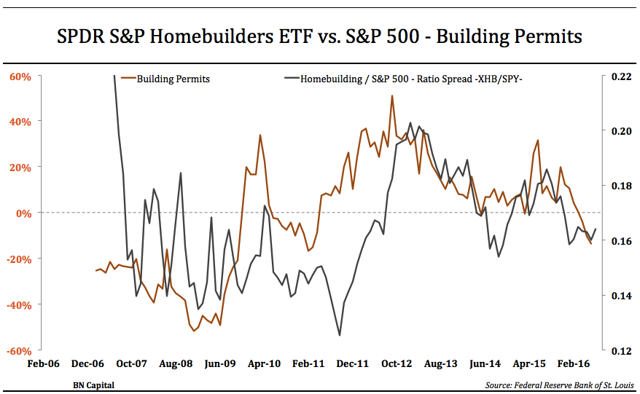 At this point, I am not considering buying homebuilders. I will put homebuilders on my watchlist once growth is returning.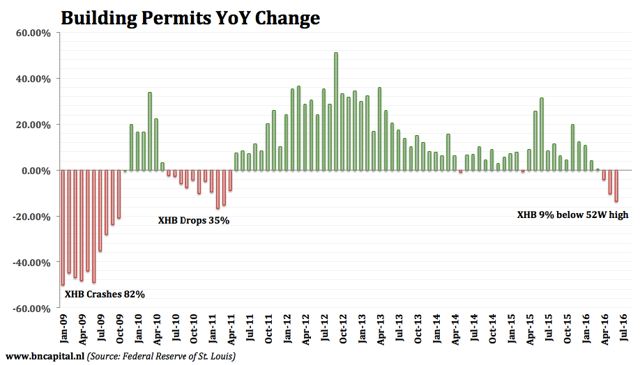 Homebuilders won't outperform stocks simply because there is no strong bull case. Even investors who like dividends should wait to buy dividend paying builders at lower prices.
I hope you enjoyed this article. Feel free to write a comment if you have questions or remarks.
Disclosure: I/we have no positions in any stocks mentioned, and no plans to initiate any positions within the next 72 hours.
I wrote this article myself, and it expresses my own opinions. I am not receiving compensation for it (other than from Seeking Alpha). I have no business relationship with any company whose stock is mentioned in this article.