Shares of Carnival Corp (NYSE:CCL) have been slumping over the past year as the stock has dropped 12% during this time. Despite the decline, Carnival's business operations have been steadily improving and the company is likely to report solid numbers for 2016. The disparity between the performance of the company and its stock price could provide shareholders an opportunity to buy a miss-priced industry stalwart, with notable growth prospects.
In this article, I will discuss the current landscape of the cruise industry, detail Carnivals current business and future prospects and delve into any potential risks or considerations in investing in Carnival Corp.
Cruise industry
Although the past 12 months have been a struggle for Carnival, the cruise industry has actually had a strong go of it since 2014. Much of this performance can be attributed to an improving economy, which has led to a surge in consumer spending. This increased spending has directly benefited the cruise line industry. However, the strong performance has not be spread equally among the industry's constituents. Carnival and Royal Caribbean's (NYSE:RCL) revenue has been relatively stagnant over the past five years, while Norwegian has seen their revenue and profits double over this same time period. This lack of growth on the part of Carnival is somewhat misleading as they have had to focus on replacing older vessels and making their fleet more efficient. Now with much of this process complete, they are free to resume growing the fleet which should, in turn, grow future revenue.
Another factor that has benefited the cruise industry is the low energy costs of the past couple years. With energy prices dropping as much as 75% from their peak in 2014, cruise ships are saving on one of their largest expenses. Carnival realized an almost 40% savings in 2015 compared to the previous year- this represented the biggest savings of the big three cruise liners. The reduced costs helped Carnival realize a year over year profit increase of 45% in 2015. As prices for oil have remained relatively low, we can expect that margins will yet again be solid in 2016. As long as oil prices remain depressed the cruise industry can take advantage of increased margins and should see profits continue to grow. Overall, the cruise industry is in good shape. So far 2016 has shown great promise as revenue per passenger improved 4% last quarter. This was on top of an impressive 6% rise the quarter before that. Finally, bookings have been steadily on the rise the past few quarters pointing to a healthy demand in the cruise space.
Carnival's current performance and future prospects
Carnival has a good deal of momentum behind it due to last quarter's earnings beating estimates. The company not only saw revenue rise 4% but net income more than doubled, producing $0.49 per share in adjusted earnings. Not only are bookings up but guests are also spending more once on board-customers dished out 4% more per day this past quarter. Operating costs fell 2% for the quarter and profits for the year are estimated to be up 20% from 2015.
Operating margin rose to 18% of sales in the first half of the year, which helped them generate $750 million in net income. Profits have risen to over $2 billion per year, which is near record levels, almost matching where they were prior to the 08 recession.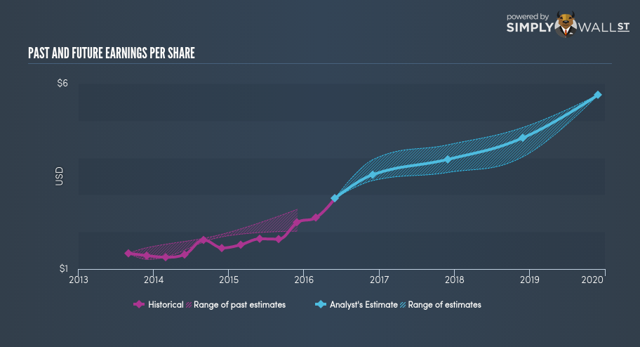 It's important to look at cash flows when considering investing in the cruise ship industry, as the business can often move a great deal in relation to consumer spending. So far this year, Carnival's free cash flow is up 17% to $2.7 billion. This increased cash flow is being used in two ways. First, the cash will be used for upgrades to existing ships as well as expanding the current fleet. And second, there should be plenty of cash left over for additional distributions to shareholders. Carnival currently pays a healthy 3% dividend up 17% as of late.
As for their current valuation relative to the market, Carnival looks very attractive. The company is trading at a PE ratio of 16-significantly below the consumer service industry average of 27. They also have a PEG of 0.6 and a PB of 1.5, both of which beat the industry standard by a notable amount.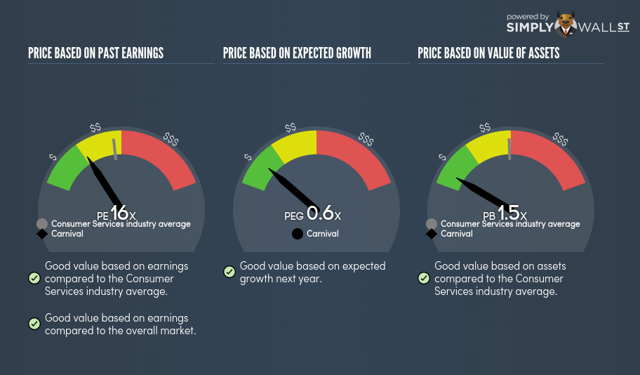 Carnival is not without its risks. The cruise industry is influenced greatly by economic trends as the leisure industry is the first get hit in a slowing economy. Moreover, energy prices play a critical role in Carnival's margins and largely determine their profitability. Finally, foreign currency swings can be unpredictable as the exchange rate issue can negatively affect revenue.
Bottom line
In the end, by taking a longer term perspective we can eliminate much of the cyclical risk associated with Carnival and the cruise line industry in general. Knowing that, the company has several things going for it. They have a dominant position in the industry with significantly more guests that the other liners. They also have momentum stemming from last quarter's impressive results which are predicted to continue the rest of the year. Finally, the stock is currently undervalued relative to the market. All these factors coupled with a 20% predicted rise in profits make Carnival Corp an attractive investment over the next several years.
Disclosure: I/we have no positions in any stocks mentioned, but may initiate a long position in CCL over the next 72 hours.
I wrote this article myself, and it expresses my own opinions. I am not receiving compensation for it (other than from Seeking Alpha). I have no business relationship with any company whose stock is mentioned in this article.