About the Company
Vodafone Group Plc (NASDAQ:VOD) is a technology company that offers wireless communication services to its customers. Being part of the telecom industry, the company provides a vast range of communication services including video content, mobile, broadband, cloud hosting and IoT offerings. The company sells its services through branded retail outlets, distribution partners and third party retailers. Headquartered in the UK, the company was founded in 1984, and since then, it has established a global presence by operating in various regions of Europe and AMAP with a workforce of more 100,000 people.
Revenue Insights
Vodafone generates more than 90% of its revenue from the provision of communication services. Its service operations include fixed voice and broadband services, general mobile services e.g. voice, text and internet access, and other services such as IoT, Partner Markets, etc. For the past couple of years, the company has been generating more than 50% of its total revenue from its Mobile service unit indicating Vodafone's heavy reliance on this segment for revenue. In 2016, 74% of the company's service revenue was brought in by this segment while fixed broadband and other services brought in 21% and 5%, respectively.

Source: 20-F, 2016
Although forming a minor portion of total revenue, fixed broadband customer base is growing at a faster rate than its mobile customers. Over the last three years, fixed broadband customer base has demonstrated a CAGR of 23%, which is significantly lower than the CAGR of 4% reported by mobile customer base. Although the growth rate dropped significantly in 2016, it's still higher than that of mobile customers. Higher growth in fixed customer base is indicative of the fact that Vodafone has been directing its resources more towards the fixed broadband offerings.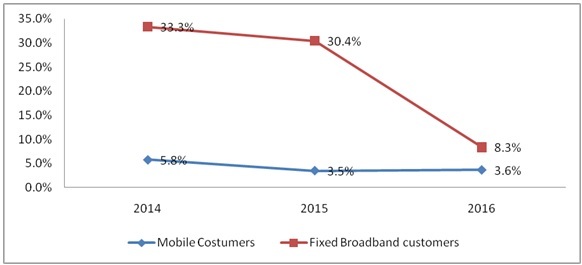 Source: 20-F, 2016
Geographically, Vodafone has a wide global presence through its subsidiaries, joint ventures and partner markets. Going into specifics, for the past three years, more than 50% of the company's total revenue has been generated by its European operations, making it the largest market for the company's services. In 2015, 66% of the total revenue was brought in by the European market, followed by 32% from AMAP (Asia, Middle East, Asia-Pacific) and 2% from other markets.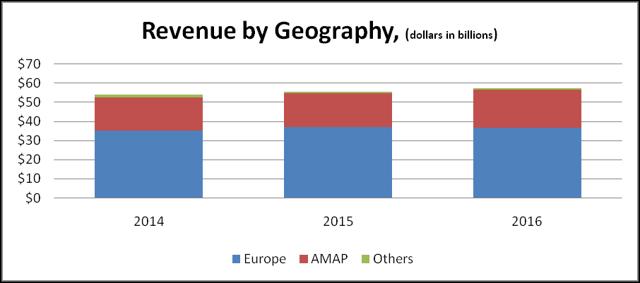 Industry Prospect
Since Vodafone's main line of business is the sale of its mobile and broadband services, the company will be affected by any developments in the global telecommunication market. According to Telecompaper, global telecom service revenue is expected to grow at a CAGR of 2.1% from $2.1 trillion in 2014 to $2.4 trillion in 2019. A report by Insight Research Corporation predicts similarly with CAGR of 2.3% from 2015 to 2019. Communication spending will continue to form a major part of global IT spending in 2016. Furthermore, due to the abolishment of roaming charges in the EU and some parts of North America, worldwide consumer spending on communication services is likely to fall by 1.2% in 2016, according to Gartner.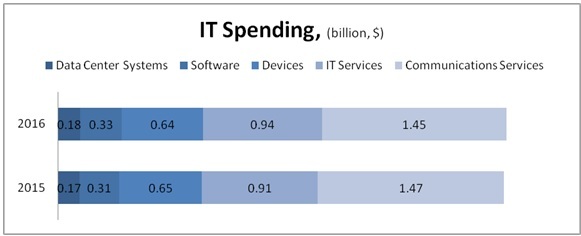 Source: Gartner
The wireless communications market will have a significant impact on Vodafone's operations. GSMA intelligence reports that, by 2020, almost three fourth of the global population will have a mobile connection and unique mobile subscriber base will increase from 4.7 billion to 5.6 billion over the next 5 years, demonstrating a CAGR of 3.6%. It was further implied that most of the new subscribers will come from emerging markets and telecom operators will need to divert their resources into growth areas such as 5G, M2M and IoT.
Considering the fixed broadband market, point-topic research firm expects broadband lines to reach 989.4 million by 2020, worldwide and majority of this growth will be derived from developed countries with a high density of young population.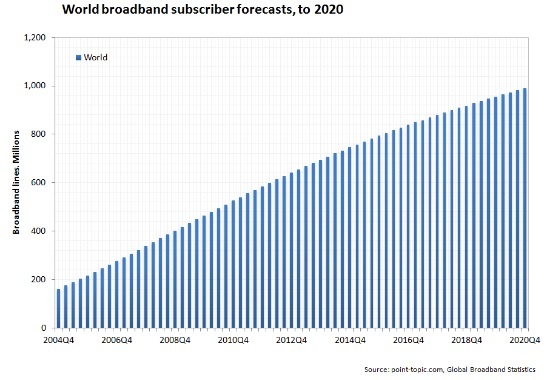 Shedding light on regional sales, future growth in global telecommunication revenue will mostly be derived from Asia and pacific region while return from the European telecom industry will remain relatively constant, according to Statista.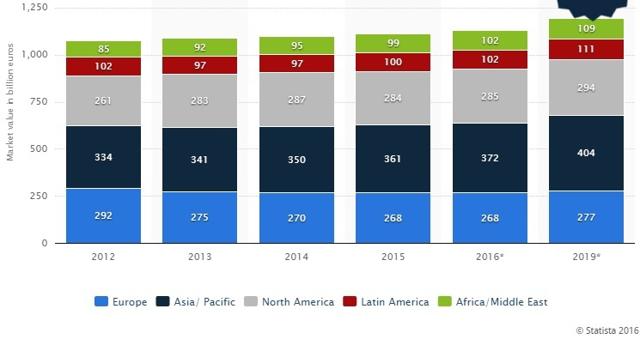 Overall, the telecom industry is set to witness a very low-single digit growth going forward and most of this growth is expected to come from emerging markets.
Thesis
Brexit has exposed VOD to great uncertainty. UK's vote in favor of exiting the European Union has created quite a predicament for the country. Although headquartered in the UK, VOD will be concerned by this development since more than half of company's total revenue is derived from its operations within the EU member states and only 15% is generated by the UK as mentioned in our revenue classification section above.
Due to Brexit, the company won't be able to get a favorable tax treatment available to the EU member states under the Parent-Subsidiary directive. Before a new double taxation agreement could be reached between the UK and EU, which will take some time, we can expect tax expense to pressurize profit margins of VOD's European business unit going forward.
Furthermore, it should be examined whether Ofcom, the government approved regulatory body of the UK, would still adapt to EU policy regarding suppression of roaming charges across its member states or will it decide not to abolish such charges, in which case, the UK operators, like VOD, are likely to experience growth in their yearly revenue from UK subscriptions.
"However, the impact to UK operators from this will be significant. Therefore it is inevitable that someone is going to end up out of pocket - but the question is will it be UK operators under Remain, or British mobile phone users under Brexit." said Felipe Florez-Duncan, Partner at Oxera.
One of the possible outcomes which could have a catastrophic effect on VOD's operations is whether post-Brexit UK will result in the abolishment of freedom of movement for people, capital and goods. If such a policy were to be implemented then VOD could experience significant losses e.g. goods and services supplied to EU could face implications of import tariff and withholding tax, European labour employed in the UK office will be required to leave work which will result in termination and recruitment costs, etc. In order to avoid such fear, the Company's directors are in discussions with regards to moving its head office from the UK.
"Freedom of movement of people, capital and goods are integral to the operation of any pan-European business, as are single legal frameworks spanning all member state."
It will take at least two years before a withdrawal agreement could be reached, before which the country will continue to operate under the EU regime. Talks with regards to the terms of the post-Brexit deal with the EU are still unclear, that's why VOD's UK and Europe operations are currently surrounded by a great deal of uncertainty.
Low gearing would result in lower cost of loans. One of the key financial strengths of Vodafone is its gearing position. The company has been able to maintain a significantly low debt-to-equity ratio in comparison to its U.S. based counterparts including T-Mobile (NASDAQ:TMUS) and Verizon (NYSE:VZ), as well as its European rival Deutsche Telekom (OTCQX:DTEGY) and Telefonica (NYSE:TEF). Take a look at the chart below.

Not only is Vodafone attractive to investors with a conservative profile due to its lower default risk, but the company won't find it difficult to raise debt finance at a lower interest rate in order to finance growth projects or dividends payments. Overall, the company is looking at lower financing cost on future loans, compared to its competitors.
VOD's customer reach will increase through SKY merger. VOD has recently gone into merger talks with one of New Zealand's largest Pay-TV service providers, SKY TV. SKY currently wholesales its pay television services to VOD, which in turn sells them along with its telephone and broadband offerings. If the proposed merger goes through, VOD will be able to profit from certain revenue synergies.
Both companies will be able to market its products through each other's platforms; both will be able to access additional distribution channels for delivery of content. Through VOD's vast mobile coverage, the merger would allow the combined company to benefit from making entertainment content available on mobile devices. The merger is set to be settled at a price of NZD 3.43 billion all cash and debt free, which would give VOD a 51% share in the combined group.
Furthermore, it is expected that cost synergies in terms of lower cost set up boxes, utilization of VOD's technical capabilities, sales and marketing efficiencies and streamlining of overlapping functions will emerge through this transaction. The company forecasts an NPV of $850 million NZD from this acquisition. In the long term, it is our opinion that the above-stated cost and revenue synergies will not only result into growing sales and margins, but VOD will have access to a broader marketing and distribution channels, which will allow the company to gain a competitive edge against the likes of Netflix (NASDAQ:NFLX) and SPK operating in the New Zealand market.
Furthermore, the merger will allow the weakening demand for satellite TV to be offset by VOD's fiber broadband network, which would allow content to flow both ways. Also the transaction will let VOD's services to reach out to rural areas of New Zealand through Sky's satellite capabilities, where broadband services are not accessible
Growth in earnings expected as Project Spring reaches completion. In Q3 of 2013, the company announced Project Spring. According to the project, the company intended to invest £19 million from March 2014 to March 2016 in order to improve upon its mobile network and customer services. The project has now reached its completion and has achieved more than 70% of its mobile build and customer experience targets, which were laid out in the beginning.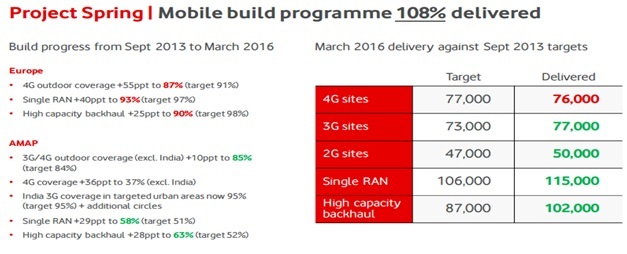 Source: Vodafone's annual report 2016
Furthermore, the investment is finally starting to pay off as the company reported 2.3% organic growth in its revenue, 1.5% growth in organic service revenue and 2.7% organic EBITDA growth in 2016. Since the project has recently been completed, it will take some time before Vodafone can reap the complete benefit from its investment. Therefore, we are expecting growth in future earnings as the benefits of the Spring Project materialize.
Valuation - Adjusted FCF
FCF value-added approach reveals a price around $25. Assumptions include:
FCF is assumed to grow at a CAGR of 5% during 2016 to 2020 above the forecasted revenue growth around 2%-3%. 0% growth is assumed in perpetuity.
CAPM is used to calculate the cost of equity. Increase in capital is assumed to increase the cost of equity going forward. FTSE 350 index is used as a proxy for the return on market.
Cost of dividends is subtracted from FCF to arrive at the value added to the company.
Focus Equity Estimates, Soid Ahmad
Vodafone is yielding more than 5%, or around $1.66 per share. The interesting thing is that neither the earnings cover this dividend out payments, nor the free cash flow. The free cash flow per share was around $1.37, calculation based on Morningstar data. The point is that the company is paying more dividend than it can sustain as a going concern.
Therefore, we adjusted our valuation for the cost of dividends. This was done by using the same cost of equity approach but market capitalization and yield was used to calculate the cost of equity. Valuation reveals a price target of around $25 for the company.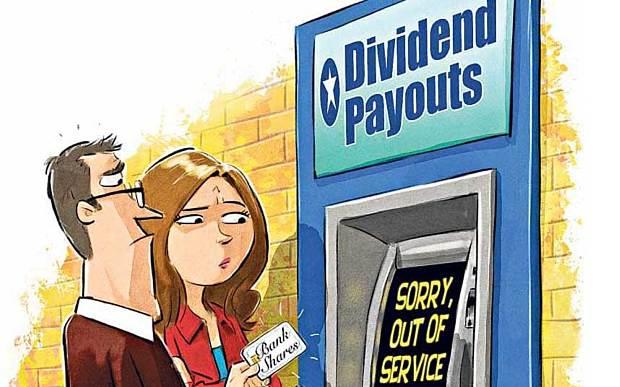 Image Credit: telegraph.co.uk
Dividend cuts can follow in the future amid higher dividend payments as compared to FCF. The dividend is attractive but investors can suffer capital losses in case Vodafone decides to cut back on dividends. The argument regarding a high cash balance is also clouded with uncertainty. Vodafone has around $18.99 billion in cash but short-term debt also amounts to around $21 billion.

Source: 10-F, 2016
The source of cash is not the operating activities. As maturities approach, the company can have difficulties in maintaining the dividend payments. Further, the current ratio is also below 1, standing at around 0.84. This is also indicative of a potential dividend cut in future.
Verdict
Given the uncertainty created by Brexit, anticipation of pressure on earnings amid tax treatment and increase in the cost of factor of production, and the non-sustainability of dividends, we rate Vodafone a sell.
Disclosure: I/we have no positions in any stocks mentioned, and no plans to initiate any positions within the next 72 hours.
I wrote this article myself, and it expresses my own opinions. I am not receiving compensation for it (other than from Seeking Alpha). I have no business relationship with any company whose stock is mentioned in this article.
Additional disclosure: "This publication is for informational purpose only and reflects the opinion of Focus Equity's analysts. This opinion doesn't constitute a professional investment advice. Our senior technology analyst compiled this research piece. Focus Equity is a team of analysts that strives to provide investment ideas to the U.S. equity investors."
Editor's Note: This article discusses one or more securities that do not trade on a major U.S. exchange. Please be aware of the risks associated with these stocks.