Conservative income investors looking for solid growth along with a nice dividend should consider the First Trust NASDAQ Technology Dividend Index ETF (NASDAQ:TDIV). The fund is a conservatively oriented technology fund with a decent amount of telecom exposure which helps push the yield to nearly 3 percent. The fund is not as aggressive as a pure technology fund, so TDIV will tend to lag a pure play amid a bull market in tech. On the flip side, a 20 percent exposure telecom and mega cap, dividend paying tech helps it outperform during tech downturns.
Overview
TDIV is an exchange-traded fund (ETF) that tracks the NASDAQ Technology Dividend Index. This Index includes stocks that must be listed on the NASDAQ, the New York Stock Exchange, or the NYSE Amex and must be classified as either a technology or a telecommunication company according to the Industry Classification Benchmark (ICB). Each company must have a minimum $500 million of market capitalization, have at least one million dollar of three-month average daily trading volume, have paid a dividend with no decline in the dividends per share in the past 12 months, have a minimum yield of 0.50 percent, and is not currently engaged in bankruptcy proceedings.
The index, rebalanced quarterly, uses a modified dividend value weighting methodology with technology companies making up 80 percent of the index and telecommunication companies 20 percent. There is a cap for stock holdings to prevent a large concentration in individual holdings.
TDIV currently consists of 87 percent U.S. stocks and the rest in international stocks including those in Canada and Taiwan. Giant-cap stocks comprise 56.3 percent of assets. It is a concentrated portfolio with the top five holdings making up almost 40 percent of assets. For comparison, the largest technology ETF, the Technology Select Sector SPDR ETF (NYSEARCA:XLK), is even more concentrated: it has 71 percent of assets in giant cap stocks and 45 percent in the top 5 holdings.
One key feature of TDIV is its higher dividend yield relative to other technology ETFs due to the index rules. TDIV includes companies such as IBM (NYSE:IBM), Microsoft (NASDAQ:MSFT), Qualcomm (NASDAQ:QCOM), and Texas Instruments (NASDAQ:TXN), which have a long history of growing dividends.
TDIV vs XLK Performance
Let us drill down into performance to see how TDIV has fared against XLK.
The chart below is a price ratio chart. The red line shows the relative performance of TDIV versus XLK and the blue line shows the SPDR S&P 500 Trust ETF (NYSEARCA:SPY) versus XLK since TDIV's inception. A rising line shows the outperformance of TDIV and SPY, and a falling line shows outperformance by XLK. Since TDIV's inception, it has generally underperformed XLK when XLK was outperforming the broader market. When XLK has trailed the broader market, it has also trailed TDIV. The outperformance by TDIV in 2016, a year when XLK has trailed SPY, reflects the more defensive nature of TDIV as compared to the more growth-oriented XLK.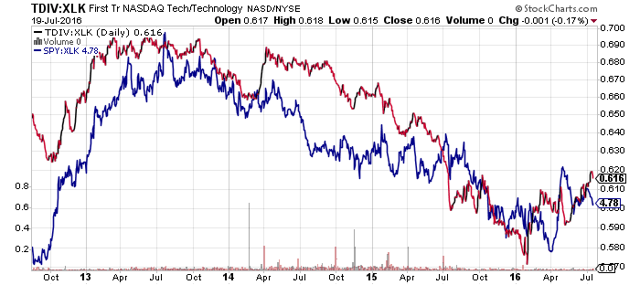 The next chart shows the relative performance of TDIV versus XLK again (red line) and the iShares U.S. Telecommunications ETF (NYSEARCA:IYZ) versus SPY (blue line) since TDIV's inception. Over the long-term we see the outperformance of TDIV against XLK when IYZ outperforms the broader SPY.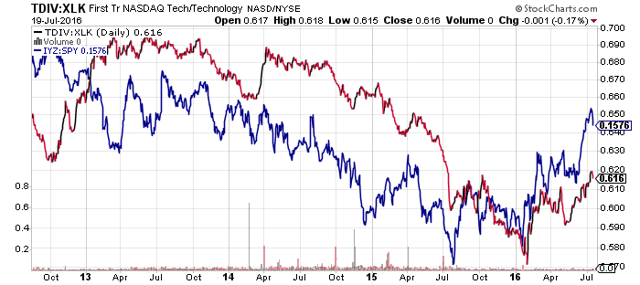 Based on Bloomberg's data, the telecommunication stocks held by TDIV have gained 25.44 percent year-to-date through July 15, 2016, helping TDIV climb 12.06 percent this year. By comparison, the year-to-date total return performance of XLK was 6.20 percent. This reflects the strength seen in other dividend funds in 2016. SPY is up 6.97 percent over the same period, versus the 10.97 percent gain for the Vanguard Dividend Appreciation ETF (NYSEARCA:VIG), as one example of dividend outperformance.
TDIV vs XLK Dividends
TDIV has a 30-day SEC yield of 2.95 percent as of July 18, 2016 compared to 1.76 percent for XLK.
Thanks to the higher yield, TDIV has seen a larger share of its total return come from dividends. From inception to July 15, 2016, TDIV has a total return of 55.43 percent, 28 percent of which comes from dividends. XLK has a total return of 60.93 percent, of which 19 percent comes from dividends. Although TDIV has trailed amid a period of technology outperformance, in a flat or volatile market such as we saw earlier this year, the contribution from dividends rises, giving TDIV another edge in downturns.
TDIV has grown its 12-month rolling dividends by 36 percent since the end of 2013, while XLK has grown its dividends by 37 percent. Even though TDIV holds generally slower growing firms, investors sacrificed no income growth by holding TDIV over XLK.
TDIV vs XLK Portfolio
TDIV has a higher number of stock holdings at 93 compared to 73 in XLK and has a lower concentration in the top ten holdings at 56 percent of assets compared to 60 percent in XLK.
Although TDIV clearly has a higher weighting of telecommunications stocks at 20 percent, XLK also has exposure at 11 percent of assets. XLK's telecom exposure is split between AT&T (NYSE:T) and Verizon (NYSE:VZ), both top ten holdings. The largest telecom holding in TDIV is the number 10 holding, CenturyLink (NYSE:CTL) at 2.2 percent of assets.
The real difference comes from subsector exposure, a consequence of TDIV's pursuit of income. Semiconductors are 28 percent of TDIV followed by software at 15 percent. XLK has 19 percent in software and 18 percent in Internet software and services. TDIV owns older, more established companies throwing off free cash flow for dividends, while XLK's holdings tend to be newer companies with an intensive focus on growth.
Three stocks stand to highlight the portfolio differences. XLK has 12.62 percent in Apple (NASDAQ:AAPL), 10.00 percent in Google (NASDAQ:GOOG) (across two classes of stock) and 6.30 percent in Facebook (NASDAQ:FB). TDIV has 7.52 percent in Apple and none in Facebook or Google (since Facebook and Google do not currently pay a dividend). The future performances of these three stocks will have a relatively large impact on the relative performances of TDIV versus XLK.
TDIV versus XLK Valuation
As of July 15, 2016, Morningstar reported TDIV had a forward price-to-earnings ratio of 16.16, a price to book ratio of 2.71, and a price to sales ratio of 1.71 compared to 18.67, 3.67, and 2.74 respectively for XLK; and 18.36, 2.56, and 1.80 respectively for SPY. Based on these measures, TDIV is cheaper than the broader market as well as XLK.
Conclusion
For investors seeking technology exposure with a decent dividend and relatively cheap valuation, TDIV is worth considering. The extra one percent of yield vs XLK is significant and can help increase portfolio yield. Investors give up some upside during periods of technology outperformance, but they do better when technology underperforms the broader market. This makes it a better fit for income oriented investors than those seeking greater capital appreciation.
TDIV has a relatively high expense ratio of 0.50 percent versus 0.14 percent for XLK. Other U.S. dividend-focused ETFs have expense ratios in the range of 0.10 percent to 0.40 percent. This isn't a deal-breaker, but with a portfolio made up of mostly large cap tech, it's on the high side. A small cut in expenses would boost the yield and make TDIV that much more attractive.
Disclosure: I am/we are long TDIV.
I wrote this article myself, and it expresses my own opinions. I am not receiving compensation for it (other than from Seeking Alpha). I have no business relationship with any company whose stock is mentioned in this article.