If you've been vacationing in the Hamptons, here's your latest market update: Stock are up, let the good times roll! After all, "What goes up, must go up," right?
It's been said the only "bubbles that Wall Street ever sees are the bubbles in its champagne glasses." Bubbles or not, stock prices by historical measures are hardly in bargain territory.
FactSet reported the S&P 500 index now trades at the top range of its historical averages. "The current trailing 12-month P/E ratio of 19.4 is above the three most recent historical averages: five-year (15.8), 10-year (15.9), and 15-year (17.6)." (See chart below)
If conventional P/E ratios aren't to your sophisticated liking, the Shiller P/E ratio shows a similar trend in stock market froth.
At 26.92 today, the Shiller P/E for the S&P 500 has approached the pre-2008 financial crisis levels.
The Shiller P/E is based on average inflation-adjusted earnings from the previous 10 years, also referred to as the "cyclically adjusted P/E ratio" (or CAPE Ratio).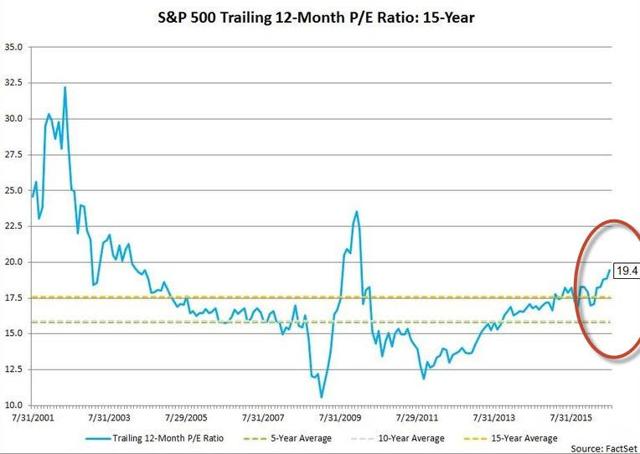 Never mind that Irving Fisher confidently declared "stocks have reached a permanently high plateau" shortly before the 1929 market crash. Even by Fisher's standards, stocks in that froth-drenched era were cheaper vs. today.
Figure 2 plots the year-end market value of all NYSE listed companies multiplied by 1.45 from 1925-2000, along with the year-end total value of all domestic companies from the Federal Reserve from 1945-2000.
The market value of shares for the 846 companies listed on the NYSE in August 1929 was $89.7 billion, according to McGrattan/Prescott.
Thus, their estimate of the total value is about $130 billion (= $89.7 × 1.45), or 1.24 times the GNP in 1929. Aggregate corporate earnings were 8.8% of GNP,which implies a P/E ratio of 14.1, which is the exact same as Fisher's 1930 estimate based on 45 industrial companies.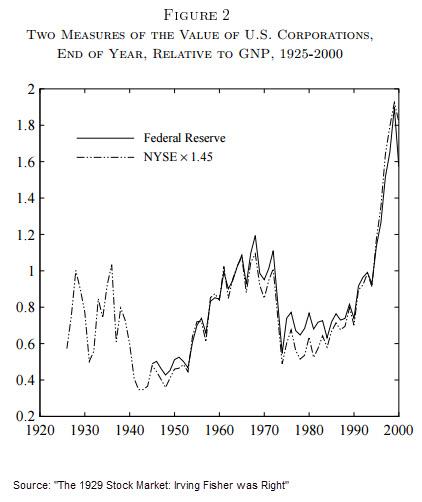 What were stocks worth during their late 1920's heyday and how does it compare to today?
Adding "fundamental value" to the equation, McGrattan/Prescott said, "Our conservative estimate of the fundamental value of U.S. corporations in 1929 is no less than 21 times corporate earnings (or 1.9 times GNP), whereas a conservative estimate for the market value of U.S. corporate equities in 1929 is no greater than 19 times corporate earnings (or 1.67 times GNP)."
We all know market prices aren't determined by carefully calculated valuation metrics, but rather by perception and animal spirits. "The most important thing shaping security markets is public psychology," stated Gerald Loeb. Which basically means that buying stocks on the dip always works like a charm until the abrupt day it suddenly doesn't.
No doubt, there are plenty of folks on Main Street and Wall Street alike who believe that history - especially stock market history - is a pack of lies told by a bunch of people that weren't there. Are you one of them? If so, I'm sure you'll agree: Stocks have reached a permanently high plateau!
Disclosure: I/we have no positions in any stocks mentioned, and no plans to initiate any positions within the next 72 hours.
I wrote this article myself, and it expresses my own opinions. I am not receiving compensation for it (other than from Seeking Alpha). I have no business relationship with any company whose stock is mentioned in this article.