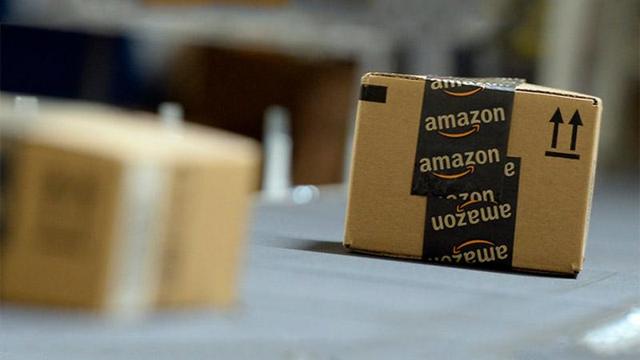 I haven't written on Amazon.com (NASDAQ:AMZN) for more than one year. I was short and covered back then because my models didn't show any more fundamental deterioration. Indeed, since then Amazon.com's fundamentals (and earnings) have improved significantly. In large part, this improvement was driven by AWS (Amazon Web Services), and for now there doesn't seem much reason to believe that the AWS pillar shows any weakness.
There is another pillar to Amazon.com's fundamental performance, though. That pillar is its 3P (Third-Party) marketplace. This marketplace is akin to what Alibaba (NYSE:BABA) or eBay (NASDAQ:EBAY) do, in the sense that it's not Amazon.com itself selling products to its customers. Instead, the products are listed, sold and fulfilled by third parties (though up to 40% of 3P fulfillment is now done by Amazon). For these services, Amazon.com charges a commission.
As it's easy to see, both Alibaba and eBay have no trouble being profitable (and indeed, having very high margins - eBay operating margins exceed 25%, Alibaba's are near 30%). The business of letting third parties use your platform to sell their wares and just collect commissions from them is clearly a very lucrative business.
Recently, I've started seeing worrying signs for this particular pillar - the 3P marketplace. For the longest of times, 3P grew faster than Amazon.com as a whole. Such was very nice for Amazon.com, for as we saw the 3P marketplace is likely to have higher margins that Amazon.com as a whole as well. However, there are now signs that either this growth might be seeing deceleration, or the sample leading to that conclusion is, itself, having problems.
What are those signs? I am speaking about ChannelAdvisor.com's (NYSE:ECOM) regular "online same-store-sales" reports. ChannelAdvisor provides services to third parties selling in many different online marketplaces, and tracks those customers' sales trends. It then anonymously aggregates those sales trends into same-store sales for those disparate online marketplaces, and reports them on a monthly basis (with more detail and periodicity during the Christmas season). As such, ChannelAdvisor's SSS report works as a possible sample of each marketplace's ongoing activity.
What this ChannelAdvisor report has been showing as of late, is some significant deceleration in the same-store sales trend for Amazon.com. Indeed, as of the June 2016 report (out late yesterday) this deceleration seems to have gone all the way down to +11% year-on-year: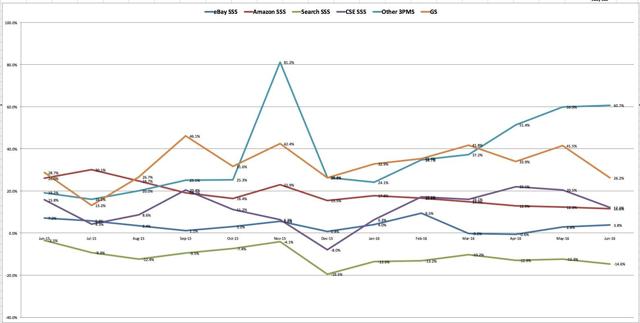 Source: ChannelAdvisor.com
It might be possible that part of this deceleration is due to ChannelAdvisor's own customer mixture. However, given that ChannelAdvisor serves a large number of customers, it's unlikely that ChannelAdvisor's deceleration isn't also being felt to some extent at the overall Amazon.com 3P marketplace. Since this affects one of Amazon.com's most profitable segments (along with AWS), this development might thus have significance for Amazon.com as a whole.
This deceleration took place during the whole of Q2 2016, so pretty soon we'll see if this translated to weakness for Amazon.com. Amazon.com should report Q2 2016 earnings on or around July 21.
An Alternative Explanation
Of course, maybe Amazon.com's 3P marketplace isn't slowing down at all. ChannelAdvisor itself says that its reported SSS numbers can deviate significantly from those being experienced by retailers. Namely due to:
Customer variance: ChannelAdvisor's customers may not be representative of the overall customer mix of any individual channel. For example, on eBay, our customers are skewed toward a larger eBay customer set, not the average.

Category variance: ChannelAdvisor's customers are overrepresented in some categories (electronics, sporting goods and auto parts) and underrepresented in others (collectibles, BMV/media, etc.). On Amazon, for example, ChannelAdvisor has very few media customers, so we have no visibility into that large chunk of Amazon's business.

Cross-border trade variance: While ChannelAdvisor does have a fair amount of non-domestic GMV, our mix of domestic and international customers is not necessarily equivalent to that of other e-commerce players.

Software Impact: At the end of the day, we are a software company. Some of our features cause a short-term bump in sales that may skew results high at the beginning and then lower at the end of a one-year SSS cycle.

Channel impact: Certain changes at e-commerce channels may cause disproportionate good or harm to our customer base, category mix, international mix and software. While the data shows these changes, because we are not a material part of every channel, over 90% of that channel's business may not have the same impact (positive or negative).

SSS is a metric unique to ChannelAdvisor: Amazon, eBay, Google and other e-commerce businesses do not measure SSS. They look at overall growth when they report their financial metrics. We believe SSS is important to our customers from a benchmarking standpoint, which is why we do it this way - it is not intended to be a proxy for the overall performance of any of these e-commerce channels.
Source: ChannelAdvisor.com
However, if this significant deceleration isn't being felt by Amazon.com, then it's being felt by ChannelAdvisor's existing customers and represents underperformance for them.
Now, ChannelAdvisor is supposed to help gain sales, not underperform the market its customers sell into by a large margin. If ChannelAdvisor's customers - and certainly Amazon.com represents most of them, because Amazon.com is the largest US 3P marketplace - are suffering this much versus the market they are in, then this might be a large negative for ChannelAdvisor itself.
Conclusion
The sudden erosion on ChannelAdvisor-reported Amazon.com same-store sales is a worrying datapoint. This is so because the 3P marketplace is one of the 2 large pillars which underpin Amazon.com's newfound profitability. Were growth to slow significantly at Amazon.com's marketplace, and Amazon.com's earnings growth would likely be slower than expected as well.
However, it might also happen that the problem is not Amazon.com's at all. In that case, it is ChannelAdvisor investors who have to worry about it. If Amazon.com is experiencing no unexpected 3P slowdown, then it's just ChannelAdvisor's customers experiencing it. If this isn't negative for Amazon.com, then it's very negative for ChannelAdvisor. Indeed, it might be negative for ChannelAdvisor either way, because Amazon.com's 3P marketplace is the largest in the US and thus certainly touches most of ChannelAdvisor's customer base.
Disclosure: I/we have no positions in any stocks mentioned, and no plans to initiate any positions within the next 72 hours.
I wrote this article myself, and it expresses my own opinions. I am not receiving compensation for it (other than from Seeking Alpha). I have no business relationship with any company whose stock is mentioned in this article.