Microsoft (NASDAQ:MSFT) reported another quarter of y/y revenue decline (-7% to GAAP $20.614 billion) and faces a number of challenges to its operating system dominance, as well as lack of presence in smartphones. If investors were hoping for some insight on these issues out of the earnings report and conference call, there was none to be had. The focus was almost exclusively on cloud and productivity services.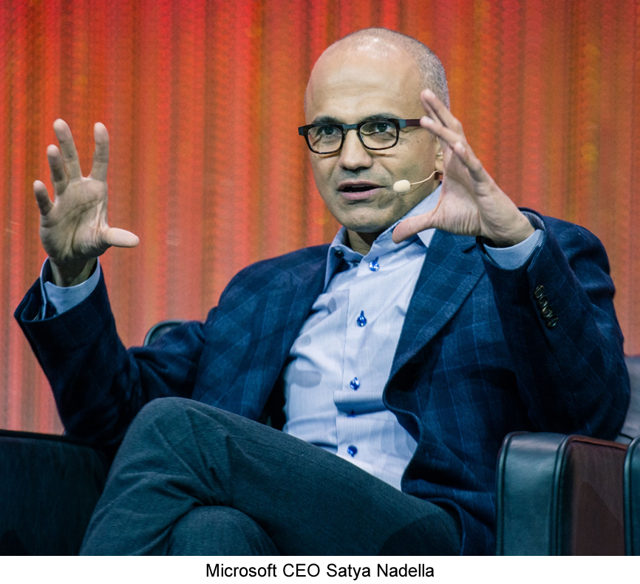 Source: Flickr-LeWeb Paris
Cloud First or Mobile First?
Listening to CEO Nadella, it becomes clear that he's very passionate and knowledgeable about cloud computing. I don't detect a similar passion, let alone sense of urgency, when he talks about Windows. It's as if he's simply a caretaker for some legacy software, Windows, which is dead last in his list of priorities.
It was certainly dead last in his prepared remarks for the conference call. He waxed poetic for 1300 words on productivity software and cloud services before getting around to the More Personal Computing segment. He mentioned the 350 million monthly active devices running Windows 10, and once again touted its adoption rate as the fastest in history. He didn't acknowledge what Microsoft had acknowledged only last week, that Windows 10 would fail to reach its goal of 1 billion active devices.
More importantly, there was no real sense of urgency, either about Windows or about Windows phone. This, despite the continuing implosion of Windows phone revenue, down 71% y/y. Instead, there seems to be a sense of relief in putting the Nokia fiasco behind it. But absolutely no inkling of where Microsoft goes from here.
Nadella's statements also convey that enterprise is the chief focus for Windows 10 adoption going forward. Microsoft's Windows 10 strategy is to "deliver more value and innovation, particularly for enterprise customers." Microsoft expects to drive "increased adoption for Windows 10, particularly in the enterprise."
If this sounds familiar, this was exactly the same fall-back position that BlackBerry (BBRY) tried to pursue with Blackberry 10 when it was clear that consumers were rejecting it. Of course, Microsoft has a much higher probability of success in the enterprise, but it still sounds uncomfortable as though the company is giving up on the consumer.
Glaring Omission
The emphasis on enterprise seems odd in light of the More Personal Computing (MPC) Segment results. OEM consumer licensing actually grew robustly at 27% y/y, indicating that new convertible PCs running Win10 are gaining some traction. And that's great, devices such as Surface Book and Surface Pro are probably the best solutions for mobile productivity available, and are far more useful than Apple's (NASDAQ:AAPL) aging notebooks. Surface revenue is up almost 9% y/y.
Overall, MPC revenue was down 4% y/y, dragged down by Windows Phone. As Microsoft has shed costs associated with the Nokia acquisition, MPC operating income has grown by almost 60% to $964 million. But this ignores the ongoing restructuring and impairment costs, which were $1.11 billion for the quarter, and booked under Corporate (negative) revenue. Obviously, if the costs associated with the Nokia restructuring had been booked under MPC, the story would have been different.
I agree it doesn't really matter where the costs get booked. What does matter is what's the plan now? I've been assuming that there is one, and that it involves the rumored Surface Phone, but there has been absolutely no discussion of what Microsoft does once it finishes selling (or writing off) the last of the Lumia phones. It seems a glaring omission, but perhaps it's just normal secrecy ahead of a new product launch.
Productivity and Business Processes grew revenue 5% y/y to $6.97 billion, but operating income declined by 5% to $3 billion. Operating expenses grew due to investments in sales and infrastructure.
Intelligent Cloud also grew revenue by 7% y/y to $6.71 billion, but also suffered a 17% decline in operating income to $2.19 billion. The decline in operating margin is very much driven by the intense competition Microsoft faces from the other cloud providers such as Amazon (NASDAQ:AMZN), Alphabet (NASDAQ:GOOG) (NASDAQ:GOOGL) and IBM (NYSE:IBM).
Based on the attention focused by analysts during the conference call on cloud services, one might construe that growth in cloud-related services (whether in Productivity or Cloud segments) would just overwhelm whatever decline Microsoft faces in personal computing.
But there's an interesting fact that comes out when you inspect the income statement. In the statement Microsoft divides its revenue into Product, and Service and other, categories. Presumably, Service and other includes all subscription-based productivity software, as well as cloud services. It turns out that the Service and other category gross margin isn't very good at 36.5%, whereas the Product gross margin is 73%. This may say that cloud services may not be the cornucopia that has been assumed.
Overall, GAAP net income was $3.122 billion on revenue of $20.614 billion for the quarter.
Insoluble Problem?
Microsoft's fundamental problem is how to convert the roughly 1.15 billion Windows users who are not on Win10 to a modern Windows platform that has an app store, can use Cortana and other advanced services, and which can be more effectively monetized. Microsoft has acknowledged that Windows 10 is not going to accomplish this. Figuring out how to do this should be priority one for Microsoft.
Is the problem so intractable that Microsoft has simply given up? That seems unlikely. Microsoft management and CEO Nadella surely understand what is at stake. But it doesn't seem that they've decided on a course of action. And Microsoft might not want to preview a successor to Windows 10 while still trying to increase the Win10 user base. Any such preview would probably have to wait at least another year.
As attractive a concept as Surface Phone is, it probably doesn't have much leverage on the problem at this stage. It's unlikely that Surface Phone could sell in sufficient volume to make up the shortfall. Although Nadella mentioned the development of "new device categories," I really doubt there's anything on the horizon (Band or Hololens, for example) that could close the gap as well. It really falls to the Windows 10 successor to win over the current base of Win7 users.
Along those lines, the ugly thought occurred to me that maybe the reason Win10 turned out so poorly was that no one in upper management was really paying attention to it. While consumers were promised a whole new operating system, what they got was a band-aided Windows 8. It just got waved through because Microsoft was taking the Windows franchise for granted.
Investor Takeaway
One could argue that maybe Nadella doesn't need to care about Windows. The franchise is secure and Nadella is focused on the growth areas in cloud services. There is merit to that, and I might almost believe it, if it weren't for the importance of the smartphone ecosystems. The ecosystems of Android and iOS have become the personal computing platforms for most people's day-to-day activities, including a lot of professional activities.
The Lumia collapse makes plausible a scenario in which Windows gradually declines over time, losing users to newer more robust mobile device ecosystems. Windows 10, more than anything, is an attempt to emulate the key features of those ecosystems: a curated app store, search-based monetization and AI-driven voice response. But the lack of a smartphone to host Win10 (besides the now dreadful Lumias), is a major headwind to user acceptance and support from developers. The relatively small number of Windows Store apps, still well under a million by the latest estimate, is symptomatic of that lack of developer support.
I don't think the Windows problem is insoluble at all, but faced with a lack of clear direction from Microsoft management, investors have to simply hope that everything is going to work out. I continue to rate Microsoft a hold, but it's become a more cautious hold.
Disclosure: I am/we are long AAPL.
I wrote this article myself, and it expresses my own opinions. I am not receiving compensation for it (other than from Seeking Alpha). I have no business relationship with any company whose stock is mentioned in this article.