If you've been following IBM (NYSE:IBM), then you know that IBM has had a difficult last few years. Starting in about 2013, IBM's revenue began faltering and then declining. Many of IBM's myriad of businesses, particularly in hardware and contracted enterprise software, seem to be in decline. Many of these declines seem to be secular, not cyclical.
Since then, IBM has struggled to transition into a world of mobile, cloud-based and big data solutions. The end result was that IBM was unable to achieve its "roadmap" goal of $20 in earnings per share by 2015. In 2014, IBM abandoned that plan. Unsurprisingly, shares have been in a real funk since then.
This article looks at IBM's latest quarter, and also includes an ongoing discussion about valuation. Back on April 20th I recommended investors continue to look elsewhere. This article, three months later, takes a second look at that call.
Struggle continues
Despite progress in strategic initiatives such as the cloud, mobile and intuitive computing, overall revenue continues to decline and margins are also doing so. On the year, management continues to expect $13.50 in operating EPS, down from $14.92 last year.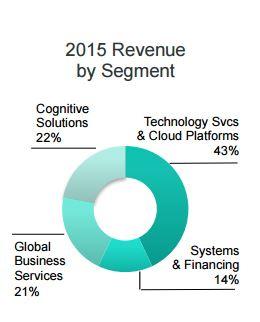 Graphic courtesy of IBM Investor Relations.
On the quarter, the cognitive solutions portion of business had flat revenue, with margins down 2.5 percentage points. The cloud portion was up 34%, with Watson, IBM's patented intuitive computing system, also making gains.
Global business services revenue declined 2% year-on-year, with earnings dropping 1.6 percentage points. IBM acquired Bluewolf, an upstart consulting company. Revenue from "strategic imperatives," including cloud, mobile and analytics, was up 22%. That wasn't enough to stem the declines, however.
Systems and hardware were, predictably, hit the hardest. Revenue dropped 21%, as customers are moving away from on site hardware. This is part of a multi-year, probably secular move. Even "strategic imperatives" revenue in this business dropped 5%.
It's difficult to know exactly when IBM will turn around into revenue growth, exactly because many of the industries IBM is growing into are new and somewhat amorphous, including cloud applications and consulting, intuitive data systems, and mobile data. I suspect, at the very least, that margins are going to be lower because IBM is moving into a rather competitive industry (enterprise cloud software), where IBM is not a first mover. Companies such as Accenture (NYSE:ACN), Salesforce (NYSE:CRM) and Amazon (NASDAQ:AMZN) all have significant business in enterprise cloud computing, and are all early movers and very strong competitors. Enterprises are moving away from multimillion dollar software contracts and onsite data storage, a market IBM did very well in, to on-demand, cloud-based software and cloud-based data software.
Strong cash flow
All that said, IBM's cash flow situation remains strong. Last quarter IBM generated $2.3 billion in free cash flow. Of that, $1.2 billion was paid in dividends, and $0.9 billion in buybacks. Dividends are therefore about 46% of free cash flow. There's a lot of room for dividend growth here, with a credit rating only three months from the top.
Valuation
Valuation continues to be quite low. Shares trade at just 11.1 times trailing earnings. According to data from FAST Graphs, IBM has averaged a trailing P/E of 12.5 over the last ten years. That makes it about an 11% discount to average valuation, with a 3.5% yield on top of that.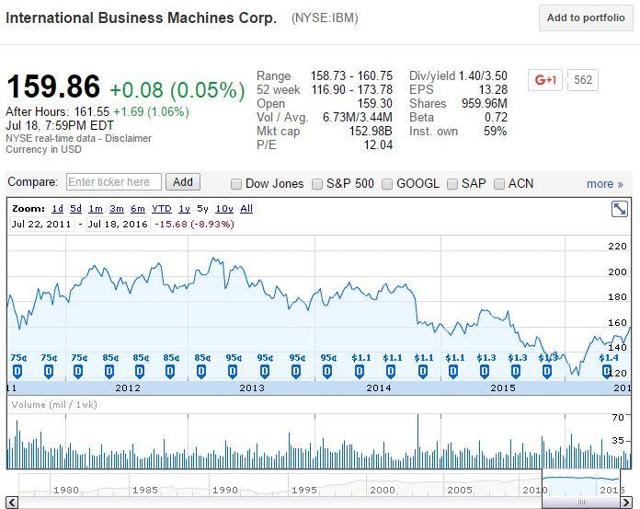 Courtesy of Google Finance.
Although I'm not a huge fan of technical analysis, it really looks as if IBM has put in a solid bottom back in early February, and then began a march higher through to April. Since then, the price has been tested a few times, but has ultimately grinded higher.
In my April article I recommended steering clear of IBM and instead recommended going with Cisco Systems (NASDAQ:CSCO) if tech exposure was important to you. Cisco is now trading at a similar discount to relative valuation as IBM is, and with a similar yield. I still believe that Cisco is a better investment, because Cisco is still growing its revenue and earnings. From a technical standpoint it appears that IBM has bottomed, and I do ultimately believe IBM will turn things around. If you have a long time-horizon, I think IBM is a cautious buy right here.
If you're interested in IBM, feel free to follow me on Seeking Alpha. I intend on periodically writing update articles on IBM when doing so is material and relevant.
Disclosure: I/we have no positions in any stocks mentioned, and no plans to initiate any positions within the next 72 hours.
I wrote this article myself, and it expresses my own opinions. I am not receiving compensation for it (other than from Seeking Alpha). I have no business relationship with any company whose stock is mentioned in this article.