Armor Residential REIT, Inc. (NYSE:ARR) has performed terribly in the last few years. The tough rate environment for REITs and the company's own mismanagement has slaughtered its shares from $56 in January 2013 to $20 currently. Similarly, its dividend payments have also been slashed from $0.64 per share in January 2013 to $0.22 per share in recent months. Most investors have lost confidence in the company's management, but the REIT's fundamentals have significantly improved recently.
In the current environment, the company can comfortably support its dividend, and its valuation of 23% discount to book looks attractive. Purchase the shares in a tax sheltered account for a significant boost to income, but keep its position size relatively small until management proves it can sustain the current defensive trend.
Company Facts as of July 1, 2016
Current share price: $20.32
Estimated book value: $25.12
Discount to book: 21%
Dividend per share: $0.22 per share (monthly)
Leverage: 7.1x
Net interest margin: 1.37%
Company Fundamentals
Armour Residential REIT has surprisingly outperformed its peers in recent months. In the past few years, the company produced big dividends, was heavily leveraged and the risky management style produced terrible results during 2013 to 2015. In fact, the company was a classic high-yield trap any investor should avoid. A high-yield trap is a company attempting to attract investors with outsized dividend yields. However, this big dividend is often produced by a poorly performing company driving the share price down, and dividend yields consequently end up above average. These types of companies usually think short term and seldom produce adequate long-term results.
However, this seems to have changed dramatically in recent months. To understand how ARR has performed in the past few months, consider the following chart that compares ARR's fundamental data in the past three months:
| | | | | | | |
| --- | --- | --- | --- | --- | --- | --- |
| | Leverage | Dividend | Yield Rate | Common Share Price | Book Value | Discount to Book |
| 03/2016 | 9.0x | $0.32 | 19.2% | $20.50 | $25.00 | 18.00% |
| 04/2016 | 7.7x | $0.27 | 14.8% | $21.92 | $25.45 | 13.80% |
| 05/2016 | 7.1x | $0.22 | 12.0% | $20.00 | $25.12 | 21.0% |
The dividend and most other financial information have stayed relatively the same after May 2016. Dividends are still at $0.22 per share as of July 19, 2016.
As can be seen, Armor Residential REIT has began to dramatically lower its leverage (7.1x from 9.0x). Note that the company often had a dangerous leverage of 9.0x to 10.0x in recent years. This high leverage helped boost comprehensive income and produce big dividend yields, but it also sacrifices the company's ability to be profitable in the long term. In fact, as the Federal Reserve rose short term interest rates, the company's high leverage dramatically impacted its ability to adjust. Due to its high leverage, ARR has performed the worst in the past three years.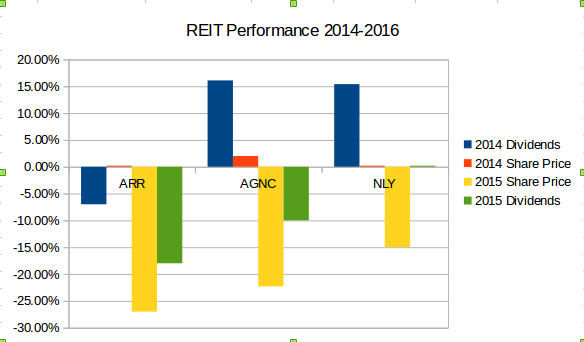 Fortunately, recent development for ARR is very welcome since the company is refocusing on its long term prospects by keeping leverage reasonable. Moreover, ARR's net interest spread has remained rather consistent in the tough interest rate environments. Refer to the below image for details: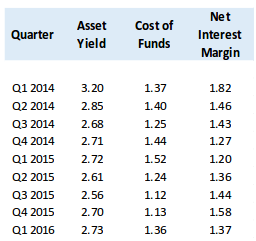 Armor's net interest margin as of Q1 2016
Notice how the company's net interest spread has stayed consistent and above its larger competitors. This is positive news, especially for a REIT that has performed so poorly in recent years.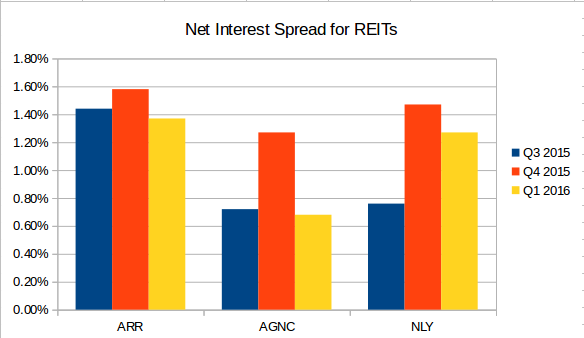 Net interest spread for major REITs
Additionally, here is a chart comparing ARR vs. its bigger and more popular competitors, American Capital Agency and Anally Capital Management. The main advantage of purchasing the company over its peers is its bigger discount to book value, which is currently at 21.0%. In addition, the dividend yield is higher at 12.8% and rather sustainable (see analysis below).
| | | | | | | |
| --- | --- | --- | --- | --- | --- | --- |
| | Discount to Book | Dividend Yield | Market Cap | Leverage | Dividend Sustainable? | Related Articles |
| ARR | 21.0% | 12.8% | 765M | 7.1x | Yes | |
| AGNC | 15.0% | 12.4% | 6.41B | 6.5x | Yes | Click Here |
| NLY | 6.0% | 11.2% | 10.0B | 6.7x | Yes | |
Forward Dividend Yield Analysis and Room for Adjustments
As discussed above, it is important for Armor to keep a reasonable leverage while being able to sustain its dividend. The lower leverage gives the company room to make adjustment in changing rate environments. In case it is required, the company can raise leverage to boost its income and cover its dividend. Refer to the chart below for possible future scenarios and how Armor can sustain its dividend. Notice how lowering its leverage has considerably strengthened the company's dividend sustainability going forward.
| | | | | |
| --- | --- | --- | --- | --- |
| | Leverage | Dividend | Net Yield | Total Yield** |
| Past Data | 9.0x | $0.33 | 1.37% | 12.33 |
| Past Data | 7.7x | $0.27 | 1.37% | 10.6 |
| Current | 7.1x | $0.22 | 1.37% | 9.7 |
| Projected | 8.5x | ~$0.22 | 1.10% | 9.35 |
| Projected | 8.0x | ~$0.22 | 1.20%* | 9.4 |
* 1.20% is the historical low in net yield in the past three years.
** Total yield is calculated by multiplying leverage by the net yield, giving a number the REIT will have to sustain in order its sustain its dividend in the long term.
Investor Considerations: REIT Taxation Structure, Tax Sheltering and Position Sizing
Mortgage REITs and other REITs are fundamentally different to other companies with regard to their taxation structure. The REITs do not pay corporate income tax. In exchange for this benefit, the company must payout >90% of its comprehensive income to shareholders to stay as a REIT and benefit from the no income tax treatment.
However, since the REITs do not pay corporate income tax, the shareholders receiving the dividend will have to pay the ordinary income tax at their marginal rate on every dollar received, amounting to a large tax bill. To avoid this tax, a Roth IRA account or self directed 401(k) is perfect for its tax sheltering effect on these assets.
Holding these assets in a tax sheltered account give the assets a significant competitive advantage to other income producing assets, because the REITs do not have to pay corporate income tax nor do the investor have to pay personal income tax. Regularly, a corporation would have to pay its taxes (50%), and the company's dividend payout are also taxed (15%) at the investor level. In contrast, the taxation of a REIT in a tax sheltered account is 0%. Therefore, be sure to hold the asset in a tax sheltered account for tax efficient income.
Due to Armor's poor history and recent positive development, we recommend entering into the company slowly. As management and the company confirm its philosophy on reasonable leverage and focus on long-term prospects, adding more shares may be appropriate.
Conclusion
In conclusion, Armor Residential REIT, Inc have dramatically improved their fundamentals situations lately. Their dividend yield have been lowered to 12% from 20% a few months ago, but the company's leverage has also dropped to 7.1x from 9.0x. This defensive normalization of leverage are great news for Armor Residential. Investors should purchase a position for an income boost in a tax sheltered account, but be sure to start with a small position initially. Adding to the position as management confirms its defensive philosophy is recommended.
Disclosure: I/we have no positions in any stocks mentioned, and no plans to initiate any positions within the next 72 hours.
I wrote this article myself, and it expresses my own opinions. I am not receiving compensation for it (other than from Seeking Alpha). I have no business relationship with any company whose stock is mentioned in this article.