The current generation of gaming consoles has proven very strong for Microsoft's (NASDAQ:MSFT) XBox One and Sony's (NYSE:SNE) PS4; however, console generations don't last forever....or do they? This console generation has looked much different then prior generations and that has been very good news for MSFT and SNE. As MSFT unveiled more details regarding its Xbox One S this week, the good news looks like it's going to keep coming.
The Console Gaming Marketplace
Historically, console manufacturers have made very little money off of selling the hardware. Margins are often negative at launch, but over time the technology advances and the components become cheaper, allowing for both expanded margins and price cuts. Manufacturers are willing to accept these terms because they act as gatekeepers to the installed base of users, allowing them to charge high-margin royalties on software. This console generation started out slightly better as not only have they reportedly been making small profits on each device right from the start, but sales have been very strong, easily surpassing the prior generation.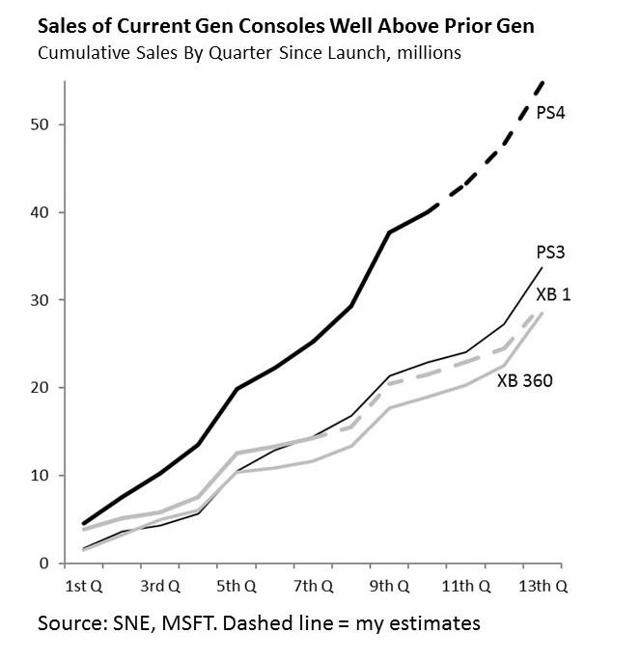 More importantly, in more recent history console manufacturers have been driving even greater revenue out of consumers by layering on numerous services. The most important are subscription services (Xbox Live Gold and PlayStation Network) for which they charge an annual fee. Rather than just acting as gatekeepers to an installed base, consoles are now gatekeepers to an entire digital ecosystem built on those online subscription services, and also include apps and services like an online store/digital distribution, PS Now, PS Vue, and a host of apps (Netflix (NASDAQ:NFLX), Sling TV (NASDAQ:DISH) and so on) that make the consoles as much media centers as merely gaming centers.
The current console cycle is only 3-4 years old (<3 for MSFT & SNE, <4 for Nintendo), barely half the ~6-7 year cycle we've normally seen in the past. We should be at the point in the cycle where the transition has occurred from the prior cycle, profits are maximized, and we're starting to look toward what comes next.
Console transitions can be bad for the industry. Sure, they draw attention to the industry and create excitement for new and exciting graphics or abilities, but graphics and a lot of the specs have advanced so far that the differences between generations are significantly less noticeable compared to the move between 8-bit and 16-bit, for instance. A lot of what's new can be done digitally and by layering on services that don't necessarily require new hardware that's not compatible with the last generation of software.
Yet most importantly, console transitions mean that consumers need to buy expensive new hardware. For the industry, this means that consumer wallet share is eaten up by high priced, low margin hardware at the expense of high margin, lower priced software. This isn't even beginning to factor in very significant R&D expenses. Since console transitions cost the industry profits across both hardware and software companies, the longer the cycle, the better off companies across the industry end up being.
Not only does the current console cycle appear as if it's going to be very long, but it could well be the last in the traditional sense of the term. In the Spring of last year I wrote a note to investors that whether or not this was the last generation of gaming consoles really depended on the definition of "console". The current generation is not going anywhere anytime soon, but the seeds of change where there last year, and they've continued to germinate. Value is shifting up the stack as MSFT and SNE have been very active in layering on services, cloud-based gaming, and otherwise building an ecosystem. The value of SNE and MSFT ecosystems now lies more in Xbox Live and PlayStation Network (services) than Xbox One and PS4 (hardware). Hardware is less important.
These trends are apparent in company earnings. Last night, MSFT reported that in C2Q16, gaming division revenue declined 9% (price cutting and market saturation), while Xbox Live revenue rose 4%, driven by both higher volume of transactions and higher revenue per transaction. Xbox Live users have now reached 49 million, boosting hours of gaming 19% on Win10 and 13% on Xbox. The chart below illustrates a similar pattern for SNE. Hardware growth has stalled, but higher margin Network revenue is increasing rapidly.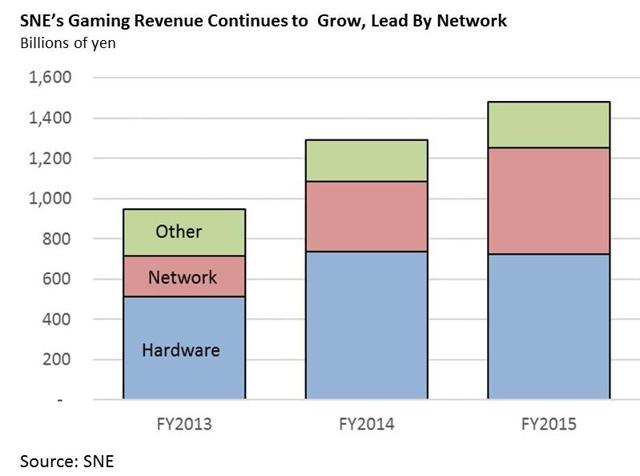 An Unprecedented Mid-Cycle Upgrade
I regret that I missed attending E3 this year for the first time in 6 years, but MSFT and SNE both unveiled ".5" versions of their consoles that grabbed headlines coming out of the annual event. Xbox One S is a slimmer, sleeker version of the Xbox One. Importantly, it supports 4K and HDR (High Dynamic Range) gaming. 4K in particular has consistently been a concern hanging over the current generation for some gamers. The 2 TB version of the One S will go on sale for $399 on August 2, followed by a 1 TB version for $349 and a 500 GB version for $299, both to be released in December. In addition, MSFT is also set to release what it calls "Project Scorpio" in holiday 2017, which reportedly will add virtual reality support. It's not yet clear what exactly this VR option will be, but given the closeness that MSFT and Facebook's (NASDAQ:FB) Oculus have developed, I've long speculated that we'd see an Oculus Xbox One version before too long (see this article I wrote on FB in April).
Also around E3, SNE unveiled PS Neo, which will also add 4K support. Neo is expected to be released either late this year or earlier next, but no release date been announced. Both PS4 and Neo will be VR capable devices. Importantly, while all three of these consoles (One S, Scorpio, Neo) add additionally functionality, all three will also support the current generation of games (*at least as stated by the companies, it's not clear that this is true if MSFT VR gaming can only be done on Scorpio).

MSFT and SNE have answered the call to incorporate 4K and VR capabilities, but they've allowed consumers to self-select whether or not to upgrade. By not requiring all consumers to make this upgrade, they've extended the life of this console generation, and avoided that massive shift of consumer wallet share, as well as reducing their own R&D spending and the requirements placed on software developers during a console transition. Everyone gets what they want and no one is harmed, a true "Pareto improvement" in the world of console gaming.
The Last Console Generation?
It's not hard to imagine that we could see more of these incremental improvements in consoles, such that this generation eventually becomes a perpetual generation, or the "last" generation in that respect. Though I certainly don't feel that the console gaming industry is it risk. This change is actually quite a good thing for the industry. For instance, many were surprised to see that this generation continue to come with optical drives and the option for physical disks in an age of physical downloads. Don't be surprised if we see a future version of these devices offered without an optical drive for a reduced price (very bad for GameStop (NYSE:GME)). If game streaming ever caught on in a big way, we could see the possibility for a console to be completely removed as computing power was shifted off-premises to the cloud as the digital ecosystem completely consumed the hardware. While I could see such a scenario developing, it's unlikely in the near-term. Virtual and augmented reality are arriving, and that will require both lots of computing power and very large file sizes.
I would caution, however, that as console makers deemphasize hardware to some extent (at least via the major leaps in technology we've seen in the past), investors should be mindful that this also opens them up to some disintermediation risk. Watch for developers to gain some power, for example, Electronic Arts (NASDAQ:EA) with services like Origin and Access (see my article from April for more on my thoughts on EA and Activision (NASDAQ:ATVI)). I am less concerned about these risks than I was a year or two ago, but while diminished, it is still present. Mobile gaming sheds some light to what this console ecosystem could be like: hardware developed by multiple vendors (Apple, Samsung, HTC, etc in smartphones) access different ecosystems/stores (iOS, Android) where game developers then run their own ecosystems across all devices. After all, MSFT is a software company at heart, and SNE has a wealth of media content across movie, music and 1st party games to make this happen. Boundaries will erode, and the definition of console vs handheld vs mobile vs virtual reality gaming will become more blurred over time.
Where Does Nintendo Fit In?
While Nintendo (OTCPK:NTDOY) has become a complete afterthought in this console generation, it bears mentioning, especially with the recent Pokemon Go craze (see my thoughts on what that means for Nintendo, mobile gaming and AR here) that Nintendo may be following a similar blueprint to MSFT and SNE. Launched a year before either Xbox One or PS4, WiiU trails both devices in sales by a large margin. Nintendo has mentioned that they are developing a new hardware device called the "NX," but the notoriously secretive company has released very few details on the project. What we do know is that it will be released in March 2017, and that Nintendo states that it will not be a direct replacement to the WiiU. There are strong suggestions and rumors that the device will include some sort of heart-rate monitoring or health component, a portable component, and also some possibility of a VR component (which Nintendo has been working on since the 1990s Virtual Boy). While it's tough say based on the details Nintendo has released, it seems likely that Nintendo is shifting to build a better digital ecosystem, pivoting to deal with the smartphone threat, yet also not forgetting where it came from or it's current loyal customers.
SNE The Best Way To Invest In Console Trend, But MSFT Benefits Too
The strong, elongating console cycle and the rise of services and digital ecosystems presents investible opportunities. MSFT is a large company with a huge presence outside of gaming. As such, it's hard for me to recommend MSFT stock based just on gaming, but I certainly think that gaming is a positive for MSFT.
I absolutely think that investors can consider buying SNE for its exposure to gaming. SNE stock has more than tripled over the prior 4 years, a turn around that has been led by the phenomenal success of it's gaming division via PS4. To be sure, many of SNE's other business lines (smartphones, TVs) have been struggling, but the gaming strength has a good runway in front of it. Further, with its substantial installed base, gaming relationships, and lower price, SNE is my favorite way to play VR, which should be a big catalyst to the stock as we move into 4Q16.
Disclosure: I am/we are long ATVI, FB.
I wrote this article myself, and it expresses my own opinions. I am not receiving compensation for it (other than from Seeking Alpha). I have no business relationship with any company whose stock is mentioned in this article.
Editor's Note: This article discusses one or more securities that do not trade on a major U.S. exchange. Please be aware of the risks associated with these stocks.