Plains All American Pipelines (NYSE:PAA) made some headlines last week when it announces its "Simplification Transaction" where it will buyout AAP, an affiliate of its general Partner Plains GP Holdings (NYSE:PAGP), and eliminate IDR payments in exchange for 245.5 million PAA units and the assumption of $593 million in debt. This is a fairly complicated transaction with several moving parts. However, PAA's rationale for making this deal are fairly straightforward.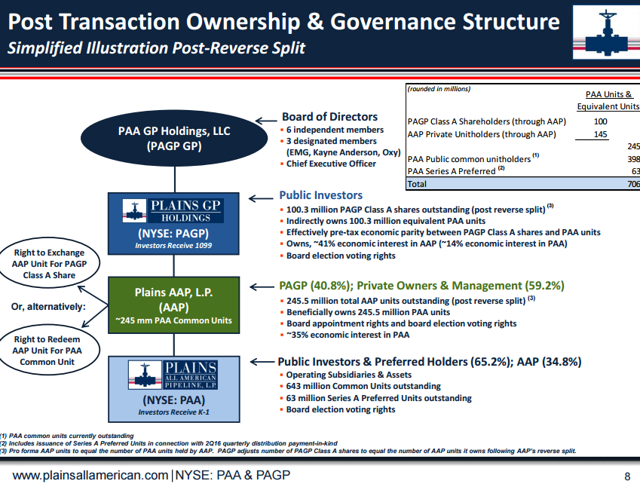 Lower distribution and cash savings
By far the biggest reason for this transaction is to reduce PAA's cash outflows and improve its distribution coverage. The company plans to reduce its distribution by 21% to $0.55 per unit, saving it $320 million in cash per year. PAA's distribution coverage will also improve, up to a pro-forma 1.15x versus ~1.0x as of Q1 2016.
Lower cost of capital
Along with the lower distribution, PAA will no longer have to pay IDRs to PAGP. All incremental distributable cash flow growth will now flow down into PAA, whereas in the past up to 50% would have stayed at PAGP.
No more general partner IDRs is a huge boon as this puts the pipeline company on equal footing with peers such as Enterprise Products Partners (NYSE:EPD) and Magellan Midstream Partners (NYSE:MMP), both of which have consolidated their general partners, and should considerably lower its cost of capital and raise the multiple applied by the market.
Debt and leverage outlook improved
PAA's debt load has increased sharply as its low unit price had locked it out of the capital markets, forcing it to use debt to fund its capital budget. With the reduced distribution, and lower cost of capital, PAA will not only retain some internal cash flows, but also be able to issue equity to fund the budget.
Access to C-corp equity financing
Speaking of equity, PAA will not have access to PAGP as a vehicle to issue equity. PAA, as a MLP, has certain tax characteristics (schedule K-1) that make it unsuitable for some investors. PAGP, as a c-corp, will issue a 1099 and should help expand the shareholder/unitholder base.
Keep in mind that after the transaction is completed, which includes a 1-for-2.663 reverse split at PAGP, PAGP and PAA are to effectively have a 1-to-1 economic parity (a PAGP shareholder will indirectly own one unit of PAA for each PAGP share held). Furthermore, dividends from PAGP are expected to be as a "return of capital" for 8 years or more.
Faster distribution growth
While the upfront distribution cut is painful, due to its lower cost of capital, PAA should see faster distribution growth in the medium-term as it expands. Though the company will probably focus on getting leverage down as a priority.
Conclusion
Overall, this seems like a decent end result for PAA/PAGP. The new structure, while still complicated, is inline with other pipeline companies, which should allow the stock to trade at a higher valuation. The new distribution policy sets the yield at ~7.5% at current prices, which is still elevated, but much better than where it was.
However, one issue I do have is that PAA should have gone more along the Kinder Morgan (NYSE:KMI) route and slashed the distribution by a greater amount. The current distribution coverage ratio of 1.15x does not leave much excess cash for debt repayments or capex needs. If the goal was to lower debt, then PAA will need to issue equity quite aggressively, which may serve to limit the long-term upside.
Disclaimer: The opinions in this article are for informational purposes only and should not be construed as a recommendation to buy or sell the stocks mentioned. Please do your own due diligence before making any investment decision.
Disclosure: I am/we are long KMI.
I wrote this article myself, and it expresses my own opinions. I am not receiving compensation for it (other than from Seeking Alpha). I have no business relationship with any company whose stock is mentioned in this article.