Relatively neutral weekly report, although we see dark clouds looming over the petroleum complex at the end of the summer. Inventories of oil and petroleum products declined for the week, though by a very small amount, and weekly production in the Lower 48 continued to fall; however, gasoline inventories are at abnormally high levels for this time of the driving season and Cushing, OK inventories show no sign of decreasing.
Crude oil prices (NYSEARCA: USO) jumped by about $1.00/barrel after the report was released back to unchanged for the day.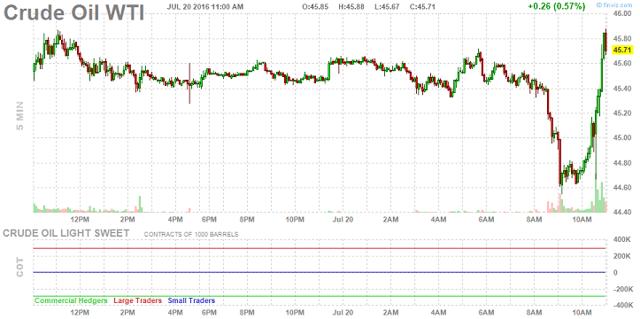 Source: Finviz.com
Stocks:
* Crude oil inventories decreased by 2.3 million barrels.
* Gasoline inventories increased by 0.9 million barrels.
* Distillate inventories decreased by 0.2 million barrels.
A very small drop in inventories on a net basis (crude oil minus gasoline and distillates) for this time of the year. This follows last week's very large increase in distillate inventories. Our main concern at this point is gasoline inventories, which are 25 million barrels higher than the same point last year. On a combined basis, inventories of crude oil, gasoline and diesel are 91.4 million barrels higher than last year.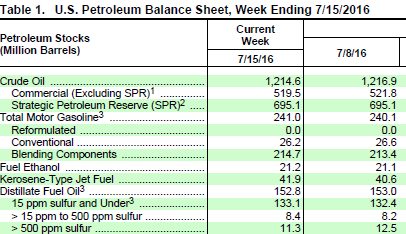 Source: EIA
Production and Refinery Utilization:
* Domestic production remained essentially flat with an increase of 9,000 barrels per day, although with a decrease in the Lower 48.
* Production in the Contiguous United States (excluding Alaska) decreased by 29,000 barrels per day. Daily domestic production is now about 1 million barrels per day lower than at this point last year.
* Production in Alaska continues to recover after the large drop two weeks ago. There are still around 40,000 bpd of production that need to come back online to get back to a normal production level.
* Imports increased by about 293,000 barrels per day. As we have mentioned before, imports along with exports, are almost entirely modeled numbers and are not that meaningful on a weekly basis.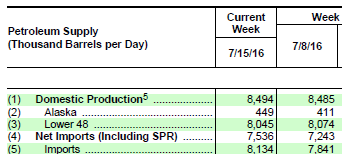 Source: EIA
* Refinery utilization increased by 90 basis points back to the 93% utilization level which is the normal level for this time of the year. Gulf Coast utilization recovered from the previous week and the Midwest is operating at maximum capacity.

Source: EIA
Cushing, Oklahoma:
* Cushing, OK inventories increased by 200,000 barrels. Cushing is currently at maximum operating capacity, and based on the EIA reports during the last couple of weeks, it seems that Cushing will end the driving season with no material de-stocking.
* Gulf Coast inventories decreased by 2.6 million barrels.

Source: EIA
Conclusion:
By itself, this report was neutral on a weekly basis: there was a drop in inventories that was rather small for this time of the year but domestic production in the Lower 48 continued to drop and refineries are operating at a normal level for the summer. However, over a long-term horizon, inventories not only of oil but also of refined products continue to pile up and Cushing, OK shows no sign of de-stocking.
Disclosure: I/we have no positions in any stocks mentioned, and no plans to initiate any positions within the next 72 hours.
I wrote this article myself, and it expresses my own opinions. I am not receiving compensation for it (other than from Seeking Alpha). I have no business relationship with any company whose stock is mentioned in this article.