Introduction
Despite a somewhat tough 2015, United Parcel Service (NYSE:UPS) would still make a good long-term investment. The company's cash flows are poised to get back on track, and earnings are going to continue to increase in the aggregate even if they are some bumps along the road.
The company is the largest player in its industry and has had the prudence to invest long-term in its own growth and in emerging markets that it feels are the key to its future growth. It's suite of software applications also make it an asset beyond just a package transporter to all kinds of businesses.
Earnings
Revenues have grown consistently over the past few years. The company went from $54.1 billion in revenue in 2012 to $55.4 billion in 2013, then to $58.2 billion in 2014, and finally to $58.3 billion in 2015. Total operating costs have fluctuated, but not by alarming amounts. In 2011, operating costs were $47 billion. They were $53 billion in 2014, but decreased to $50.6 billion in 2015.
The company's operating profit has also fluctuated in recent years. The company went from $7 billion in operating profit in 2013 to $4.9 billion in 2014, and then back up to $7.6 billion in 2015. The ups and downs in operating profit are mostly a result of fluctuating operating expenses. The decrease in operating profit in 2014, though, was mostly due to additional costs that resulted from greater than usual expenses during the holiday season and weather in early 2014 that reduced operating profit by nearly $200 million, as the company explains in its latest annual report.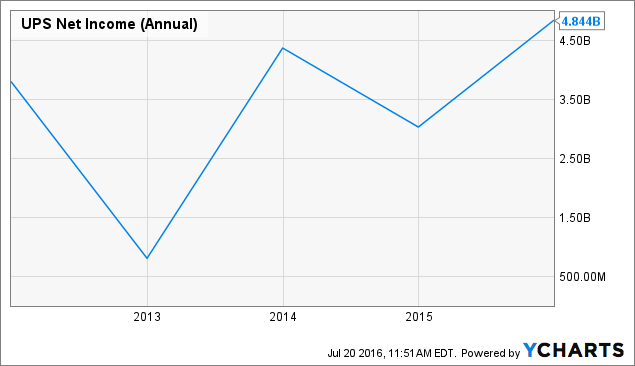 UPS Net Income (Annual) data by YCharts
As the graph above shows, net income has somewhat fluctuated in recent years, but has increased substantially in the aggregate.
Cash Flow
Net cash from operations increased from 2014 to 2015, going from $5.7 billion to $7.4 billion. But, cash from operations decreased from $7.3 billion to $5.7 billion from 2013 to 2014, as a result of a notably lower net income value for 2014.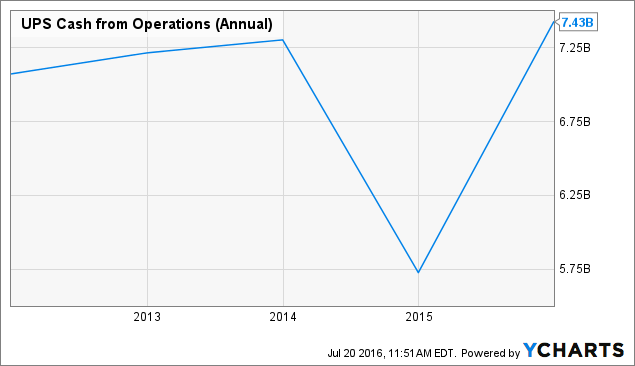 UPS Cash from Operations (Annual) data by YCharts
The chart above might look odd, but it bears good news for the future. The company had lower cash flow in 2014, but in the aggregate, cash flow has increased, and seems to be on a constant and steady upward trend, which is a strong indication cash flow will continue on its usual path in the coming years.
The reason for the sudden decrease and equally sudden increase of cash flow from operations is quite simple. Mostly due to substantially higher fuel costs in 2014 than in 2015, the company's operating expenses in 2014 were $53.2 billion, whereas they were $50.7 billion in 2015 and roughly $48 billion in 2013. The higher than expected costs drastically impacted the company's operating profit, which then impacted the company's net income, and then its cash flow.
Book Value
The company's total assets increased from $35.4 billion to $38.3 billion while its current liabilities increased from $8.6 billion to $10.6 billion. As a result, shareholder's equity increased from $2.2 billion to $2.5 billion.
The increase in asset value was mostly a result of an increase in intangibles and goodwill, as well as an increase in cash on hand.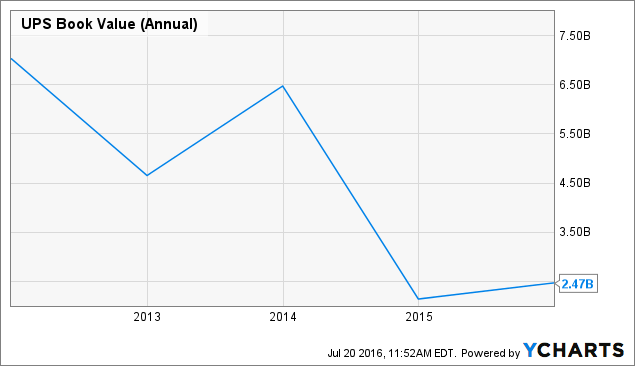 UPS Book Value (Annual) data by YCharts
The graph above though, paints a different picture and shows that UPS has had a substantial decline in book value over the past five years. The declines seem to be for various reasons, but the sharpest decline - from 2014 to 2015, was a result of cash on hand decreasing from $4.7 billion to $2.3 billion, a nearly $900 million increase in maturing long-term debt, a $200 million dollar increase in accounts payable, and a $400 million dollar increase in "other current liabilities." The company's long-term debt also increased from $7.1 billion to $8.6 billion.
The narrative hasn't changed this year, although book value did increase slightly. Maturing long-term debt increased from $923 million to $3 billion, and long-term debt increased from $9.9 billion to $11.3 billion. It's safe to assume that the company isn't going to experience any significant increase in book value any time soon.
Price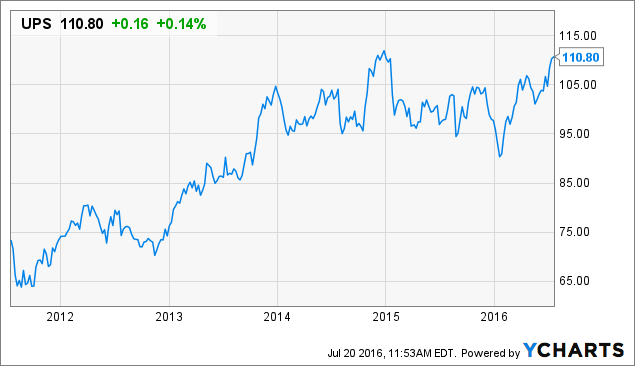 UPS data by YCharts
Despite some recent choppiness, UPS's stock has risen substantially for the past five years.
In Conclusion
As I said in the introduction, I think UPS is a solid long-term investment, but I wouldn't expect an incredible return from the stock. There are a few things customers should consider though, before and after they buy the stock.
Firstly, they must consider the debt level. For a company that's worth nearly a $100 billion, UPS seems to be a bit too fond of debt. As I said above, the debt that is maturing next year is of very little relative value, but if the company takes on any more debt in the future or issues any debt, I would be wary since the company's debt levels have done a terrific job of sucking away value from its assets.
Secondly, it's important for investors to consider the company's growth abroad, especially in Europe and emerging markets like China, where the company has been investing in growth over the last decade. The company already has an advantage over its competitor, FedEx, internationally, but it will have to capitalize on this advantage and continue to expand in the future. Hopefully, it also starts to expand into India, which has a blossoming technology industry. This, I believe, will be key for the company, as it also has to fight with DHL, another large packaging company, for market share in emerging markets. It should also continue to invest in and expand its software services, since they can be a catalyst for long-term relationships with customers.
But overall, UPS has done a terrific job of making long-term investments in itself and the world's markets, and I think it would be wise for investors to make a long-term bet on UPS over the next few years.
Disclosure: I/we have no positions in any stocks mentioned, and no plans to initiate any positions within the next 72 hours.
I wrote this article myself, and it expresses my own opinions. I am not receiving compensation for it (other than from Seeking Alpha). I have no business relationship with any company whose stock is mentioned in this article.