It has been two months since the bankruptcy, but unfortunately for Linn Energy's (LINEQ, OTCPK:LNCOQ) shareholders, oil (NYSEARCA:USO) has not recovered.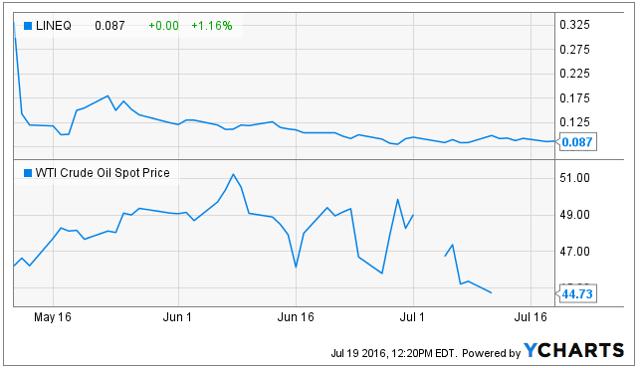 But it may not be all over yet. On July 15, the trustee for Linn Energy's bankruptcy objected to the current Executive Incentive Program, which was set to dish out $6 to $12 million worth of bonus payments to six senior executives from Q2 to Q4.

Source: Case 16-60040 Document 582
Many shareholders were outraged by the incentive plan as the management made away like robber barons while shareholders lost everything. In my opinion, the plan also was a clear incentive for the management to support the bankruptcy instead of seeking alternative remedies.
The trustee specifically pointed out that the incentive plan bears the resemblance of a pay to stay plan, which is not allowed unless the insiders are essential to the business and there are competing offers from another firm. While the incentive plan does not specifically mention the prohibited retentive bonus, the trustee believes that the plan is crafted in such a way to hide that very fact. This is because satisfaction of the bonus metrics depends very much on external factors rather than the ability of the management. These include "broader economic conditions" and "a number of (external) risks that could cause results to differ material from the metrics."
The nail on the coffin in my opinion was that the management failed to demonstrate that the bonus metrics are challenging (i.e. truly "incentive-based"). This concern was expressed by the trustee as well. Taking a looking at the bonus structure, we find that target production volumes, LOE and G&A do not significantly differ from what should be expected.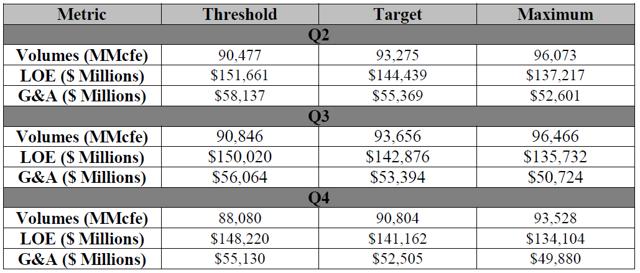 Source: Case 16-60040 Document 207
As of Q1, volume was 101,283 MMcfe, LOE was $137.645 million, and G&A expenses were $86.529 million. As you can see, the volume and LOE targets were very lax. The only justifiable metric was G&A. Since the bonus metrics are equally weighted, management can focus on the easily achievable targets. Given Q1's result, it's clear to me that volume and LOE goals can be reached without much additional work (i.e. there's insufficient proof of higher burden) from the management.
What This Means For Equity Holders
This is quite interesting for two reasons. First, this will prolong the bankruptcy process as Linn Energy comes up with a new plan. This extends the time value of Linn Energy's stock, which is essentially an option at this point. The longer the case drags on, the higher chance that oil could surge high enough to justify an equity recovery. Secondly, the management also may want to side with equity holders if they could no longer get lucrative payouts for simply doing their duties. For example, the CEO still holds around half a million of Linn Energy shares, which could potentially be worth tens of millions of dollars if the management team can figure out a way to preserve equity value for shareholders.
Click the "Follow" button beside my name on the top of the page to be updated with my latest insights. To learn more about the V20 Portfolio, whose goal is to compound capital at 20% over the long term, I encourage you to read the introduction to my investment process. Premium subscribers get full access to the V20 Portfolio.
Disclosure: I/we have no positions in any stocks mentioned, and no plans to initiate any positions within the next 72 hours.
I wrote this article myself, and it expresses my own opinions. I am not receiving compensation for it (other than from Seeking Alpha). I have no business relationship with any company whose stock is mentioned in this article.
Editor's Note: This article covers one or more stocks trading at less than $1 per share and/or with less than a $100 million market cap. Please be aware of the risks associated with these stocks.