Highlight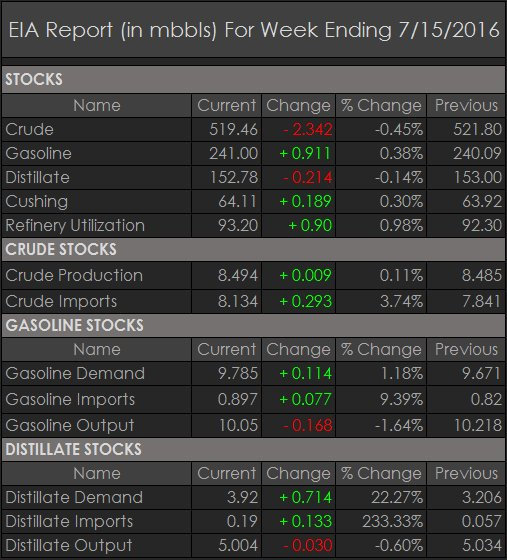 Source: EnergyBasis
The overall report was another neutral one at best, but looking at the reaction in oil prices, it certainly was better than what most market participants expected.

Gasoline demand rebounded nicely to 9.785 million b/d. The market seems to be paying a lot of attention to gasoline and distillate demand. Refinery throughput is another important data point everyone is watching, but certainly the concern right now is refined product demand.
US production also saw a slight rebound as Alaska production recovered 38k b/d while the lower 48 continues to decline by 29k b/d. The net result was an increase of 9k b/d.
Crude imports also saw a jump of 293k b/d last week. Imports remain an issue for the crude complex as it slows down the depletion rate. If imports had remained the same as last week, crude stock would've seen an additional 2 million bbl draw.
Refinery throughput jumped despite concerns over margins hitting new lows. There has been a clear shift in throughput mix however as refiners look to produce more distillate versus gasoline.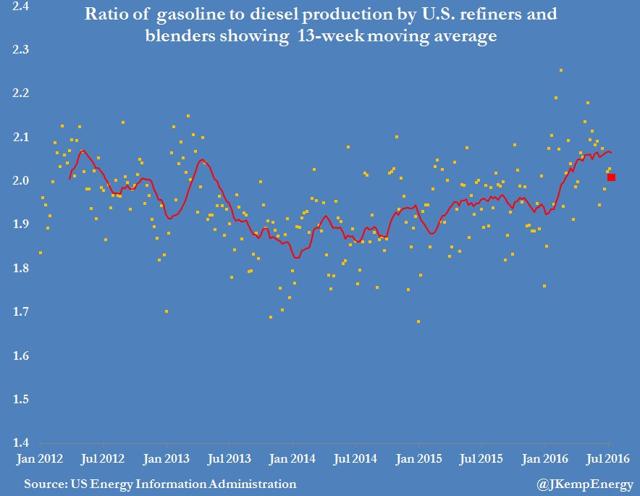 Part of the reason for the recent shift is distillate stock adjusted for consumption isn't nearly as high as gasoline.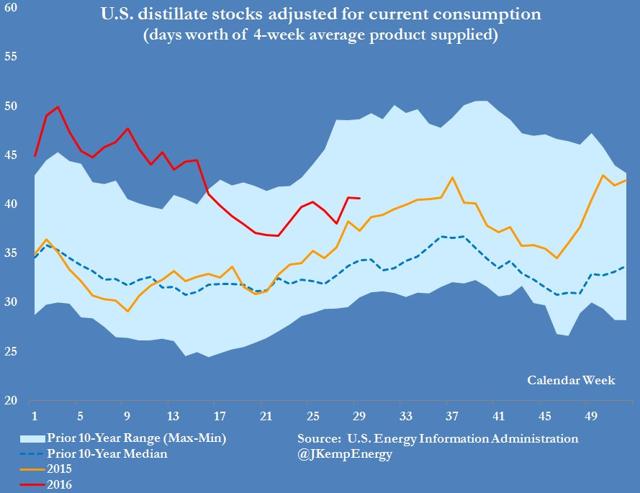 Gasoline stock adjusted for consumption: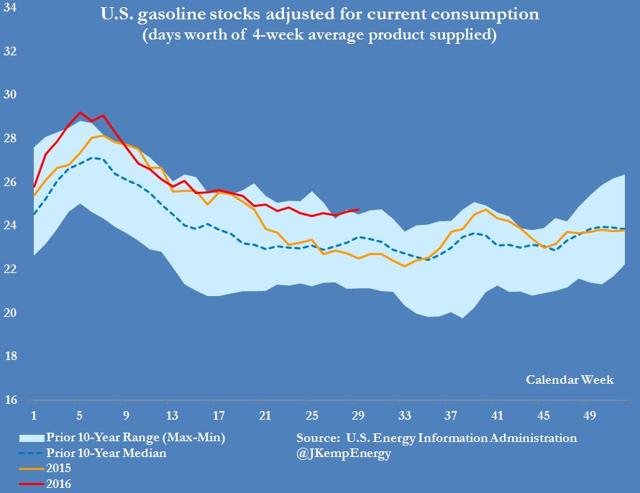 Gasoline consumption is about to hit a peak within the next few weeks. If refineries can cut back a bit and let gasoline stock draw, we could see some positive price response in the crude complex.
Overall, refineries aren't slowing down which is good news, and demand is picking up. Lower 48 production continues to fall, signaling that the recent recovery in prices have had minimal effect on shale producers. Gasoline glut continues to keep a lid on prices as refineries work through the excess storage. This was a neutral report.
We hope you enjoy our weekly oil (NYSEARCA: USO) inventory reports. Be sure to check out some of our old ones, and click on the follow button above if you would like to receive our "Oil Markets Daily" articles. In addition, we also have a premium subscription platform that's tailored to long-term value-oriented investors. We provide recommendations of stock ideas and portfolio composition. We look forward to you joining the HFI platform.
Disclosure: I/we have no positions in any stocks mentioned, and no plans to initiate any positions within the next 72 hours.
I wrote this article myself, and it expresses my own opinions. I am not receiving compensation for it (other than from Seeking Alpha). I have no business relationship with any company whose stock is mentioned in this article.