Top News
Today, let us focus on the unemployment scenario in the Europe. We talk about unemployment in this country being at 4.9%, although I will continue to question the accuracy of that number. Regardless of what the correct reading is, it is still a much better employment picture here than in Europe.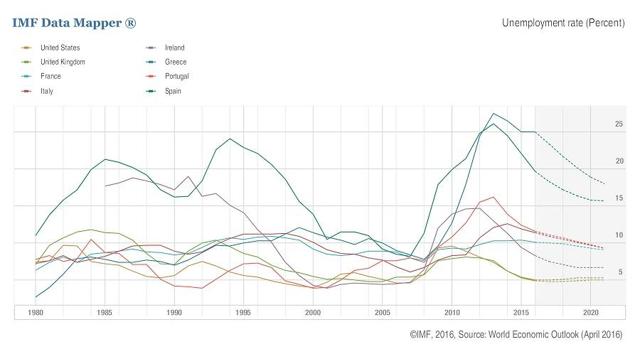 There are a lot of countries in the chart above, but it is relatively easy to see the countries that are struggling to get their people employed. Greece tops the list at 25% followed by Spain at 19.7%, Portugal at 11.8%, Italy at 11.4% and to my surprise France at 10.1%. These are just staggering unemployment rates. These are an improvement from where they were in 2010.
Here, is a look at the Debt/GDP. Again, another amazing thing to see.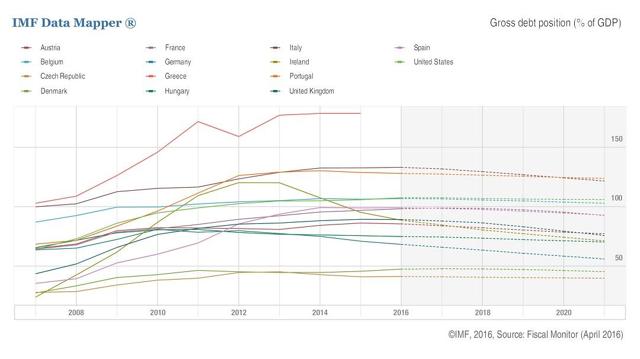 Italy is at an incredible 133% Debt/GDP, Portugal 128%, Belgium at 107% and Spain at 99%. I through in the US just as a reference point, the US DEBT/GDP is 107.5%. We fall right after Portugal but before Belgium. We have a worse standing than Spain. Go Figure. Something we should all think about.
Equity Market
The S&P 500 or SDPR S&P 500 ETF (NYSEARCA:SPY) just continues plowing ahead with little sign of it stopping anytime soon. My expectation based on technicals would have been for a pull back after exiting that rising wedge. Clearly, the market had its set of expectations, and a pullback was not one of them.

We took at the old highs around 2167 with relative ease this morning and are now sitting right around 2175 as of 11:45 am. Does the rally continue? Is 2200 on the radar? I for one will say, I simply no longer understand. I am not sure for certain what is driving this market, however as we are aware markets can get oversold and just as easily can be overbought. Time will tell.
Sector Spotlight
Well, the Nasdaq Biotech ETF (NASDAQ:IBB) finally broke through this morning. I must say this is an extremely important. The IBB had been in the claws of a bear market since last July. The trend was apparently punctured this morning.


Why is this important? I view the IBB as a measure of risk investors are willing to take in the market. The market to me has been very risk adverse over the past year. If sentiment is indeed shifting and risk is coming back to the table, then I believe the IBB and the market as whole could see a potentially strong rally.
You can see confirmation of this by turning the Technology Select SPDR (NYSEARCA:XLK). As it too is breaking to new highs today.

Which sector is underperforming today? The Utility Select SPDR (NYSEARCA:XLU), down nearly 50bps. To me the XLU is a risk-off sector. Lower Beta, higher yield play.

This safety has indeed driven the market higher. However, is sentiment shifting? From what I see today, I'd say Yes!
Currencies
The currency market of all the majors is tame today. The Euro, Yen, and GBP are mostly flat and quiet, relative to what we have been used to recently. Hey, I'm happy to catch the day off.
Commodities
The price of Wheat just continues to crumble; down over another 1% today. That is a positive for consumers of wheat, not so great for margins of the Farmers.

Yield
The 10-year just continues to struggle to get through that 1.60% level. We have been stuck around this 1.59% level for a few days now. I still think we retrace that gap back to the 1.70% level post-Brexit.

Election 2016
No new polls today to report of we still have Clinton out in front by just a small margin over Trump. It will be interesting to hear what Trump has to say tomorrow night when the convention wraps up.
Have a great rest of the day!
Mike
Disclosure: I/we have no positions in any stocks mentioned, and no plans to initiate any positions within the next 72 hours.
I wrote this article myself, and it expresses my own opinions. I am not receiving compensation for it (other than from Seeking Alpha). I have no business relationship with any company whose stock is mentioned in this article.
Additional disclosure: Mott Capital Management, LLC is a registered investment adviser. Information presented is for educational purposes only and does not intend to make an offer or solicitation for the sale or purchase of any specific securities, investments, or investment strategies. Investments involve risk and unless otherwise stated, are not guaranteed. Be sure to first consult with a qualified financial adviser and/or tax professional before implementing any strategy discussed herein. Past performance is not indicative of future performance.