Throughout 2016 the word that comes to mind when I think of Apple (NASDAQ:AAPL) is apprehension. Earlier in the article Apple: Be Careful I worried about iPhone sales and later Apple's China problem started bothering me. Perhaps it is exactly because of apprehension the stock is cheap? After all Warren Buffett told us to buy when others are fearful. Well, I'm fearful and he's buying.
The China problem hasn't played out yet and now reports are surfacing the iPhone 7 isn't going to be all that revolutionary. Potentially the company is leaking some info during the quiet summer time to "prep" the market. When the time of revelation is there it will be harder to write articles with headlines screaming disappointment. After all we had known about that since summer.
Pictured below are the latest leaked pictures of the supposed iPhone 7 line: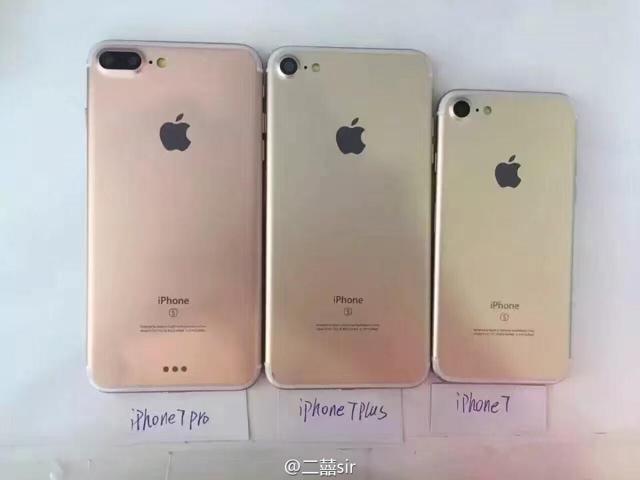 Source: Nowhereelse.fr
It includes a standard model, a plus version and a high end Pro version. Apple continues to broaden its product portfolio and is moving away from the one size fits all business model. You could argue that's a good thing because different customers will love different models and it increases overall satisfaction. In turn this could lead to more sales as a wider audience can be reached. On the flip side it is going to impact margins negatively. More models means smaller economies of scale as the company needs to order more different components and have more different product assembled. In Apple: Be Careful I wrote:
Apple has great free cash flow because it makes only a limited number of products on a tremendous scale. This allows the firm to capture above average margins. Once it starts to lose scale and/or is forced to introduce a larger number of products to generate the same amount or even less revenue, free cash flow will fall faster than revenue. Incidentally, that's exactly what is happening - Apple is both losing scale and starting to introduce more products to generate less revenue. The market is correctly anticipating free cash flow falling.
The narrow product line-up has been a hallmark since the return of Jobs and the start of the company's ascent. Few will understand the economics of the decision as well as Cook and crew so I trust it's the right bet to abandon it but it also impacts the brand.
Apple is synonymous with quality and ease of use. Jobs worked hard to remove all friction for users and it started by eliminating choice overload. Too many choices are connected to unhappiness (Schwartz, 2004) and perhaps more importantly choice deferral - avoiding making a decision altogether, like not buying a product (Iyengar & Lepper, 2000). Choice overload can be removed by limiting the number of available options (Johnson et al., 2012). Note that the move towards personalization with different colors also fit with this narrative.
Why is Apple moving away from what (to me) appears to be one of the pillars of its success?
Because it has become extremely hard to grow the top line. The company expanded across the globe over the last decade and now there isn't anyone left who can afford it to buy another iPhone. Desperate to not disappoint the market, the company is doing the exact same thing every company in this position did before them - broaden the product portfolio. It's not going to go well. If Apple continues down that path in a few years consumers will have a hard time seeing how Apple stands out. It will be just as difficult to pick out the best Apple phone as it is to pick out the best of the rest now.
To go back to the Apple: Be Careful article real quickly:
Reuters shows the mean of 39 analyst estimates is for Apple to achieve EPS of $9.07 for the year ending Sep-16. This estimate is trending down, and analysts are notorious for being slow to adjust earnings estimates downward.
That mean estimate has gone down to $8.22 now and the growth rate has been sharply adjusted downward as well. If you consider that fall in earnings estimates the stock held up remarkably well: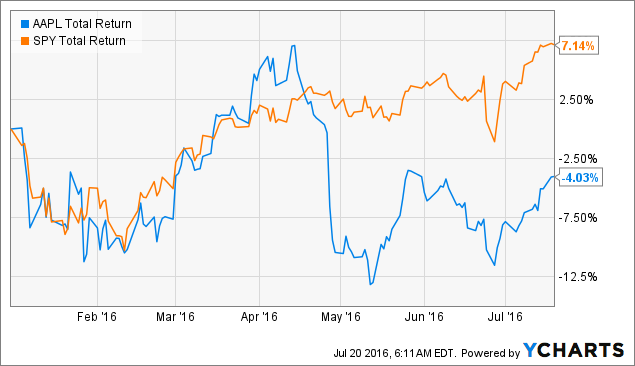 AAPL Total Return Price data by YCharts
Not everyone realizes how much these estimates were lowered. The company may beat on earnings next quarter but now you know they are beating downward adjusted estimates.
Maybe I'm reading too much into the available data but I continue to be apprehensive. The iPhone 7 isn't likely to be the savior it was purported to be early 2016 and bulls will start focusing on the iPhone 8 while earnings keep falling.
Disclosure: I/we have no positions in any stocks mentioned, and no plans to initiate any positions within the next 72 hours.
I wrote this article myself, and it expresses my own opinions. I am not receiving compensation for it (other than from Seeking Alpha). I have no business relationship with any company whose stock is mentioned in this article.