After hours on July 18, Hudson Technologies Inc. (NASDAQ:HDSN) announced the awarding of a significant Depatment of Defense (DoD) contract with a potential maximum value of $400m in sales over a 10-year period. For a company with TTM revenues of $85.8m, this represents a massive game changer. The market's initial reaction also matched this, adding $41.5m to its market capitalization:
I have written earlier about the commercial opportunity available to Hudson. This market opportunity was not even on my radar, which was well done by Hudson management to build a strong bid. The question is now what is this contract worth to Hudson.
The DoD Contract
If we look at the defense.gov website, this contract is listed as having a value of approximately $148.5m. Don't be alarmed by this lower number compared to the press release. This amount will be for the first five-year term, not reflecting the potential five-year renewal that would come after it. These can be an auto-renewal if Hudson meets performance targets. However, it also can give the government a chance to renegotiate part way through. This amount may not reflect any over and above (O&A) work that may fall outside the fixed price component specified in the contract or any price escalations that would come in to effect during the renewal process. As a result, the $400m estimated maximum value seems a reasonable upside target.
How Did They Do It
Kevin Zugibe, CEO of Hudson, indicated one of the key transactions that allowed Hudson to bid on this contract was its January 2015 acquisition of the assets of a West Coast supplier for an undisclosed amount (later revealed to be $2.4m plus a potential further $3.0m earn out). At the time, this was a very brief press release, giving no indication of the strategic importance it would be for Hudson's DoD bid. It is natural for a smaller company like Hudson to keep its information closely held as it will need every infromational edge it has. They were likely bidding against a significantly larger competitor such as Airgas (NYSE:ARG) and needed to keep their cards close to the vest.
So how does a smaller company like Hudson beat out a larger competitor? For these deals, they need to price competitively to start with while meeting every single line item of the tender as well. However, in this case, I think that Hudson's edge was its size. The DoD needs to grant a certain amount of contract value to small business. If we look closer at the DoD contract award notice, we can see the tiniest asterisk: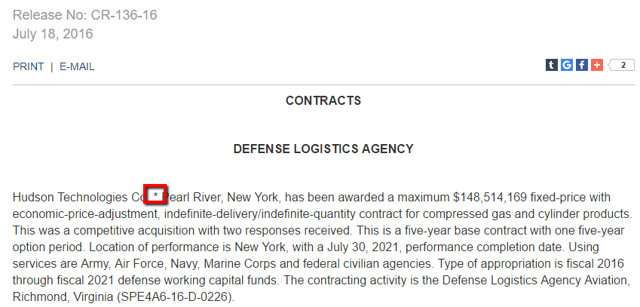 which translated into:

All things being equal, Hudson's qualification as a small business likely gave it an edge up as a tie breaker for this contract. However, its smart business dealings and industry leadership in refrigerants likely didn't hurt either.
So What Is the Contract Worth?
If we look at the commercial margins over the last TTM, Hudson generated $12.2m of EBITDA on its $84.5m in revenue, giving it a healthy margin of 14.4%. In most military contracts, due to the added performance requirements and additional risks associated with government contracts, margins are higher than commercial levels. Given the wide scope of military groups Hudson will be serving (Navy, Army, Air Force, Marine Corps and some federal civilian agencies), as well as the likelihood they will be helping to manage government-owned inventory, I would expect this to be the case here.
We can value this in two ways. First, as a multiple, if we assume first year revenues of $29.7m (20% of the $148.5m minimum), and apply a 18% EbITDA margin, we come up with an additional EBITDA of $5.3m. Applying a 13.7x multiple (similar to Airgas and reflecting a growth in revenues toward the contract max level), this would add an enterprise value of $72.6m, 75% more than the market's initial reaction.
Likewise, we can look at a DCF of it. Discounting at 12%, a 10-year $40m/year revenue level at 18% EBITDA margins and a 36% tax rate, we come to a valuation of $26m, about 40% below the market's move.
It is difficult to say whether or not the market reaction is overdone or underdone. Either way, though, Hudson's business will come under greater focus to investors either way, which should give it a greater opportunity to re-rate to a higher multiple level, leading me to think we could see some further gains ahead, especially as the price squeeze in R-22 continues.
The Takeaway
Either way, this is a fantastic contractual win for Hudson. I already liked Hudson's underlying commercial business, which still is not valued appropriately. This contract will be over and above this business. It will not be an easy task for Hudson to take on this contract as it will represent at least a 30% increase to its revenue base. It will require new processes, support teams and infrastructure to meet the DoD's needs. This could be a risk if Hudson has trouble to integrate this business. However, this is a problem most companies are willing to accept.
The market's reaction seems to most reflect a minimum upside. Should Hudson exceed my estimates, it may have room to move just in this business line. However, it also will likely shed light on its other business as well, which should allow us to see continued appreciation to Hudson's shares until they fully re-rate. Hudson continues to be a company to watch.
For continued discussion, please don't hesitate to comment below. I learn from your feedback.
If you like what I'm doing, you can follow me by hitting the "follow" button at the top of this article. Plus, you can follow me in real time by selecting that option. It might give you somewhat of a head start whenever I write an article on what actions I am taking and why. Thanks for reading!
Disclosure: I am/we are long HDSN.
I wrote this article myself, and it expresses my own opinions. I am not receiving compensation for it (other than from Seeking Alpha). I have no business relationship with any company whose stock is mentioned in this article.