CSX (NASDAQ:CSX) rallied impressively on the stock market in the first half of 2016 as prices of commodities such as crude oil rallied, while the automotive market continued to grow. Additionally, CSX's focus on enhancing its efficiency also helped the company withstand the weakness in the end-market to some extent, helping its post better-than-expected earnings in each of the last four quarters.
The story for the second quarter that was released last week was similar, as CSX beat the earnings estimate by $0.03 per share despite a 12% drop in the revenue. However, there was something different in CSX's earnings report as the company finally admitted that the weakness in the coal market will lead to lower volumes and earnings. In fact, its operating income decline of 17% was greater than the revenue decline, indicating that CSX's cost cuts are not enough to help it overcome the end-market weakness.
Has CSX run out of steam?
The company's weak earnings performance has led analysts to downgrade CSX, as it is evident that cost-cutting will not help the company offset the weak situation in the coal and the energy markets. In fact, just two out of CSX's 12 markets are currently favorable, and these two markets -- automotive and minerals -- account for just 15% of the company's overall revenue.
The most important markets, such as coal and chemicals, which account for a third of revenue, have been in the doldrums on account of lower volumes. As a result, CSX's revenue has been on the decline and the company will now find it difficult to offset the decline through cost reductions. As a result, CSX now sees its earnings for 2016 declining 13%.
This clearly indicates that CSX does not see a turnaround in its key markets. For instance, the coal segment, which is almost 15% of the company's revenue, will see a massive drop of 34% in volumes this year. In fact, last quarter itself, CSX's coal volumes dropped 34% year-over-year, leading to an identical decline in the revenue to $416 million. Moreover, for the first six months of the year, CSX's coal volumes have declined 32%, leading to a drop of 36% in revenue from last year. However, the company does not single out how much earnings it generates from this segment.
Looking ahead, as CSX forecasts, coal volumes will continue to decline and this is not surprising to me. In my opinion, CSX's coal operations will continue to weigh heavily on the company's financial performance in the coming years as both export and domestic coal consumption is set to decline.
Coal will be CSX's Achilles Heel
The production and consumption of coal in the U.S. is declining. In fact, this year itself, the production of coal in the U.S. is set to witness a major drop of 168 million short tons, declining 19% from last year. This will be the second consecutive year when coal production in the U.S. drops by more than 100 million tons. A key reason why coal consumption in the U.S. is on the decline is because it is losing market share to natural gas in the electric power segment, which is coal's lifeblood as this sector consumes 90% of the coal produced in the U.S.
More specifically, coal consumption by the power sector in the U.S. is set to drop 9% this year. Looking ahead, I believe that coal production in the U.S. will continue to decline in the long run on the back of coal plant retirements. In fact, after retirements of 14,000 MW worth of coal plants over the past two years, which led to a 25% drop in coal production, it is anticipated that another 10,000 MW of coal plants will be retired by 2017.
These coal retirements are taking place as coal miners find it difficult to survive and are taking the path of bankruptcies as coal loses market share to natural gas. In fact, this year, natural gas is slated to surpass coal in electricity generation, as shown below: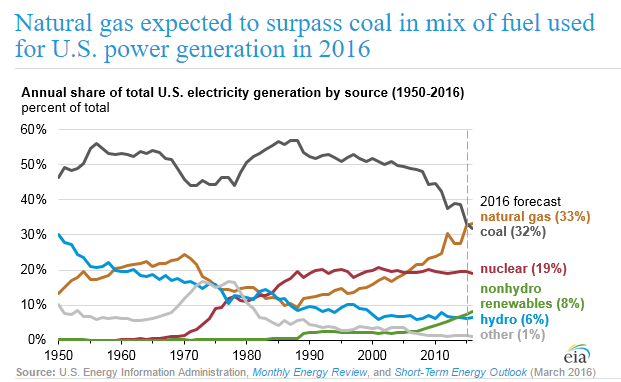 Source: EIA
Looking ahead, the use of coal in electricity generation will continue to decline as top utilities are increasingly converting their plants to generate electricity using natural gas. For instance, NRG Energy will switch 5,600 MW of coal-powered plants into gas over the next year. In all, NRG is on track to convert 4.3 GW of coal plants into natural gas, of which 3.8 GW is being developed actively. As a result of such moves, it is estimated that 46,000 MW of coal capacity will be shut down by 2022.
Conclusion
Given the developments in the coal market as discussed above, I won't be surprised if CSX's coal business eventually ceases to exist in the long run. Therefore, investors should brace themselves for the possibility that CSX's coal business, which is a sizable chunk of its revenue, will continue to diminish going forward and continue to weigh on its financial performance.
As such, CSX's troubles will continue going forward and the rally that the stock had seen in the past few months won't continue as its top line continues to decline
Disclosure: I/we have no positions in any stocks mentioned, and no plans to initiate any positions within the next 72 hours.
I wrote this article myself, and it expresses my own opinions. I am not receiving compensation for it (other than from Seeking Alpha). I have no business relationship with any company whose stock is mentioned in this article.