Freeport-McMoRan (NYSE:FCX) has logged impressive gains on the stock market this year but all that could come to an end when the company releases its second-quarter results next week on July 26. There is a big disconnect between the fundamentals of the copper market and pricing, which could prove to be Freeport's bane. Moreover, it is likely that Freeport's quarterly performance will not be that great, and this could spark weakness in the company's stock price. Let's see why.
The copper price rally won't help Freeport improve its results
The price of copper has rallied this year on the back of positive Chinese import data, but the rally has not been strong enough to help Freeport register growth in its revenue and earnings. For instance, in the second quarter, it is estimated that Freeport's revenue will come down by almost 13% on a year-over-year basis, while the company will slip into a loss of $0.01 per share as compared to a profit of $0.14 per share last year.
This drop in Freeport's financial performance does not come across as a surprise since copper prices have fell rapidly in the past year, even after accounting for the rally in 2016. This is shown below: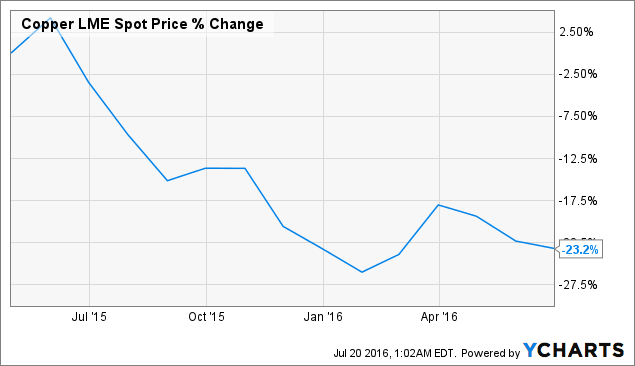 If we take a look at the average copper prices prevailing in the second quarter of last year and the second quarter of 2016, we will find that the metal has lost a lot of value. In the corresponding quarter of 2015, average copper pricing was $6,057 per ton, while this year in the second quarter, the price has come down to $4,736 per ton. This reflects a drop of almost 22% in copper spot prices on a year-over-year basis in the second quarter.
As such, it is not surprising to see why Freeport-McMoRan is expected to report a drop in its revenue due to low pricing. However, Freeport's copper sales will increase almost 19% in the second quarter as they are expected to come in at 1.15 billion pounds, up from 964 million pounds last year after adjusting for the Morenci asset sale.
However, the bigger impact of the weakness in copper prices will be seen on the bottom line. This is because Freeport's EBITDA and cash flow are highly dependent on the price of copper. For instance, a change of $0.10 per pound in the price of copper impacts the company's EBITDA by $425 million.
Now, in the year-ago quarter, Freeport's EBITDA came in at a negative $1.48 billion with average copper pricing of $2.71 per pound. As copper prices have dropped 22% year-over-year in the second quarter, Freeport's EBITDA will go down deeper into the red. More specifically, a 22% drop in copper prices from last year indicates a decline of almost $0.60 per pound. This means that Freeport's EBITDA due to the weakness in copper prices will slip by a whopping $2.5 billion, which indicates that the company's EBITDA loss in the second quarter will be almost $4 billion.
Hence, it is not surprising to see why analysts expect a big loss at Freeport for the second quarter. More importantly, investors should not be missing the fact that copper prices could drop further, and this will create more headwinds for Freeport's bottom line going forward.
Why the copper price rally will lose steam
As shown in the first chart in the article, copper prices have already started losing momentum from April onward after a brief rally in the earlier part of the year. This decline in copper prices of late might continue going forward as China continues to increase production despite pledging cuts and the real demand for copper remains weak.
For instance, in the first half of the year, China has increased its copper production by 7.6% to 4.03 million metric tons. The rise in copper prices has encouraged Chinese smelters to raise production instead of cutting the same, and it is likely that there might be capacity additions this year. Due to this increase in copper production in China, the country has gradually slowed down imports.
In June, China's copper imports increased just 5.6% year-over-year, but they have been declining sequentially. In May, China's copper imports month-over-month were down 4.4%, while in April, the decline was even more severe at 21%. This slowdown in China's copper imports of late due to increasing production in the country will have a negative impact on the global copper market as China consumes over 40% of the copper produced globally.
In fact, as copper production in China has gone up, copper inventory on the London Metals Exchange has also increased. At the end of May, bonded copper stocks on the LME increased 20% from the preceding month to 620,000 tons, while in June, the inventories were up by at least 50,000 tons. All in all, copper inventories on the LME have increased by 150,000 tons, and as China continues to increase production, more increases cannot be ruled out.
Moreover, the demand outlook for copper in China is not strong this year. In fact, China's copper demand growth will go down to a measly 0.6% in 2016 after growing 3.8% in 2015. This weakness in China's copper consumption does not come across as a surprise as China's key industries are facing a slowdown, as evidenced by the Purchasing Managers Index, or PMI. For instance, in the month of June, China's PMI fell to a four-month low as economic conditions worsened in the month of June.
Thus, on the back of a rise in inventories and weak demand, the price of copper could continue to decline and this will be a headwind for Freeport-McMoRan considering its reliance on copper prices.
Conclusion
From the above discussion, it is evident that Freeport-McMoRan is set to post weak financial results next week, and going forward, more weakness cannot be ruled out owing to the weakness in the copper market. As such, I think that investors should consider exiting Freeport-McMoRan going into earnings and book the handsome gains already recorded this year in light of the points discussed above.
Disclosure: I/we have no positions in any stocks mentioned, and no plans to initiate any positions within the next 72 hours.
I wrote this article myself, and it expresses my own opinions. I am not receiving compensation for it (other than from Seeking Alpha). I have no business relationship with any company whose stock is mentioned in this article.