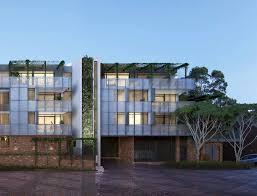 Now it gets interesting in Australia. Hard on the heels of the first Tesla suburb comes an inner-city mini-development that moves beyond each house having a Tesla (NASDAQ:TSLA) Powerwall battery to the formation of a micro grid.
Merri-green development of 49 residences
The "Merri-green" development involves 49 residences in inner city Melbourne (Australia). It involves 160kW rooftop solar PV (5KW/townhouse and 60KW on the roof of the apartment complex) and Tesla Powerwall 6.4kWh (spec for at least six years) batteries in each of 20 townhouses. The new angle involves either a group of Tesla Powerwalls or a larger Tesla Powerpack (100 kWh) in the apartment building, which contains 29 apartments, plus tying the solar PV and all batteries together. Space will dictate whether multiple Poweralls or a Powerpack equivalent to 16 Powerwalls is incorporated in the apartment complex.
As one would expect for this kind of project, the development will have a 7 star energy rating, which means power requirement will be minimized through energy efficiency measures (LED lighting, energy efficient appliances, passive cooling, double glazed windows, plug in charge points for EVs). There also will be water efficiency measures implemented.
Overall the cost of the solar PV, battery storage and energy management for the whole complex is estimated to be ~$A500,000 (~$A10,000/residence, more for the townhouses, less for the apartments). Note that the energy efficiency measures, solar PV/Tesla batteries and their management are all part of the package that the developer has put together. So there's no additional cost for these features. The developer is taking the risk that this development will be attractive to purchasers who will see value in the offering. Of particular note this means that residents don't have to worry about a payback period for their solar PV and battery installation. It is just part of the dwelling they acquire.
The developers point out that this will need a smaller grid upgrade to manage the development, so there will be savings to the utility. Although it is early days, the developer thinks the development will use 60-70% less power from the grid because of rebalancing the solar PV and batteries.
This is a smaller development than the recently announced YarraBend Tesla suburb, but the innovation is that the whole Merri-green development will be networked with energy management software to manage and distribute the battery-stored power (and manage where the solar PV-generated power goes). Tesla has become the preferred battery supplier through careful nurturing of its Australian partners (Bradford Solar) and guaranteeing quality after sales service.
The details of who gets what power are being sorted out based on each resident having a given right to a part of the solar PV generated. The Body Corporate for the development will act as the energy retailer. If owners don't want to participate they can choose their own retailer and hence deal directly with the utility provider. If they do this, the townhouse owners will have independent solar PV and a Tesla battery (and miss the benefit of sharing their power). Independent apartments will have more complex arrangements. Australian regulations require that residents have a choice of energy retailer, but it is hard to see why a resident would opt out.
Why the Australian scene is changing dramatically
Australia is getting a lot of attention at the moment because special circumstances are creating enormous interest in stored power. Basically 275,000 Australian houses are coming off a profitable sale of excess solar PV generated power back to the grid (at between $A0.16 and 0.60/kWh) to receiving only a nominal payment of $A0.05-0.07/kWh.
By underpaying for the power (which they can sell to the next house for ~$A0.20-0.25/kWh) the utilities are creating their own problems. This is hugely beneficial to the acceleration of combining solar PV with home battery storage. The latest developments take this a logical step further in new residential developments.
While this story is about a greenfield site, the people behind this project are thinking more broadly about expanding the use of batteries and solar PV beyond the individual house. If houses get hooked up, they can get away with a smaller battery and hence the cost of entry falls, making the market bigger. Craig Burton from Generation Shared is actively exploring how to network renewable energy gear behind the meter, which doesn't need to wait for change in energy regulations. I think this has significant implications for the size of the market for batteries (and solar PV) that don't just apply to Australia.
So these developments are not just an Aussie pipe dream. The core premise is making sense as battery prices fall. This is being looked at all over the world. Some 27 battery suppliers are using the Australian market to field test their products.
The mini-grid development, involving a "Powerpack" in addition to each residence's battery, is a logical step, but it also opens up wider questions about how this mini-grid will interact with the wider grid. What it does do is change the power structure between the households and their electric utility. At least in Australia there is a lot of resentment about gouging of customers by the utilities. As indicated above, a likely next step will be for existing households to implement this kind of coordinated development.
Imagine the consternation among utility providers as they start to think about where they fit. These issues are starting to gain prominence in the US too.
The pace of change is a bit exhausting!
Conclusion
The Tesla believers and critics will draw their own conclusions about the potential market for Tesla batteries in providing Powerwalls/Powerpack to the residence as a community battery backup.
This has to be interesting and beneficial to Tesla shareholders as the scale of this change could become very large, involving all new housing developments (and also retrofits) in areas where solar PV makes sense. Of course other battery suppliers will be looking for a share of the action, but once again Tesla is positioned at the front of the pack.
I'm cautious about investment in Tesla at the moment as there is a lot of risk in delivering the Model 3 at scale in a crazy short time frame, but having Tesla as part of micro-grid developments starts to make the Solar City (NASDAQ:SCTY) acquisition seem more credible.
Disclosure: I/we have no positions in any stocks mentioned, and no plans to initiate any positions within the next 72 hours.
I wrote this article myself, and it expresses my own opinions. I am not receiving compensation for it (other than from Seeking Alpha). I have no business relationship with any company whose stock is mentioned in this article.