Last month, as part of a broad shift to liberalize its economy and encourage foreign investment, India overhauled its aviation rules to make it easier for domestic carriers to fly overseas. Boeing (NYSE:BA) estimates that India will now need 1850 new aircraft worth $265 billion over the next 20, up 6.3% from the company's prior forecast of 1740 planes. India is a huge market for Boeing, and the industry is growing. Last year domestic air travel in India grew 18.8% (the biggest year-over-year increase in the world), dwarfing the 5% growth in the US and a global average of 5.6%. The new laws will help make India the third largest aviation market by 2020 (behind the US and China), and the increased demand will help Boeing offset slowdowns in other regions.
In the past, India's regulators required that domestic carriers had a minimum of 20 aircraft in their fleet and five years of domestic service in order to fly across borders. With demand for air travel to-and-from the Asia-Pacific region on the rise, the protectionist policy prevented many foreign carriers from operating at desired capacity levels. Now, provided they deploy 20% of their planes or 20% of their capacity (whichever is higher) on local routes, carriers are free to fly anywhere. This will open up a slew of new routes and incentivize airlines to expand their fleet sizes.
Middle Eastern airlines will benefit the most from the policy reversal, and these carriers are among Boeing's largest customers. The Middle East is a key hub that connects flights between Asia, Europe, and Africa, so a significant portion of the new capacity coming out of India will flow through Middle Eastern cities on Middle Eastern airlines such as Emirates and Etihad. Middle Eastern carriers will account for the bulk of the new aircraft orders, and this is a big boost for Boeing. In 2014, two of BA's top three customers in terms of new aircraft orders were based in the Gulf Region: Emirates and Qatar Airways (Figure 1).
Figure 1: Boeing Customers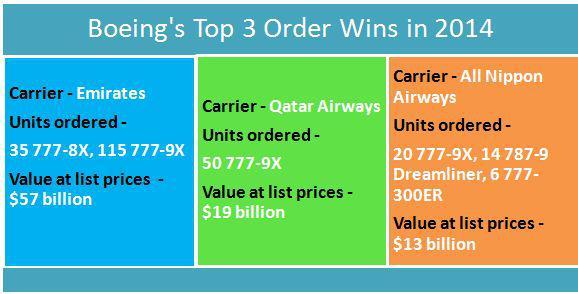 Source: fool.com
Rising demand out of India will help Boeing offset a global slowdown in the coming years. After five years of rapid order growth, it seems the aircraft cycle has reached a peak. Boeing's commercial aerospace backlog runs ten years deep, and there isn't much demand left for new planes. In 2015, BA's orders declined 46%, from a record 1432 planes in 2014 to just 768, which drove down backlog (Figure 2). And, now that oil prices are rising (up 35% over the past six months), it is less profitable for airlines to expand their fleets. The airlines industry is very cyclical; orders often decline for multiple years after prolonged stretches of growth, and we expect orders to moderate in the short-term. But India can help ease the pressure.
Figure 2: Boeing Backlog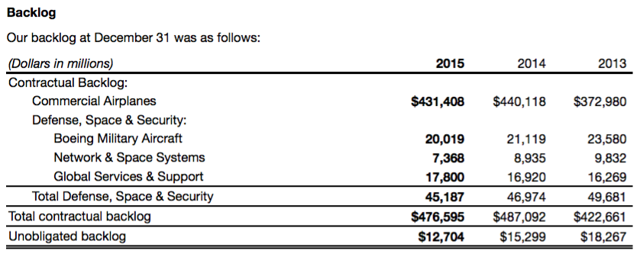 Source: 10-K
Conclusion:
India's policy overhaul is a boost for Boeing. The company has 85% share of the wide body plane market in India, and some of BA's largest customers will now be demanding more aircraft. With growth slowing in some of Boeing's key markets, the US (40% of 2015 revenues) and Europe (13%), BA will increasingly lean on emerging markets for order growth. India will underpin this growth, and we expect revenues in BA's "Other Asia" geographic segment as a percentage of total revenues to reach the high teens within the next few years (compared to 14% in 2015).
Disclosure: I/we have no positions in any stocks mentioned, and no plans to initiate any positions within the next 72 hours.
I wrote this article myself, and it expresses my own opinions. I am not receiving compensation for it (other than from Seeking Alpha). I have no business relationship with any company whose stock is mentioned in this article.