By Jesse Atlas and Benjamin Warner
Autohome (NYSE:ATHM), China's largest automobile e-commerce site, has had a turbulent first half of the year. In May, Telstra (OTCPK:TLSYY), Australia's largest telecommunications company, announced that it had settled on a buyer for its 47.7% stake in Autohome. The stake was scooped up by China's second largest insurance firm, Ping An (OTCPK:PNGAY). Only hours after the intended sale had been announced, another buyout offer was tabled by Autohome's then CEO James Qin. Qin's offer represented a 6.6% percent premium to Ping An's, but Telstra choose to sell to the insurance giant. A few months and a huge management reshuffle later, Autohome's shares have slid more than 30% since. However, Autohome's future looks promising, thanks to two major catalysts.
#1: Buyout
Telstra sold its 47.4% stake in Autohome to the second largest insurance company in China, Ping An, last week for $1.6 billion, or $29.55 per share.
Autohome's management tried to take the company private by outbidding the Ping An Group, offering Telstra $31 per share, but Telstra chose Ping An's offer over that of the management consortium for unclear reasons.
There exists the possibility that either party - the management consortium or Ping An - could try to take Autohome completely private sometime in the future.
#2: Synergies
In the event that neither Ping An nor the management consortium is interested to attempt a buyout of Autohome, synergies from the Ping An relationship will benefit Autohome.
Ping An can migrate over 50 million online auto insurance customers to Autohome's e-commerce platform, making it a one-stop shop for cars as well as car insurance and financing products.
Autohome Background
Autohome, through its websites autohome.com.cn and che168.com, as well as its mobile application, provides information to Chinese car buyers. The company's editorial team produces reviews, pricing trend information specific to different municipalities, and video and audio content. Autohome's core revenue is derived from two channels, advertising services and dealer subscription services.
Advertising Services
"Automakers typically utilize our advertising services for brand promotion, new model releases and sales promotions. Our large and growing automobile purchase- and ownership-oriented user base provides a broad reach for automakers' marketing messages. Our advanced technologies, which allow us to segment our user base in a number of different dimensions, including by users' geographical location and specific automotive interests, enable us to place advertisements with targeted audiences." - Autohome Investor Relations
Dealer Subscription Service
"Our dealer [Autohome's] subscription services allow dealers to market their inventory and services through our websites, extending the reach of their physical showrooms to potentially millions of internet users in China. Through our dealer application interface, dealers can create their online showrooms hosted on our websites and upload their automobile inventories, pricing and promotional information. Potential automobile purchasers can interact with our dealer subscribers online or through toll free numbers provided by us to inquire for more detailed information and schedule test drives. Our dealer subscribers can track all the interactions with their customers originating from our websites, analyze the number of sales leads and assess the effectiveness of their marketing activities." - Autohome Investor Relations
China's Automobile Market
Car ownership is on the rise in China, but there is still huge growth potential. The figures below show car density in China as compared to the Western cities. Most metropolitan areas in China are nowhere near their predicted car ownership saturation levels for the reason that they lack infrastructure, so personal car ownership is becoming a popular alternative.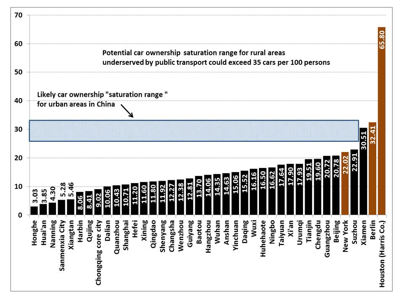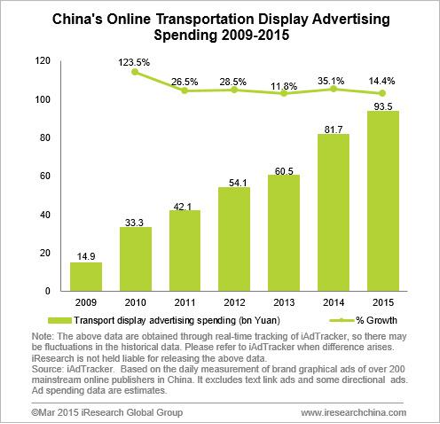 Automobile manufacturers are spending huge sums, marketing to Chinese consumers. For the last five years, China's Online Transportation Display Advertising has a double-digit compounded annual growth. In 2015 alone, automobile companies spent over $10 billion USD trying to reach Chinese consumers over the web. Because Autohome is the largest automobile website in China, it is able to leverage its brand to generate ad business from auto dealers. Chinese consumers are also desperate to shop for cars online as consumer satisfaction of Chinese car buyers is extremely low when buying from brick-and-mortar dealerships. China's e-commerce industry is growing fast, and Chinese car buyers are far less inclined to buy at dealerships than American buyers.
Used Cars in High Demand
Autohome is also poised to take advantage of the growing second-hand auto market in China. Through its web services, second-hand dealers as well as individuals can advertise used cars and sell them through the platform. Over the last three years, used auto sales have skyrocketed and are expected to continue growing at an even pace.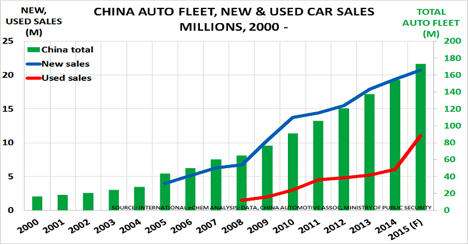 Autohome's Financial Health
After taking a look at Autohome's balance sheet, you'd think that outside of its Auto Classifieds business that it also ran a mint. Autohome's financials are rock solid. The company has no long-term debt obligations, and its quick ratio in the most recent quarter was 2.76, further erasing any worries about meeting the current debt obligations, and if you were worried about the future... the current ratio in the most recent quarter was also a staggering 2.87. In the trailing 12 months, Autohome's operating margin was 30.29% while net profit margin was 25.51%. EPS has been increasing steadily and is up 33% on a TTM basis. Cash flow is the real highlight of Autohome's financials. Over the past 12 months, the company has generated a staggering $1.37 billion in free cash flow. Autohome's robust FCF and lack of LT debt would enable any potential buyer of the company to add significant leverage and make a higher bid. If bidding on the company were to be opened once again, we could see very enthusiastic offers.
Telstra's Sale of Autohome Stake to Ping An
On April 15th, 2016, Telstra announced that it had reached an agreement to sell its 47.4% stake in Autohome to the second largest insurance company in China, Ping An, for $1.6 billion. Telstra will hold onto a 6.5% stake of Autohome after the transaction is completed. However, only hours after the deal was announced, a second buyout proposal was put forward by a group of investors led by Autohome CEO James Qin. Qin's buyout consortium, comprised of Boyu Capital Advisory Co., Hillhouse TBC Holdings L.P., and Sequoia China Investment Management LLP, offered a 6.6% premium to Ping An's offer, equating to $31.50 per share. Analysts have speculated that a rare Chinese bidding war might follow - so far it has not.
Alleged Board Misconduct
After the management-led buyout proposal was announced, both Ping An and Telstra claimed the agreement was binding and would continue as planned. However, Autohome is domiciled in the Cayman Islands, where the management-led consortium sought a court injunction and was granted one; the hearing was planned for June 24th.
The management consortium believes that Telstra tried to bypass Autohome's audit committee by pushing the deal through under irregular circumstances, and that Telstra's board members have had a conflict of interest in voting on this deal. Fairfax Media revealed the story behind the irregular circumstances that allowed the deal to go through. On May 13th, 2016, a board meeting was called to vote on the proposed sale of Telstra's stake to Ping An. However, Autohome's directors and independent directors did not attend the start of a board meeting because they believed that they had not been given enough detail about the registration rights agreement.
In order to approve the deal, there needed to be quorum of at least six board members. Because only five board members were present, Telstra appointed a sixth director. While this may seem odd, Telstra is legally allowed to appoint an additional board member as long as it follows a specific protocol, which Autohome claims it did not. In order to legally appoint a sixth director, Telstra had to send the notice to a Cayman Islands-based office; however, it only sent the notice to Codan, Autohome's registered agent, in Hong Kong.
An announcement from the Australian Securities Exchange, where Telstra is listed, confirmed that the deal had gone ahead. This contradicts the statement issued by the court of Cayman Islands, which instructed Autohome to "restrain from registering or taking any steps to cause to be registered any transfer of any shares in the Respondent (Autohome) registered in the name of Telstra Holdings Pty Limited until the inter parties hearing of the Summons on Friday, 24 June 2016 or the next first available date as the Court may direct."
Ping An Partnership Benefits
Below are two excerpts from Autohome's recent 6-K:
(Current Board Member) Ms. Whelan stated: "We would like to welcome the new incoming directors to our Board and the new executive officers to our management team. We would also like to express our sincere gratitude to our outgoing executives, Mr. Qin and Mr. Chong, for their service to the Company. We are confident that Ping An will help provide opportunities for Autohome to diversify outside of its traditional core online advertising business."

(Recently Appointed CEO) Mr. Lu stated: "I am very excited about the opportunity to serve as the Chairman and CEO of Autohome. I will make every effort to accelerate the growth of Autohome, and maximize value for all shareholders, employees, users and customers. In particular, I will help Autohome by leveraging Ping An's 300 million online customers, 150 million financial services customers, 50 million online car insurance customers, extensive auto manufacturer and retailer partnership networks, and off-line auto services networks throughout the country. I am committed to strengthening Autohome's market position, and leading Autohome to a strategic transition from an auto information provider to a provider of all auto related services."
Merton Bay Capital's recent article on ATHM raises questions about the new Ping An management team's ability to run Autohome. However, we believe that Autohome only stands to benefit from the Ping An partnership due to its access to the base of auto insurance customers.
Full Buyout is Unlikely but Would be Rewarding
Partnerships such as Ping An/Autohome are not uncommon among Chinese companies. In fact, one of Autohome's competitors, Bitauto (NYSE:BITA), has partnered with Baidu (NASDAQ:BIDU), Tencent (OTCPK:TCEHY), and JD.com (NASDAQ:JD), each of which invested tens of millions of dollars in the company. Ping An may only wish to retain its 47.4% stake in Autohome; there is the possibility of a full buyout. The rest of Autohome's outstanding shares could be purchased for around $1 billion (depending on premium paid), justifiable, considering the size of Ping An and the fact that ATHM produced $1.4 billion in free cash flow last year.
Summary
Autohome has a bright future ahead for it regardless of if it does get taken private at a large premium or has an amazing year of growth, thanks to the online insurance customers migrated to the platform by Ping An.
Disclosure: I am/we are long ATHM.
I wrote this article myself, and it expresses my own opinions. I am not receiving compensation for it (other than from Seeking Alpha). I have no business relationship with any company whose stock is mentioned in this article.
Editor's Note: This article discusses one or more securities that do not trade on a major U.S. exchange. Please be aware of the risks associated with these stocks.