Following the "Brexit" vote, several Canadian companies faced immediate losses in their share prices, as the U.K. is the third largest consumer of Canadian goods. One of those companies that took one of the strongest hits was Magna International, Inc. (NYSE:MGA), as the stock dropped from $40.35 to $33.62 in less than a week. For context, the last time I wrote about Magna back in April of 2015, the stock price was at $52.36, and had an average price target of $63.25, and laid out the long-term opportunity available to investors. Now, as the price is beginning to recover from Brexit, investors and analysts are becoming increasingly optimistic with Magna and that the worst may be over.
The reason for the sharp pullback and its association to Brexit was the fact that it had just announced the construction of a new 225,000 "square foot aluminum casting facility in Telford, United Kingdom, to support Jaguar Land Rover (NYSE:TTM), the U.K.'s leading vehicle manufacturer". With the Brexit vote coming shortly after this announcement, many added this to the list of reasons (justified or not) they had to panic about Magna. This new facility is expected to employ 295 people when it goes into operation in 2018 and will add to Magna's current U.K. workforce of 2,500 people at nine production facilities. This news was compounded by a report that estimates that the U.K., which represents 3.4% of global new vehicle sales, will see a downtrend in auto purchases.
The U.K. Factor
Amidst all of the market turmoil, the question really becomes how much of an effect this will have on Magna directly. When we look at its most recent quarterly report, we see clearly the company's revenue breakdown and the role the U.K. plays.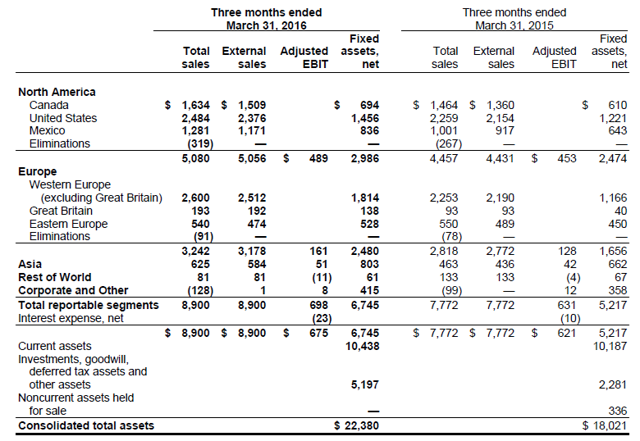 Source Q1 2016 report
As we see in the report, the U.K. only represented $193 million of Magna's total European sales of $3.24 billion, and even generated only a fraction of what the company was able to generate from Eastern Europe. A major factor in this is that an estimated 70% of European revenues come from Volkswagen (OTCPK:VLKAF) (OTCPK:VLKAY), BMW (BAMXY) (OTCPK:BAMXF) and Daimler (DDAIY) (OTCPK:DDAIF), all of which have predominantly European mainland production and sales. Another issue which had been raised was the devaluation of the British pound. During the three months of Magna's first quarter, the pound was trading at US$1.43. Now a couple of weeks since the Brexit vote, the pound has recovered to US$1.31.
Investors Must Present a Stiff Upper Lip
Aside from all of the Brexit fallout which has swept up Magna, I believe that the company still remains a solid option for long-term investors. In its last quarter, it managed to boost revenues by 14% to $8.9 billion from $7.77 billion in Q1 2015. Adjusted EBITDA rose to $698 million from $631 million, and net income (attributable to Magna) rose to $492 million ($1.22 per share) from $465 million ($1.14 per share), beating analyst expectations of $1.19 per share.
While so many investors have cried out doom and gloom concerning Magna, at the moment, many analysts are taking the opposite approach. Currently seven of the 12 analysts who cover Magna have a "strong buy" on the stock, which is up from three strong buy ratings in June. In the eyes of analysts, the current price deflation has presented a rare opportunity for investors as Wednesday's closing price of $38.30 means that Magna's fwd p/e ratio has fallen 7.46. In terms of a price target, the consensus price currently is $52.30, with a range of $36.00 to $63.00.
I believe the reasons that these price targets become easier to get behind are that global auto sales in May rose by 4% and that Western Europe posted a 9.9% increase in auto sales, the largest monthly increase in almost 20 years. This adds to the argument that Magna should come out of this summer rather unscathed from Brexit and investors should be taking a long hard look at this company. If global auto sales in western Europe continue this trend, it should act as a counterbalance to Magna's European operations, and help it maintain its continued growth in revenues.
In its last quarterly report, Magna increased its 2016 sales forecast to a range of $35.5 billion to $37.2 billion from its earlier forecast of $34.6 billion to $36.3 billion. This would represent a significant increase over the $32.1 billion in sales during 2015.
If Magna can meet these goals, it will in turn help the company reward investors through its dividend program, which paid out $95 million in the last quarter. Currently, its dividend offers an annualized payout of $1.00 with a yield of 2.61%. The current combination of stock price, fwd p/e ratio and dividend yield is making Magna harder and harder for investors to ignore as a long-term hold. If Magna is able to continue its revenue growth and show a negligible effect from Brexit in its Q2 2016 due out on August 5th, the window to take advantage of these current prices could be closing very quickly.
Author's note: If you enjoyed this article and found it helpful, please "Follow" me on Seeking Alpha to receive notification whenever I publish a new article.
You may also be interested in other recent articles I have written for Seeking Alpha with my Canadian point of view that focus on stocks and stories that I have found compelling. You can also find my previous articles here for further study.
Disclosure: I/we have no positions in any stocks mentioned, and no plans to initiate any positions within the next 72 hours.
I wrote this article myself, and it expresses my own opinions. I am not receiving compensation for it (other than from Seeking Alpha). I have no business relationship with any company whose stock is mentioned in this article.