Exxon Mobil (NYSE:XOM), the world's biggest vertically integrated oil and gas producer, will release its quarterly results for the three months ending June before the markets open on Friday, July 29. And this could be the most important results for the company over the last couple of years.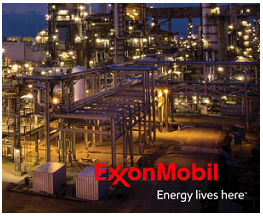 In the first quarter of 2016, Exxon Mobil was hit hard by the downturn, as its profits plunged to its lowest level since 1999. Its earnings dropped 63% on a year-over-year basis to $1.81 billion, or $0.43 per share as its upstream, or exploration and production, business swung to a loss of $76 million from a profit of $2.86 billion.
As shown in the chart below, Exxon Mobil's earnings have been largely going downhill on a sequential basis for the last several quarters. The decline came as commodity prices fell to their historic lows. In the first quarter of 2016, the WTI oil and Henry Hub natural gas price touched their lowest levels in 13 years and 17 years respectively, with the spot prices of both commodities averaging just $33.18 a barrel and $2 per million Btu, according to data from US Energy Information Administration. This compares against average oil and gas price of $98.75 a barrel and $5.20 per million Btu, respectively, seen two years earlier.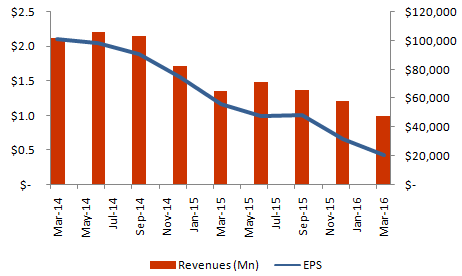 Exxon Mobil quarterly revenues, EPS, 1Q2014 - 1Q2016.
However, the second quarter results could mark an end of Exxon Mobil's declining streak and the beginning of the oil giant's turnaround.
That's because oil and gas prices have improved in the second quarter. The WTI oil spot price averaged $45.41 in the second quarter, up 37% from the first quarter, while natural gas averaged $2.14, a gain of 7% in the corresponding period. These gains have come on the back of improvement in the global oil market's fundamentals, particularly on the supply side. The disruption in production in Canada, Nigeria and Libya knocked out more than a million barrels a day of supplies, though a large chunk of that production, particularly from Canada, is now returning to the market.
But more importantly, production from major non-OPEC producers, such as the US and Mexico, has been declining. Several OPEC members, such as Nigeria, Venezuela and Libya, are also experiencing declining output. Others, such as Iraq, have reached peak capacity. As a result, OPEC's output hasn't climbed meaningfully since last year, despite increase in oil exports from Iraq. Oil demand, on the other hand, remains strong with year-over-year growth rate of 1.3 million barrels per day expected for this year.
The strength in oil and gas prices is going to have a positive effect of Exxon Mobil's realizations, which will lift the earnings of its upstream business on a sequential basis. As a result, the company's profits will likely climb meaningfully as compared to the first quarter of this year. If oil prices gradually move higher in the coming quarters on the back of declining production from non-OPEC nations and no meaningful uptake in supplies from OPEC members, then Exxon Mobil will continue to report increase in earnings on a sequential basis. This will also firmly mark 1Q 2016 as Exxon Mobil's bottom.
Eventually, if oil moves higher or even holds its ground in the high-$40s to low-$50s window, then Exxon Mobil will begin posting year-over-year earnings growth, perhaps by as early as the fourth quarter of this year.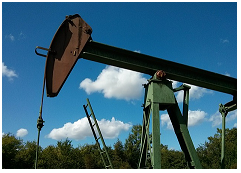 Note that oil and gas prices are still weak on a year-over-year basis. In the second quarter of last year, WTI oil averaged $57.85 a barrel - that's 27% higher than what we've seen this year - and natural gas averaged $2.75 - almost 29% higher than 2Q 2016 average. This means Exxon Mobil's second quarter earnings will likely remain under pressure on a year-over-year basis.
In the downturn, Exxon Mobil's downstream, or refining business, benefited from the decline in oil prices. That's because refineries use oil as a raw material to produce refined products like petroleum and diesel, and a drop in oil price lowers their cost of production. However, oil isn't in free fall anymore. Moreover, there are abundant levels of inventories in the market. In fact, gasoline and diesel inventories are sitting above their five-year average. Stockpiles are near record levels for this season not just at the New York harbor, but also in Europe.
Meanwhile, demand isn't as strong as previously anticipated. Last month, US EIA said that the gasoline demand for April turned out to be 286,000 barrels a day less than what the agency initially thought. Thanks to weaker-than-expected demand, the inventory drawdown hasn't been as fast as everyone would like. These factors will likely have a negative impact on refining margins and drag the profits of Exxon Mobil's downstream business.
Furthermore, during the second quarter conference call, we'll likely hear more from Exxon Mobil's management regarding its recent takeover attempt. As a reminder, Exxon Mobil hasn't really taken part in M&A activity in the ongoing downturn, despite having arguably the best financial health in its peer group. But the company has recently entered into a bidding war to buy InterOil (NYSE:IOC), which owns significant gas reserves in Papua New Guinea and is in the process of being acquired by Oil Search (OTCPK:OISHF) and Total (NYSE:TOT), for at least $2.2 billion.
Formally, Exxon Mobil hasn't confirmed the news, but earlier this week, Oil Search admitted that Exxon Mobil has made the superior offer. Exxon Mobil could use the second quarter results as an opportunity to officially acknowledge its offer.
Note from author: Thank you for reading. If you like this article, then please follow me by clicking the " Follow" link at the top of this page.
Disclosure: I/we have no positions in any stocks mentioned, and no plans to initiate any positions within the next 72 hours.
I wrote this article myself, and it expresses my own opinions. I am not receiving compensation for it (other than from Seeking Alpha). I have no business relationship with any company whose stock is mentioned in this article.
Additional disclosure: I own shares of funds that may hold a long position in XOM.