Overview
JetBlue Airways Corporation (NASDAQ: JBLU) is one of the United States' biggest airlines. In 2015, it carried over 35 million people and averaged over 900 flights a day. It served 93 destinations in the US, the Caribbean, and Latin America. The company's mission is to use a low-cost structure to bring high-quality flights to high-value areas in the US, with a primary focus on the northeast region of the country.
The company and its product evolved in a few ways in 2015. Primarily, the company started to roll out more of its Mint-branded aircraft. Mint is a transcontinental premium brand the company rolled out in 2014 that includes 16 lie-flat beds on its aircraft. The company also continued to expand its Wi-Fi services. The company also enhanced its fleet, converting six of its existing Airbuses to Mint planes, buying out leases on six other planes, and taking delivery of twelve other Airbus aircraft, two of which are Mint planes. The company expanded to six new cities last year.
The company tries to win over customers with a fresh ethos and culture while offering them the lowest fares they possibly can. The company introduced a new pricing model that lets customers choose a unique set of amenities for their particular ticker. Furthermore, the airline also offers what is possibly the best in-flight entertainment system in any domestic US airline. Customers can watch 36 free channel of DIRECTV, 100 free channels of SiriusXM, and a host of movies featured by JetBlue. The company also believes its Fly-Fi internet connection - which is now on all of its Airbus machinery - is significantly faster than the broadband services offered by most other US airlines. Customers can also enjoy a free and unlimited amount of brand name snacks and non-alcoholic beverages, which is also rare among domestic carriers.
JetBlue is mostly a point-to-point airline, meaning that instead of having major hub cities that it directs nearly all of its passengers through, the company usually flies its passengers straight from their place of origin to their final destination. 86% of customers in 2015 had non-stop flights, although the majority of the airlines routes touched major cities like New York, Boston, Orlando, and Long Beach.
The company can accomplish its goal of providing consistently low fares by having a relatively new and thus more efficient fleet of aircraft than its competitors and having a very efficient use of its aircraft and routes. JetBlue flights, on average, spend 11.9 hours a day in the air, generating revenue for the company.
Earnings
JetBlue's revenues have consistently increased over the past few years. Since 2011, revenues have grown over 40%, going from $4.5 billion in 2011 to $6.4 billion in 2015. In 2014, the company earned $5.8 billion in revenue, meaning revenues increased roughly 10% from 2014 to 2015.
The company's net income has also grown consistently. Since 2011, net income has grown 687%, a staggering amount. Net income increased from $401 million in 2014 to $677 million in 2014, a 68.8% increase. The increase was somewhat helped, however, by lower than average fuel costs for the entire industry. The company has also experienced passenger growth every year for a number of years. The number of passengers the airline carried has increased roughly 40% from 2011 to 2015, going from 26.4 million to 35.1 million. The revenu per passenger also increased roughly 9% from 2014 to 2015.
Most importantly, the company's operating margin was 19% last year in an industry that is notorious for having very low margins and thus volatile financial results.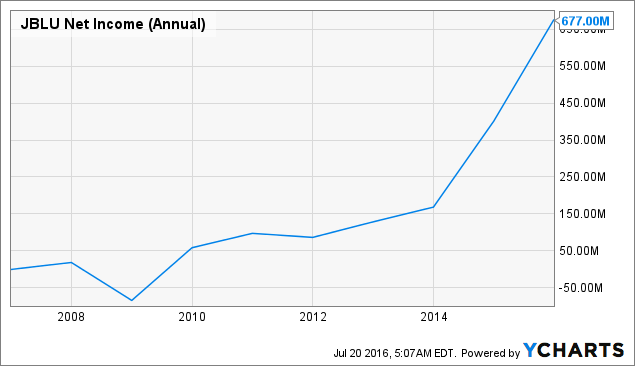 JBLU Net Income (Annual) data by YCharts
The chart above illustrates just how impressive JetBlue's profitability has been over the past decade.
Cash Flow
The company's cash flow from operations has been equally impressive, rising from $758 million in 2013 to $912 million in 2014 to $1.6 billion in 2015. The increase from 2014 to 2015 was primarily a result of a much higher net income as well as lower air traffic liabilities.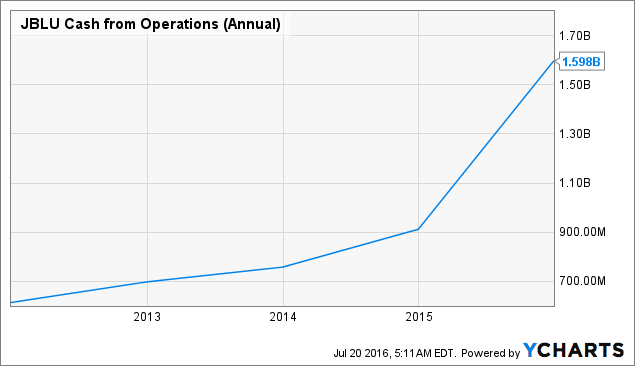 JBLU Cash from Operations (Annual) data by YCharts
The chart above shows the quality of the growth JetBlue has been able to manage over the past few years. Not only has the cash flow growth accelerated, but it has done so without any major hiccups or off-years. It's been very consistent and solid.
It's also important to realize that the company's increase in cash flow has been the result of better business performance, and not luck with certain one-time financial events. Deferred taxes and collateral return did impact cash flows, but only slightly. And even if these events were taken into account, the company's upward growth trend would still remain intact. The company's cash flow growth has been organic.
Book Value
The company stated in its latest annual report that one of its main priorities is to strengthen its balance sheet. As the company says, "We ended the year with unrestricted cash, cash equivalents, and short-term investments of $876 million and undrawn lines of credit of approximately $600 million." The company's initiatives with regards to its balance sheet seem to be working.
JetBlue also reduced its overall debt by $390 million, a large amount for a company its size.
The company's total assets increased from $7.8 billion in 2014 to $8.66 billion in 2015 while its total liabilities increased from $1.9 billion to $2.3 billion. Overall, shareholder's equity increased from $2.5 billion to $3.2 billion. Long term debt decreased from $1.97 billion to $1.4 billion.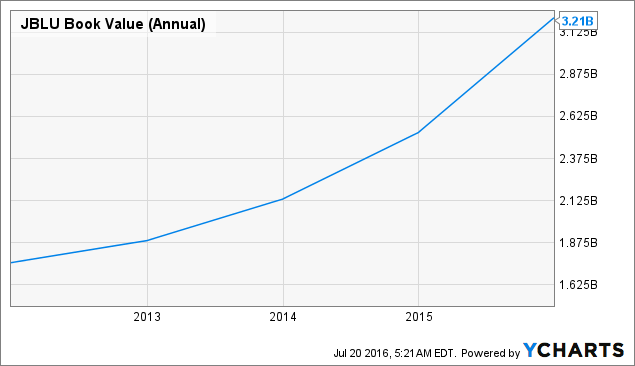 JBLU Book Value (Annual) data by YCharts
The chart above shows how stable, consistent, and rapid the increase in the company's book value has been.
Price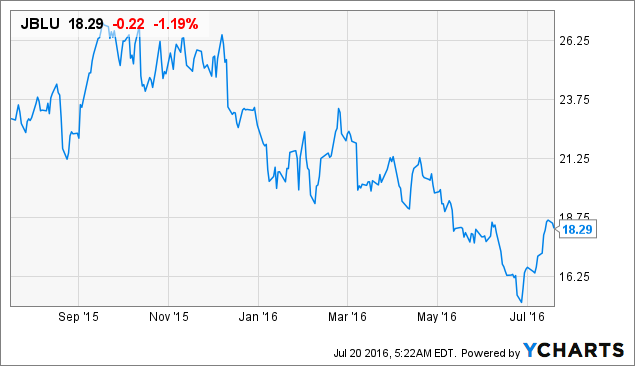 No matter how terrific a company is, it's not a sound investment if the asking price is too high. JetBlue's stock has risen over the past five years, but it has lost a third of its value over the course of 2016. This might be a sign of great opportunity, but it's important to examine why the stock decreased in price so suddenly after so many years of growth.
I decided to take a look at the company's latest quarterly results. Net income was slightly lower in the first quarter but rebounded. Revenues decreased slightly. And cash flow from operations increased substantially. It's worth noting that the company's stock rose slightly after it reported stronger traffic in June.
The temporary decreases in net income and revenue are certainly minor and occurred in the quarters right after the holiday season, when all airlines experience greater traffic. In any case, is there any real evidence to suggest that a company that has had years of strong revenue, income, cash flow, and book value growth has lost a third of its value in six months? Absolutely not.
Verdict
I think JetBlue would be a terrific addition to any portfolio. The company has had immensely strong growth over the past number of years according to all meaningful metrics. Its approach to customer service and marketing seem to be working. The company has managed to find a sweet-spot between offering a product that is meant to be cheaper and more affordable than its competitors but that also gives the impression of being great value for money and sold by an organization that seems to truly care about its customers. This is very easy to see by the way it approaches its future and its business model in its annual report and by the way it offers customers amenities that bigger, more expensive airlines can't match - all while being a "low-fare" airline.
I especially think that the stock is a great investment at current prices. There has been a tremendous amount of recent fear in the markets with regards to travel stocks after the recent terror attacks in France and other places around Europe. While this reaction is understandable, it's simply not logical, not least because JetBlue has only a tiny amount of exposure to international travel and has no flights to Europe. This, coupled with a seemingly inexplicable reaction to a tiny decline in revenue and income, makes the stock seem very cheap and a terrific investment.
Disclosure: I/we have no positions in any stocks mentioned, and no plans to initiate any positions within the next 72 hours.
I wrote this article myself, and it expresses my own opinions. I am not receiving compensation for it (other than from Seeking Alpha). I have no business relationship with any company whose stock is mentioned in this article.