Why Gigamon?
Gigamon (NYSE: GIMO) is the leader in the Network Visibility Market. Gigamon provides products and services to customers who ultimately, provides visibility and controls network traffic. Cybersecurity is one of the fastest growing industries because of the increasing need to protect information. Additional factors such as growth from the cloud, mobile computing, and the Internet-of-Things further deteriorate the effectiveness of current security measures and are the reasons why cybersecurity spending is growing.
Network Visibility is becoming a business imperative for the security infrastructure of the future as it provides users visibility into traffic on the network, detecting threats that evade traditional security firewalls or anti-virus software. Put simply, cyber-attacks are expected to increase and it is nearly impossible to prevent 100% of attacks which is why multiple levels of security are needed and Gigamon is positioned to address this demand.
Gigamon has demonstrated an impressive record of success, producing a six-year revenue CAGR of 39%, sustained gross margins over 80%, and expanded its customer base from 1,010 in 2012 to over 2,000 in 2016, including 78 of the Fortune 100 companies and 50 of the Top 100 Global Service Providers. Gigamon is a leader in the network visibility market having produced the industry's first visibility solution for the public cloud. Not only is adoption of the cloud imminent, thus positioning itself for continual growth, but Gigamon is led by a team of technology veterans, equipped to excel in the security industry.
Gigamon Q1 2016 Earnings Call Transcript:
"In a recent Forrester Total Economic Impact study focusing specifically on the value of our GigaSECURE platform. They noted that customers realized a payback within seven months following deployment, in addition to a reduction in the ongoing cost of security of over 50%. Without a visibility solution to improve the efficiency, effectiveness and reach of security tools and systems, infrastructure security will not scale. There's too much traffic, too many places to protect, and too many attack factors for any point solution to keep up." - Paul Hooper, CEO of Gigamon
Gigamon's Q1'16 earnings call perfectly explains Gigamon's role in the security industry. A key takeaway from this is that Gigamon "improves the efficiency, effectiveness and reach of security tools and systems" meaning they complement existing security tools. This has led to Gigamon building strong partnerships with security vendors, such as Cisco, FireEye and Palo Alto.
Gigamon's Security Ecosystem Partners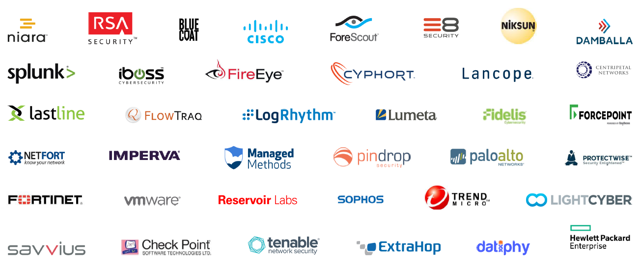 (Source for Ecosystem Partners)
Operating in an industry positioned for immense growth and displaying a strong history of success led by renewed management; I believe Gigamon deserves a higher valuation at a target price of $47. I am long Gigamon.
Where There Is Still Growth
Gigamon's revenue is represented by two business segments, products and services, representing 69% and 31% of revenue respectively. Broken down by geography, the majority of revenue comes from the United States with 74% of revenue. The remaining represents Gigamon's growing international presence in the EMEA, Asia Pacific and Rest of Americas, responsible for 14%, 7%, and 5% of revenue respectively.
A six-year revenue CAGR of 39% is highlighted, derived by revenue growth from $31 million in 2009 to $222 million in 2015. Gigamon's ability to grow at an impressive rate illustrates the attractiveness and effectiveness of their solutions, reiterating their leadership position in the market.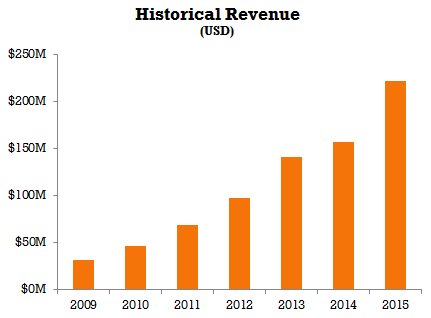 Evident from the graph above, revenue in 2014 only illustrates a y/y growth rate of 12% due a large transaction cancelled by an EMEA customer along with several other transactions falling through. Due to these revenue shortfalls, Gigamon has brought in new leadership and since 2014, demonstrated significant improvement with 2015 revenues growing by 41%.
I value management as one of the most important components of a company as they are the ones who drive the company's direction. Having revamped leadership and realizing a substantial return on that change, this further supports my bullish perspective on Gigamon.
Industry Outlook
Looking at forecasts of the Network Visibility market, classified under Software-Defined Wide Area Network by IDC the market is expected to exceed $6 billion in 2020 - a CAGR of over 90% from 2015-2020. There are a couple key factors that fuel the expansion in this market: user growth in the cloud, mobile computing, Internet-of-Things, rising cyberattacks, faster broadband speed, and traffic growth.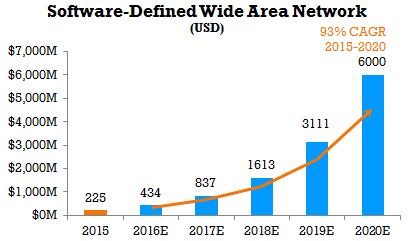 High-profile data breaches are demonstrations that even the largest companies are vulnerable and have been victims. Anthem, Home Depot, Linkedin, Sony, and Target are examples of companies whom have had millions of records compromised. These data breaches result in catastrophic financial damage as well as a drop in consumer confidence, pressing companies to increase security measures. Global DDoS attacks are forecasted to grow from 6.6 million in 2015 to 17 million by 2020 (Cisco) on top of this growing threat.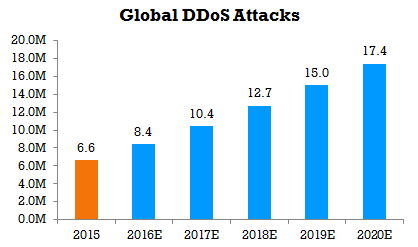 With transitions to the cloud, increased bandwidth is required to accommodate business-critical application workloads. This translates to a shift in the Ethernet Adapter Market as shown below (Crehan). Gartner forecasts the number of connected devices to reach 20.8 billion in 2020. Faster connectivity and a massive increase of devices will ultimately add to global IP traffic.
Together with the cloud, faster broadband speed, increasing number of devices, and growth of internet users, this creates exponentially more global IP traffic. Global IP Traffic in 2015 generated roughly 72.5 exabytes per month and is expected to nearly triple to 194.4 exabytes per month (Cisco).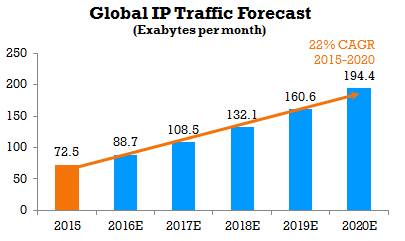 A rapid growth in traffic makes it harder for organizations to identify threats, thus creating blind spots in security. With the evolution of technology, the security infrastructure of today leaves organizations vulnerable. New innovative solutions are needed to fortify security. "Gigamon provides active visibility into physical and virtual network traffic, enabling stronger security and superior performance. Gigamon's Visibility Fabric™ and GigaSECURE®, the industry's first Security Delivery Platform, deliver advanced intelligence so that security, network and application performance management solutions in enterprise, government and service provider networks operate more efficiently and effectively."
Valuation
On Jun. 12, 2013 Gigamon IPO'd at $19/share and hit an all-time high in Sept. 9 2013 at $40.30/share as it unveiled its visibility-as-a-service. After plunging to all-time lows of $10.15 in Oct. 10, 2014, Gigamon trades today at $39.78 as of July 14, 2016.

What lead Gigamon to being valued so highly just 3 months after its IPO? Strong Q2 results? Deal flow from tool vendors? Traffic Visibility solutions becoming a standard in IT Infrastructure? They all have influenced Gigamon's valuation but at the present share price of $39.78, the stock is being traded at the same levels as three years ago.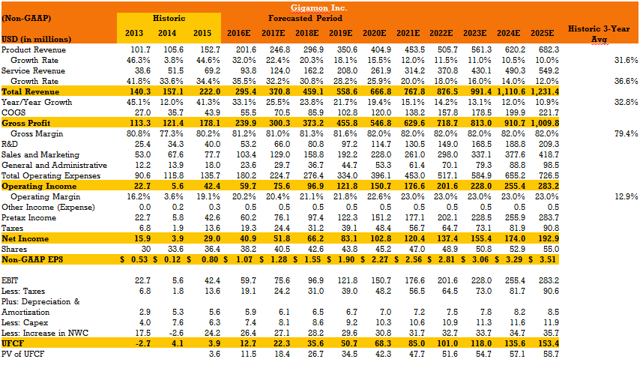 With an established leadership position and expansion of their product portfolio since 2013, Gigamon's share price has only recovered to highs of 2013. While investors may have viewed $40 as overvalued in 2013, looking at the improvement since then, I believe it is now undervalued at $40. A discounted cash flow analysis was used to calculate the intrinsic value of the company. Using analyst consensus for the first two years, a conservative growth rate was used onwards despite strong industry trends and Gigamon's track record of command strong growth. Beyond 2020, an extremely conservative growth rate was used which I believe will be exceeded. Forecasted gross margins, operating expenses, and tax rates were taken from Gigamon's Q1 2016 conference call. A 10-year forecast was used to provide a rough picture of the company's financial future. Based on conservative growth rates, I would not be surprised if the share price exceeds my target price as Gigamon demonstrates continued growth over time.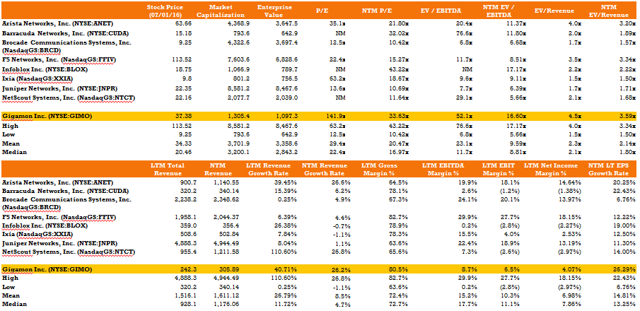 (Source: CapitalIQ)
Gigamon is valued at a premium when compared with its competitors based on trading multiples, P/E and EV/EBITDA. This is justified given the size of the comparables, measured by market capitalization ($10B and under) and Gigamon's growth potential. Viewed on a NTM P/E and EV/EBITDA multiple, Gigamon starts to become more attractive in comparison with competitors as it grows revenues and earnings. Gigamon's NTM EPS growth rate stands the highest above all with growth of 26.29%.
With a six-year revenue CAGR of 39% and a sustained gross margin over 80%, this presents an attractive opportunity to capture Gigamon at a discount. Gigamon commands the second highest LTM revenue growth rate (40.71%) and gross margin (80.5%) among competitors with medians of 11.72% and 72.7% respectively.
Conclusion
Gigamon's current price of $39.78 indicates a significant discount to a target price of $47.00, implying a 17.6% return. A target price of $47.00 was achieved through a blended DCF analysis using the Gordon Growth and Multiples Method.
Gigamon is the leader in Network Visibility and is positioned in an industry for immense growth. They have demonstrated a strong historical performance with a growing global presence. Gigamon's management and focus on innovation brings confidence to their future growth which is why I am long Gigamon.
Long: Gigamon Inc. (NYSE: ) | Price: $39.78 (07/14/2016) | Price Target: $47.00 | Total Return: 18.15%
For additional information, please find my PDF report here.
Disclosure: I am/we are long GIMO.
I wrote this article myself, and it expresses my own opinions. I am not receiving compensation for it (other than from Seeking Alpha). I have no business relationship with any company whose stock is mentioned in this article.