Tuesday night, Yieldco Terraform Global (GLBL) released the first financial information available to shareholders since September 2015. It was a presentation with Supplemental Information Requested by Bondholders, and contains much of interest to shareholders as well. The presentation contains warnings that it is "preliminary and unaudited. Financial information may change materially as a result of the completion of the audit for fiscal year 2015," but it's a world better than the nothing we had before.
The company also announced that they are in active discussions with the Yieldco's bankrupt parent SunEdison (SUNEQ) about a "jointly-supported" sales process for SunEdison's stake in GLBL.
What Is GLBL Worth?
Using the data from the presentation, I will attempt two methods of per-share valuation for GLBL, which is trading at $3.60 as I write. The first will be based on the company's assets, and would be the valuation which would be most important in the sale of the company in whole or part. The second will be based on cash flow available for distribution (NASDAQ:CAFD), which should produce an estimate of future potential dividends. Combined with some appropriate market yield, that can be used to arrive at a fair share price.
Asset Based Valuation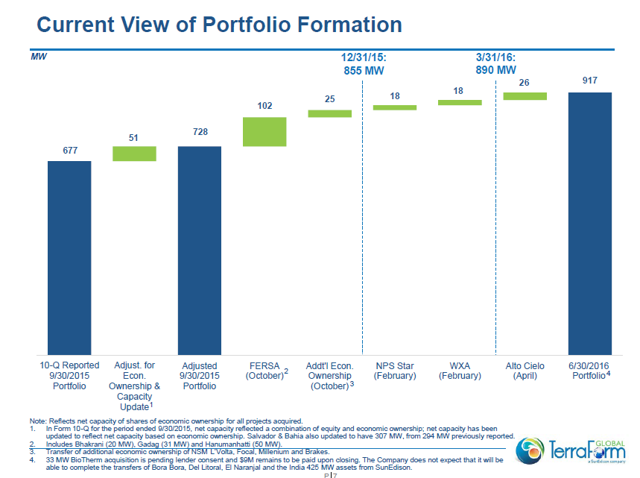 As you can see from the following chart, Terraform Global owned 917 MW of solar as of June 30th. I will use that date for all other numbers in this calculation. Slide 11 says that the company had $769M of unrestricted cash. The company had spent approximately $130M on bond repurchases and debt extinguishment since 9/30/2015, but drew on a short term revolver, bringing total debt to $1.23 Billion. Net debt after deducting cash was $461 million.
To get an idea of what this is worth, untroubled solar Yieldco 8point3 Energy Partners (CAFD) has an Enterprise Value (EV, calculated as Debt + Equity- Cash) of $672M for a 525 MW portfolio, or $1.28 per Watt. Wind Yieldco Pattern Energy Group (PEGI) has an EV of $3.53 billion for 2,554 MW, for an EV of $1.38 per Watt.
If we value Terraform Global's wind and solar farms at $1.10/W, that gives us an EV of $1,009M. Equity is EV minus net debt, or $548 million. At $1.28/W, EV is $794 million.
There are 116 million class A shares and 61 million class B shares. Class B shares are currently owned by SunEdison and do not earn a dividend unless the class A shares receive a minimum quarterly distribution of $0.275 for at least three years, and any shortfall must be made up for the class A shares before class B shares receive any distributions at all. SunEdison has also agreed to pay interest support payments (which will probably not be paid now that SunEdison is in bankruptcy. Dividends on B shares can also be withheld to make up for missed interest support payments. The remaining interest support payments total $140 million through the end of 2020, with $80 million due either this year or next. Combining this with the subordination of dividends on B shares to those of A shares, these combined commitments amount to a transfer of value from the B share class to the A share class of (very roughly) $200 million. Thanks to Aurelien Windenberger for the details on the interest support payments.
With these assumptions, I calculate the following values per share of each class:
| | | | | | |
| --- | --- | --- | --- | --- | --- |
| $/W | Total Equity | A share Equity (millions) | B Share Equity (millions) | $/A share | $/B Share |
| $1.10 | $548 | $490 | $58 | $4.22 | $0.95 |
| $1.20 | $639 | $550 | $89 | $4.74 | $1.46 |
| $1.30 | $731 | $610 | $121 | $5.26 | $1.98 |
CAFD valuation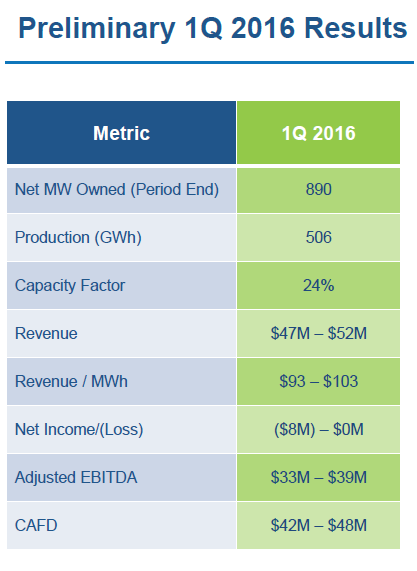 As the above figure shows, Terraform Global earned between $42M and $48M of CAFD in the first quarter. $41 million of this was an interest support payment from SunEdison. These support payments are unlikely to continue, but GLBL has enough cash to pay off all but $461 million of its debt, or 37% of the total.
Terraform Global could increase CAFD by acquiring more renewable energy with this money, or by paying down debt. The more conservative method would be paying down debt, and I will assume that higher interest rate debt could be paid off first. In this case, GLBL could reduce the debt payments by what I will guess would be about $15 million a quarter, assuming interest and principal payments of 8% per year.
That would give a quarterly CAFD of $16 to $23 million. With this lower CAFD, class B shares would not be entitled to dividends for many years, so all dividends would be paid to A share holders. Assuming an 85% payout ratio, we get a quarterly dividend of $0.12 to $0.17.
Here is what that translates to at various dividend yields:
| | | |
| --- | --- | --- |
| Yield | Share price with $0.12 dividend | Share price for $0.17 dividend |
| 8% | $6.00 | $8.50 |
| 10% | $4.80 | $6.80 |
| 12% | $4.00 | $5.67 |
Conclusion
Obviously there is significant uncertainty in these valuations, not least because all the numbers are preliminary and my numerous estimates. We also do not know when Terraform Global might start to pay a dividend again, or if the company would pay the second quarter dividend (which has not yet been paid) in arrears.
Even with all that uncertainty, my calculations leave me confident that Terraform Global's value is over $4.00/share, 11% above the current price. At the upper end, Terraform Global should be worth $8.50 if it resumes its dividend, and starts being valued at a yield closer to that of normal Yieldcos. (CAFD currently yields 5.1% and PEGI yields 6.6%, so even my most optimistic 8% yield target can be considered conservative.)
Any recovery of money owed to Terraform Global by SunEdison would just increase these valuations.
Supporting Documents
Disclosure: I am/we are long GLBL, CAFD, PEGI.
I wrote this article myself, and it expresses my own opinions. I am not receiving compensation for it (other than from Seeking Alpha). I have no business relationship with any company whose stock is mentioned in this article.
Additional disclosure: Tom Konrad manages and invests in The Green Global equity Income Portfolio, which owns GLBL, PEGI and CAFD.
Editor's Note: This article covers one or more stocks trading at less than $1 per share and/or with less than a $100 million market cap. Please be aware of the risks associated with these stocks.