The generally dismal Q3 concall went pretty much to script. I expected poor results generally in line with its Q2 guidance and I also expected to hear weak Q4 guidance. The reasons for this were two. First, Micron's (NASDAQ:MU) transition to 20nm DRAM and 3D NAND left the company in the position of having too much unqualified product and that meant it was stuck with low-margin to no margin sales on the spot market. There are a number of important downstream ramifications of that but I don't want to dwell on them right now because it's the second reason that I want to get to.
That reason? I felt there would be an overwhelming motivation for the company to low-ball Q4 guidance. In my opinion, Maddock and Durcan did just that, going out of their way (despite analysts' repeated challenges regarding pricing assumptions) to decline to make an optimistic estimate about the DRAM and NAND pricing arcs throughout Q4. Here's a typical exchange between Romit Shah of Nomura (currently a Micron bull) and, in this case, Durcan:
Romit Shah: "Yes. Thanks Mark. You mentioned that channel pricing has improved. At what point would you start to see that show up in contract and in some of your other businesses, because it looks like just based on the guidance for August that you are not expecting the overall pricing environment better relative to May?"

Mark Durcan: "Well, it's a very dynamic environment. So, again, we want to make sure we are giving you what we believe is realistic guidance and guidance that is achievable. And we are going to have to see what plays out in the markets over time. When contract - when spot pricing starts moving, that's a great indicator of where the markets might go, but what has to happen obviously is there has to be enough liquidity in the market that can carry through into larger volume quarters associated with the contract market. And inventory has to burn off. And we are seeing good indications of those types of things, but we need to make sure the pudding is fully baked before we serve it." - Mark Durcan - SA Transcripts Q3 concall
So here is an analyst practically begging Durcan to take a more optimistic view of DRAM pricing during Q4 and (surprise!) Durcan refuses to don the rose-colored glasses. Nope. That glass we're looking at is half empty, my friend. That's my opinion and I'm sticking to it.
So why is this worth talking about? Just this: Micron desperately needs a solid beat and raise to get any action in the stock P/E expectations. Could its Q4 guidance have given it a real opportunity to surprise us? I dug into this question and what I found surprised and, I must say, dismayed me and I really don't know what to think about it. My simple question turned out to be one that is not simple at all.
Herein is the rest of the story. It starts with this quote from the concall.
"We are forecasting - we are still forecasting Micron's fiscal year 2016 and 2017 DRAM bit growth in the 28% (sic) to 30% range. We achieved 22% bit growth in fiscal Q3 and expect even stronger bit growth in Q4." Mark Durcan - SA Transcripts Q3 concall
Now on the one hand Durcan is not saying anything new here. He has been forecasting for at least the last year that Micron's overall DRAM bit growth would exceed the industry's growth number. He has been using various numbers but all have centered on the mid-20 percent range. I was a little surprised by the fairly tight range (28%-30%) he stated above, so much so that I called Micron IR to get confirmation that they are standing by that statement. Turns out they are not. According to Liz Morali of Micron they are and I quote:
"Our forecast is for a 2-year CAGR of 20% to 30% DRAM bit growth from FY15 to FY17" - email from Liz Morali - Micron IR
Fair enough. Let's go with that. So ok, here we go - we've got the set up for a significant Q4 beat. Take your largest revenue contributor - DRAM was 60% of revenue in Q3 - and increase (or at the very least hold steady) the average selling price in that segment and then increase production while reducing costs. Let's do the math. I think you'll find it interesting. Let's start with Ernie's guidance slide: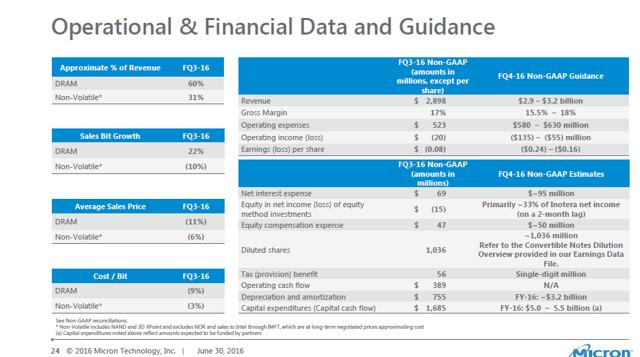 So remember now my goal is to ferret out the possible magnitude of a Q4 beat? To do that I need to get a notion of the possible Q4 bit increase. Could it be 30%? That would be a strong boost over the 22% number for Q3 and a good match for Durcan's rhetoric. All I need to do now is find out the comparable numbers for Q1 and Q2. Turns out the QoQ bit growth number for Q2 was -9%. Hmm, Micron is forecasting 20% DRAM growth at the low end and Q2 was -9%? This seems challenging, to say the least. Digging a little deeper, I took a look at Micron's reported QoQ DRAM growth number for the last two years, and here are the numbers that Micron reported:
| | | | |
| --- | --- | --- | --- |
| | 2015 DRAM Bit Growth | 2016 DRAM Bit Growth | Target 20% -30% |
| Q1 | 8% | Q1 | 2% |
| Q2 | -9% | Q2 | -9% |
| Q3 | -2% | Q3 | 22% |
| Q4 | -1% | Q4 | |
| Total 2015 | -1% | YTD 2016 | 5% |
So, in 2015, Micron's quarterly bit production actually decreased. This makes perfect sense due to the 20nm conversion disruptions that the company was dealing with, and it also makes sense that the first two quarters of FY 2016 were very slow as well. Finally, Micron's production momentum turns positive in Q3 and that's good but 20% (minimum!) for 2016? Let's work the math. To make this a little more concrete, let's use an arbitrary number as the amount of bits that Micron produces. That number we'll assume will be 1,000 Gb for Q4 2014. Here's how the math plays out over the course of two years, including sufficient Q4 2016 production to reach the low end of Durcan's projection.
| | | | | | |
| --- | --- | --- | --- | --- | --- |
| 2015 DRAM Bit Growth | Assumed Q4 2014 DRAM Gb | 1000 | 2016 DRAM Bit Growth | 20% | 4775 |
| Q1 | 8% | 1080 | Q1 | 2% | 973 |
| Q2 | -9% | 983 | Q2 | -9% | 885 |
| Q3 | -2% | 963 | Q3 | 22% | 1080 |
| Q4 | -1% | 954 | Q4 | 70% | 1836 |
| Total 2015 | -1% | 3979 | Total 2016 | 21% | 4773 |
70%?!!! To reach the low end of Durcan's forecast? To put it mildly, I was surprised by this number. So many questions come to mind. First off, is Micron even capable of raising bit output this much in a single quarter? Granted, it is bringing 20nm in and replacing some 30nm and mostly 25nm processes, but the data I have seen does not lend itself to believing that the switch to 20nm alone will provide much more than 30% more bits over the process generation it is replacing. Russ Fischer, in an SA article he published in late 2014, is on record estimating that the 30nm to 20nm shrink would generate possibly 40% more bits per die but that of course is no where near the 70% QoQ bit increase that Micron needs to make Durcan's forecast accurate. Here is one quote I have found on the issue:
"Thinner 20nm manufacturing process allows DRAM makers to produce 30 percent more memory dies on a single 300mm wafer than the previous 25nm technology." - KitGuru, March 21, 2015
So is that level of production increase impossible? Let's give Micron the benefit of the doubt and factor in a big increase in overall Fab productivity bringing machines back online that were down because of the transition. Let's assume it can do it. Now is when the questions really get hairy.
Let's take this one step further and assume that DRAM prices stay firm throughout Q4. What does this imply for the revenue delta in DRAM? Doing the math, since DRAM was 60% of Q3's $2.9B in revenue that means DRAM sales in Q2 were $1.739. The 70% additional bits would therefore be $1.22B for a total imputed Q4 DRAM revenue of $2.96B. What is going on here? I really am at a loss at how to explain this. There are so many questions that leap to mind and so few answers that arise in response.
How does the 70% QoQ DRAM growth number square with Micron's $2.9B to $3.2B revenue forecast? Is Micron assuming that the bulk of these extra bits are going into inventory? Does Micron's forecast envision a dramatic and ruinous drop in DRAM prices? The information we got on the concall would lead us to neither conclusion.
Reconciling the bottom line is easier to do. If D&A guidance falls in the mid-range, we are looking at an extra $185M of D&A expense alone for Q4. Assuming DRAM gross margins are in the 15% range, then the additional D&A expense alone would neutralize the $182.6B of gross margin earned from the DRAM revenue windfall. And it could be worse. If DRAM prices resume their fall, it is possible that all of the expected DRAM cost gains could be overtaken and DRAM gross margins could fall farther, even with the expected 5% or so of DRAM cost savings.
It's time to conclude this piece but I am struggling with what to say. What are we investors to make of this? I wish I knew. Is it possible that Micron is on the cusp of a gigantic revenue and earnings beat in Q4? If DRAM prices stay steady at the current levels, possibly so. If we are to believe Ernie's slides though, this flood of DRAM bits won't be coming to market but will be banked in inventory, or if they do sell, it will be at crushing price levels. I have a very hard time envisioning any help from the NAND side even as the 3D bit flood really comes on because of the delays caused by qualifying the new product. If Micron is going to spring a positive surprise in Q4, it has to come from DRAM, but is that glass half full or is it totally smashed? I wish I knew.
I look forward to hearing your insights and comments.
Disclosure: I am/we are long MU.
I wrote this article myself, and it expresses my own opinions. I am not receiving compensation for it (other than from Seeking Alpha). I have no business relationship with any company whose stock is mentioned in this article.
Additional disclosure: I have a very small position in Micron - equities - no options