U.S. Treasury bonds might be the most hated asset in the marketplace. It seems everywhere I turn, I am confronted with a new argument of why not to own U.S. Treasury bonds, particularly 30-year zero coupon bonds. Yet even as we have heard about how horrible Treasury bonds have been, 25+ year zero coupon Treasury bonds, as measured by the Vanguard Extended Duration Treasury ETF (NYSEARCA:EDV), have returned investors 135.59% over the past 8 ½ years (2008-present), beating even the S&P 500's return of 68.12% over the same period. However, as we all know, past performance is no indication of future returns, so what is the prospect for 30-year zero coupon US Treasury bonds going forward? While I have no crystal ball, I do believe that we can analyze the global economic environment we are operating in, and make an educated prediction of what may happen with long-term bond yields.

Macroeconomic Analysis
For decades, fiscal policy makers have kicked the can down the road, waiting for another generation of citizens to actually deal with the challenges they created. There was always more road to kick the can down, making it easy for nations to live beyond their means, assuming that future growth would produce the revenue needed to cover the budget shortfall. Today, we have reached the end of the road, there is simply no more time to spend enjoying the free ride, and allowing the citizens of the future to deal with the bill. Today, challenges ranging from climate change, equity of economic opportunity, immigration and demographic changes, debt, employment, and many other challenges are all converging on this time in history, and our response will most surely result in a very different world from the one we inhabit today.
Growth Remains Weak Globally
Even before the BREXIT vote that shook financial markets, economic data had been weakening. In Japan, the economy is expected to slow even further due to weakness in China and business spending which remains weak. In the Eurozone, there is no telling what effect BREXIT will have. Current Eurozone inflation is sitting at an anemic 0.1%. U.K. inflation has continued to run at 0.3%. Many believe BREXIT will lead to a U.K. recession by 2017. This economic weakness has pushed monetary policy to extremes, offering extraordinary accommodation to markets in desperate need of assistance. Throughout much of the developed world rates on government bonds have been pushed to ultra-low yields, in many cases even negative yields. Currently, the world has over $11.7 trillion in government debt trading at negative yields. The desperation of investors to secure their capital, even willing to pay a fee to do so has pushed bond yields to extreme lows in much of the developed world, which only adds to the case for the U.S. Treasury bond.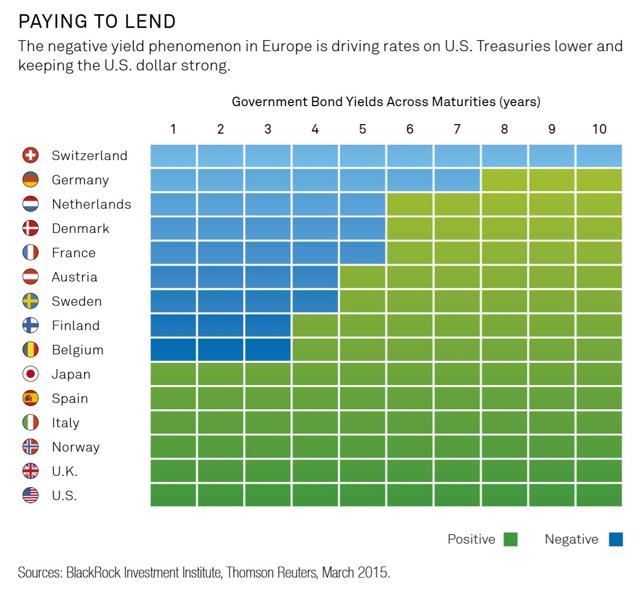 Domestic Economic data is deteriorating
Many in the U.S. believe that we will see an imminent rise in interest rates, as employment has found its way below 5%. While this view has since subsided after BREXIT, there is still the belief that we are closer than we are further away from the Fed's next rate rise. However, domestic economic data has continued to disappoint, especially on the inflation front. This morning (June 29th), the Bureau for Economic Analysis reported that the PCE rate was 0.93%, down from the previous month's 1.09%, revised to 1.07%. We continue to run well below the Fed's target as the chart below indicates.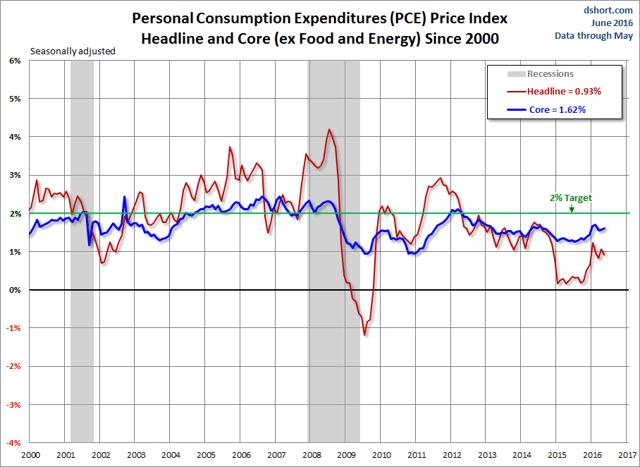 Many question just why we are not able to attain the 2% target level of inflation. The reality remains that the U.S. is running a GDP gap, this is the difference between potential GDP and Actual GDP. The current gap is the result of a lack of economic activity in the real economy, even as the Fed has been engaged in a $4 trillion experiment to artificially stimulate economic activity. Velocity, which is the rate at which money flows through the economy, remains at a low not seen for 60 years. The lack of velocity is putting downward pressure on inflation, causing a disinflationary condition at best, and the beginning of a deflationary environment at worst. We know from academic research that GDP= MV where M= the money supply, and V= the rate of velocity. The challenge for the U.S. market is that the rate of velocity is continuing to decline moving estimates for GDP growth lower and lower.

Debt is restraining growth
There are many that have spoken of the coming tsunami of debt burdens. This was a clear leading topic of the Republican primary debate cycle. While many like to minimize this issue, few accurately understand how advancing levels of debt restrain the dynamics which stimulate growth. There are two differing contexts I would like to discuss here, governments and households.
There has been a plethora of research done on the effect of aggregate debt (combining both public and private debt) and GDP growth rates. The overwhelming consensus of this research continues to conclude that the increasing levels of debt from both governments and households continue to restrain GDP growth rates across the developed world.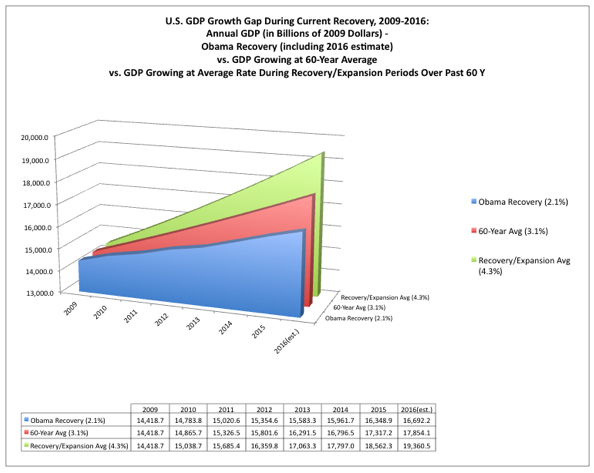 An article in the Wall Street Journal entitled, "Number of the Week: World Debt Load at 313% of GDP", examined a study conducted by the global financial services organization ING. In it they state:
"In a comprehensive report on global indebtedness, economists at ING found that debt in developed economies amounted to $157 trillion, or 376% of GDP. Emerging-market debt totaled $66.3 trillion at the end of last year, or 224% of GDP. The $223.3 trillion in total global debt includes public-sector debt of $55.7 trillion, financial-sector debt of $75.3 trillion and household or corporate debt of $92.3 trillion… Per-capita indebtedness is still just $11,621 in emerging economies (and rises to $12,808 if you exclude the two largest populations, China and India). For developed economies, it's $170,401. The U.S. alone has total per-capita indebtedness of $176,833, including all public and private debt."
These vast levels of debt are at least one reason why the U.S. specifically, and the western world more generally are having a difficult time achieving historical norms of GDP growth levels.
Valuations remain elevated for equities
While many contend that bonds are expensive, I would reject that claim and turn investors to the zero coupon 30 year U.S. Treasury bond. In case you are not familiar, the zero coupon bond is purchased at a huge discount to par value, and does not pay periodic interest payments out to the investor. Instead, the interest you would have received compounds and is paid out at maturity with the principal. While I am not suggesting investors buy and hold these securities to maturity, necessarily, I thought a quick primer for those who do not understand them was appropriate.
Currently, equities range from being fairly valued to overvalued depending upon whom you ask on Wall Street. Given the vast risks in the global economy, and the valuation of the equity markets, 30-year zero coupon U.S. Treasury bonds are attractively valued at current levels.
Zeros combine an attractive structure for long-term tax advantaged investors, with a negatively correlated asset, which allows your portfolio to run more smoothly. Every portfolio needs an offensive and defensive strategy to achieve your long-term investment objective. I am personally a proponent of Warren Buffett's value-based investing for the majority of my equity holdings, and holding zero coupon U.S. Treasury bonds for the defensive side of the portfolio. If you study the total return potential for these assets, you will discover a negatively correlated portfolio that increases the chances for an investor to win the game of investing.
While many continue to degrade U.S. Treasury bonds as unnecessary, I continue to believe that they are an essential part of a long-term portfolio strategy. Given the risks in the global economy, and their valuation compared to other sovereign debt, U.S. Treasury bonds remain attractive in a world of economic uncertainty.
Disclosure: I am/we are long 30 YEAR ZERO COUPON US TREASURY SECURITIES.
I wrote this article myself, and it expresses my own opinions. I am not receiving compensation for it (other than from Seeking Alpha). I have no business relationship with any company whose stock is mentioned in this article.
Additional disclosure: This article is for informational purposes only and is not an offer to buy or sell any security. It is not intended to be financial advice, and it is not financial advice. Before acting on any information contained herein, be sure to consult your own financial advisor.