On Thursday, you're going to hear a lot about what the ECB did or, more likely, didn't do.
It's the first meeting since the Brexit vote and that means all eyes will be on the Draghi presser as every trader on the planet turns on their dove-o-meter to measure the former Goldmanite's perceived willingness to pull the trigger on more easing.
I want to share with you some excellent commentary from Bloomberg's Richard Breslow that I also posted elsewhere on Wednesday morning:
Tomorrow we get the latest installment of ECB President Draghi's whatever it takes drama. Virtually no one expects changes to any of the top-line numbers. Some have even described this meeting as a non-event. This misses the point.

His task will be to make sure investors are crystal clear that the central bank will remain furiously at work in the markets to achieve their ever elusive mandate. All without scaring everyone about how bad it really is

The question of will they do more is moot. They are doing more, constantly. And there are no signs of an end in sight. Only that it will get more extreme. No surprises, just sheer relentlessness.

This week, it was revealed that their newly instituted purchases of corporate debt has been aggressive, to put it mildly. Bloomberg calculates that they've so far bought 440 individual securities of as many as 170 companies. It looks like they've skirted pretty close to the edge of the requirement of only buying investment grade securities. Split ratings, anyone?
If you caught my latest, you got a good chuckle out of what I can only assume was an inadvertent joke by Deutsche Bank at Mario Draghi's expense. Essentially, the bank likened the bond market (NYSEARCA:LQD) to a bunch of overpriced BMWs just as the ECB revealed that of all the companies from which it's purchased EUR bonds (NYSEARCA:FXE), BMW (BAMXY) ranks near the top of the list in terms of the number of issues purchased.
I think what gets lost these days when discussing central bank accommodation is just how silly the whole enterprise has become. There's a palpable sense of "central bank news fatigue" out there. Everyone knows it's absurd and it feels like the vast majority of investors are content to leave it at that. They've no desire to hear how much more irresponsible monetary policymakers are getting.
The problem with the ostrich, head-in-the sand approach is that it allows the madness to continue indefinitely. No one besides the banks and a few hedge fund managers are even paying attention, let alone have a real understanding of what's going on, so the global PhD economist cabal is free to expand the experiment indefinitely. The guinea pig is you, but fortunately for the Mario Draghis of the world, you don't know it and even if you do, you long ago ceased to care about the details. Well, let me give you some of the details.
Here are some screen grabs from the Excel sheet that documents each and every corporate bond the ECB has purchased thus far (incidentally, if you want it shoot me a message and I'll send it to you):




So yeah, they're buying beer, beamers, and benzes - quite literally.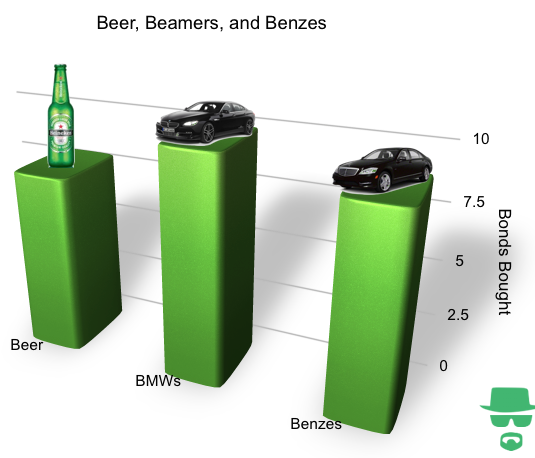 Should that concern you? Well, probably. For one thing, they're just subsidizing the German industrial complex. They bought a bunch of Volkswagen (OTCPK:VLKAY) bonds too.
If buying government debt and pushing down rates was an indirect subsidy (i.e. it pushed investors into corporate credit thus reducing borrowing costs), this amounts to direct aid. Have a look at the country-by-country breakdown: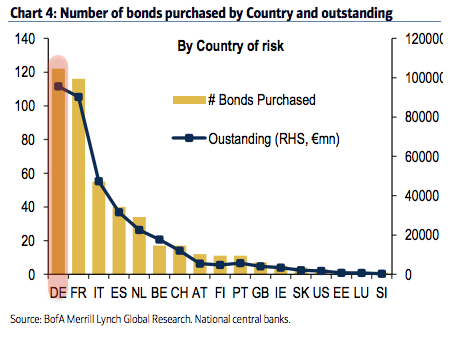 (Chart: BofAML)
Obviously, that has to do with the program's parameters, but there's a lot of moral hazard involved when you start buying up all the debt of companies that form the backbone of the EU's most important economy.
Moreover, its not clear that the ECB is exercising a whole lot of discretion from a quality perspective. Here, have a look: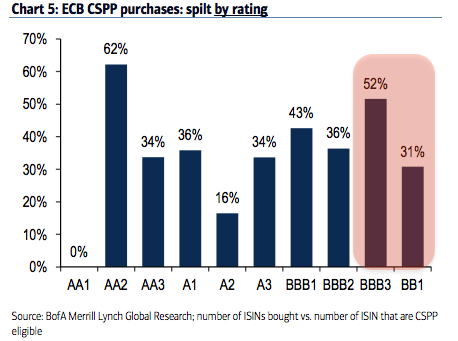 (Chart: BofAML)
It's one thing to say "ok, we bought all the best stuff we can buy, so let's move down the quality latter." They did it the other way around! They started with the worst credits!
There's not a cliche in the financial lexicon that's more tired than "this won't end well," but let me just say... "this won't end well."
Tune in to the Draghi presser on Thursday for what's sure to be a lively Q&A. Let me close with a message from S&P, who was out on Wednesday warning that the kind of policies described above are going to lead to an "inevitable" correction the ratings agency is calling "Crexit":
Central banks remain in thrall to the idea that credit-fueled growth is healthy for the global economy. In fact, our research highlights that monetary policy easing has thus far contributed to increased financial risk, with the growth of corporate borrowing far outpacing that of the global economy.
Disclosure: I/we have no positions in any stocks mentioned, and no plans to initiate any positions within the next 72 hours.
I wrote this article myself, and it expresses my own opinions. I am not receiving compensation for it (other than from Seeking Alpha). I have no business relationship with any company whose stock is mentioned in this article.