Cal-Maine Foods, Inc. (NASDAQ: CALM) is now trading at $40.88. With an EPS of $6.53, that puts the trailing P/E at 6.30. Forward P/E of CALM stands at 21.41.
Going by traditional P/E valuation matrix, the trailing P/E is heavily undervalued, whereas the forward P/E is heavily overvalued. I would normally place more emphasis and trust on trailing P/E because it is calculated using historical figures - basically, the numbers are derived with solid evidence backing it. Whereas, forward P/E is calculated using a forecast of future earnings. Forecasting is an art, therefore, there is always a possibility that the forecast can be misleading. One example of which is explained in my article on Manchester United FC (NYSE: MANU), a stock which has a huge contrasting trailing and forward P/E as well.
For CALM, I would like to place my trust on forward P/E (I have never imagined myself saying that) over trailing P/E. This is due to the special circumstances that CALM went through the previous fiscal year.
Chicken Flu
The reason for the low trailing P/E is due to the huge increase in EPS from fiscal 2015 to fiscal 2016 - from $3.33 to $6.53, an increase of 96% in 1 year. CALM is a company that is growing at a fast rate; at 12.19% from fiscal 2009 to fiscal 2015 (I discounted fiscal 2016's growth on purpose.).
The huge jump in earnings is mathematically possible; however, for the largest egg distributor of USA to grow 96% in 1 year sounds pretty implausible.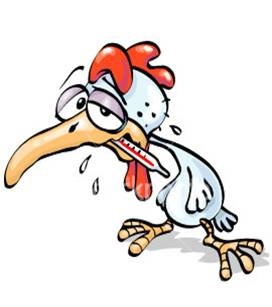 The reason for the increase is actually very simple and straightforward; supply and demand. Basically, last year, the chickens caught flu.
H5N1, also known as avian influenza or avian flu (not chicken flu), is a transmittable virus from avian (birds) to humans.
Last year, many chickens were slaughtered due to avian flu resulting in a reduction in the supply of eggs in the USA. When this happen, the supply and demand equilibrium for eggs (if any) is distorted.
Egg prices of CALM are decided according to the Urner Barry Spot Egg Market Quotations. This following shows the CALM's average selling price for eggs across the 4 quarters of fiscal 2016 and fiscal 2015.
Industry-wide, the demand for eggs is seasonal. Demand is low during summer and high during fall and winter. For CALM, demand is usually low during its 1st and 4th quarter, and demand is usually high during its 2nd and 3rd quarter. Although uncommon, the cycle has resulted in CALM making losses in the 1st and 4th quarter in the past.
Luck
The price of eggs is normally the lowest during the 1st quarter, increasing in the 2nd and 3rd quarter before decreasing again in the 4th quarter due to supply and demand cycle.
However, last year, the chickens fell sick. The regulators came in and went on a killing spree. Supply of eggs dropped so much that prices during 1st quarter was pushed up to a 10-year record high of $2.97. Although the prices reduced across 4 quarters, hitting a decade low of $1.152 in the 4th quarter, the average selling price throughout the year is $1.79 per dozen eggs, a $0.26 per dozen eggs increase from $1.53 per dozen eggs in fiscal 2015.
It was through pure luck that the unfortunate event of avian flu resulted in an increase in income for CALM.
Trailing P/E and Forward P/E
Avian flu doesn't come every year, and it is best if they do not come every year. Therefore, the huge 96% EPS growth is an unnatural growth, and is most likely a one-off event. This combination may well repeat itself, although it is beyond anybody's reasonable ability to predict its occurrence.
Given that trailing P/E is tagged to the latest announced EPS, and given the circumstance that the fiscal 2016 EPS of CALM was obtained, I believed that in this scenario, the trailing P/E is more misleading than forward P/E.
Any valuation for future profits should discount the returns of fiscal 2016 as a one-off.
No doubt that CALM is a brilliant company and this article should not discredit the accomplishment of the company. However, this article is about the contrasting P/E ratios and not an analysis of CALM.
Disclosure: I/we have no positions in any stocks mentioned, and no plans to initiate any positions within the next 72 hours.
I wrote this article myself, and it expresses my own opinions. I am not receiving compensation for it (other than from Seeking Alpha). I have no business relationship with any company whose stock is mentioned in this article.