Gold investors are hearing various explanations why gold seems softer currently and why it might depreciate in value in the future. However, there's really just one reason gold was down sharply on Wednesday, and why it has been relatively weak this week.
I believe the reason for gold's relative weakness through the first half of this week has been clear. The European Central Bank (ECB) meets on Thursday, and there is some speculation within the currency markets about what the central bank might do or what it might imply it will do to support the eurozone economy post Brexit.
Further monetary stimulus for the eurozone threatens to weaken its currency versus the U.S. dollar. If the ECB goes a step further with its extraordinary easing measures, the dollar must climb against the euro currency. And that is exactly what it has been doing this week in anticipation of the meeting.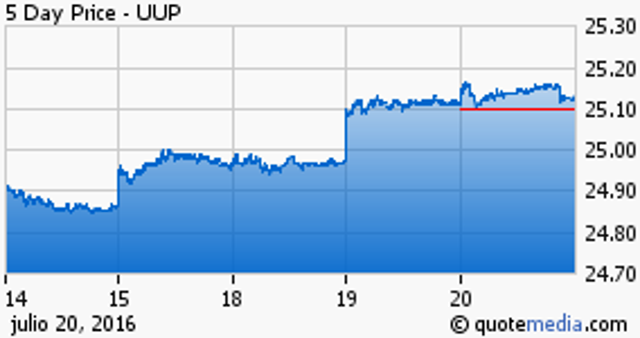 5-Day Chart of UUP at Seeking Alpha
The PowerShares DB US Dollar Bull ETF (NYSE: UUP) tracks the U.S. Dollar Index. As you can see, the dollar has been on the rise over the last few days. In times like today, if the dollar is on the rise, gold prices will be on the decline, holding the factor in isolation. As you can see in the table here, the entire gold and silver complex is under heavy selling pressure.
Precious Metal Securities

07-20-16

3:00 PM

SPDR Gold Trust ETF (NYSE: GLD)

-1.1%

iShares Silver Trust ETF (NYSE: SLV)

-2.1%

Direxion Daily Gold Miners Index Bull 3X Shares ETF (NYSE: NUGT)

-15%

Direxion Daily Gold Miners Index Bear 3X Shares ETF (NYSE: DUST)

+16%

VanEck Vectors Gold Miners ETF (NYSE: GDX)

-5.1%

VanEck Vectors Junior Gold Miners ETF (NYSE: GDXJ)

-6.5%

Goldcorp (NYSE: GG)

-5.0%

Newmont Mining (NYSE: NEM)

-4.9%

Randgold Resources (NASDAQ: GOLD)

-3.1%

Barrick Gold (NYSE: ABX)

-6.3%

Yamana Gold (NYSE: AUY)

-6.6%

Gold Fields Ltd. (NYSE: GFI)

-4.8%

Silver Wheaton (NYSE: SLW)

-3.0%

Coeur Mining (NYSE: CDE)

-8.0%
Gold has built a fan base this year, and has enjoyed some strength of late on the perception of a Fed on hold, so gold has not moved quite perfectly in concert with the dollar this week. However, today, it did make an adjustment for tomorrow's ECB event risk.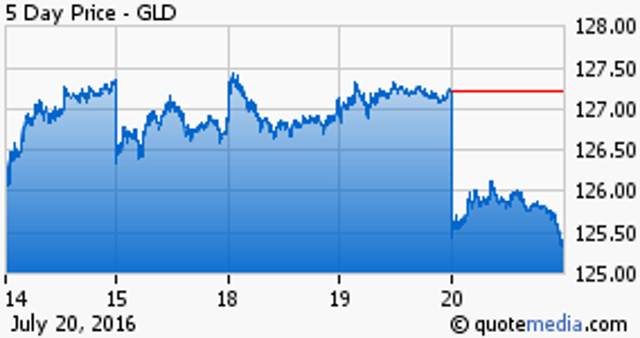 5-Day Chart of GLD at Seeking Alpha
The SPDR Gold Trust tracks the price of gold, and it was down 1.1% as of 2:45 PM EDT. Other gold related issues, including the ETF measuring miners, the VanEck Vectors Gold Miners ETF was down 5.0%. Gold miners are a levered investment on the price of gold, and the Direxion Daily Gold Miners Index Bull 3X Shares ETF does that one step better; it was off 15% as I scribbled here on Wednesday afternoon.
Fortunately for gold investors, the ECB is not really expected to do more tomorrow than to say it might do more in the future. Such a result is likely to remove support built up for the dollar, especially given market expectations for no action for the U.S. Fed next week. Thus, pressure against gold should ease on the actual news versus the rumor's effect today.
You can count on me to provide you with factor explanation around gold no matter what its price implications. In fact, despite my currently pessimistic view on gold, I just told you that I think Thursday's ECB meeting could very well relieve the pressure and allow gold to recover a bit. Though, I think that recovery will be very temporary in nature nonetheless. I suggest gold relative investors stay close to my column, as I expect my next report on gold will be controversial, important and prescient.
Disclosure: I/we have no positions in any stocks mentioned, and no plans to initiate any positions within the next 72 hours.
I wrote this article myself, and it expresses my own opinions. I am not receiving compensation for it (other than from Seeking Alpha). I have no business relationship with any company whose stock is mentioned in this article.