Owens Corning (NYSE:OC) is considered by a significant number of dividend investors to be a potential play on the recovering US housing market. While this market faces significant headwinds, with millennial buyers waiting to buy houses until later in life, the residential housing market is healthy. Many investors watch the new housing starts release as an indicator of foreign exchange trading and a fundamental indicator for other securities that have a stake in the US consumer market. Here, I will present a case for a strategy to be more confident in buying into this market with Owens Corning by watching the Housing Market Index as a supplement to the New Housing Start release.
Below, I present a graph, produced by Owens Corning, which confirms that more than a third of Owens Corning revenue comes from residential new builds in the US and Canada.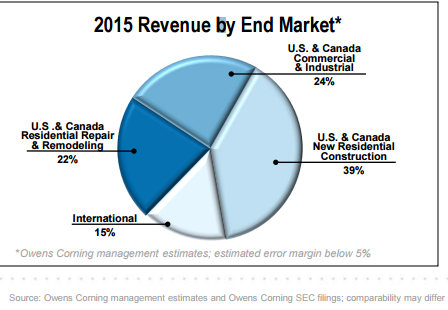 As mentioned, the Housing Market Index includes three major factors, rating of current sales, future sales (six months) and prospective buyer traffic. These are based on survey results among the National Association of Home Builders. These results also are seasonally adjusted and can be organized by region, though since this article is focused on Owens Corning, which does business across the US, I will only be looking nationally for a broader scope of the company's environment.
The Housing Market Index provides a good supplement to New Housing Starts simply because it provides a view into the consumer as opposed to the producer. Below, the graph prepared by the NAHB shows how the Housing Market Index tracks the New Housing Starts, often as a leading indicator. This leading indicator aspect exists because the residential building industry reacts to demand.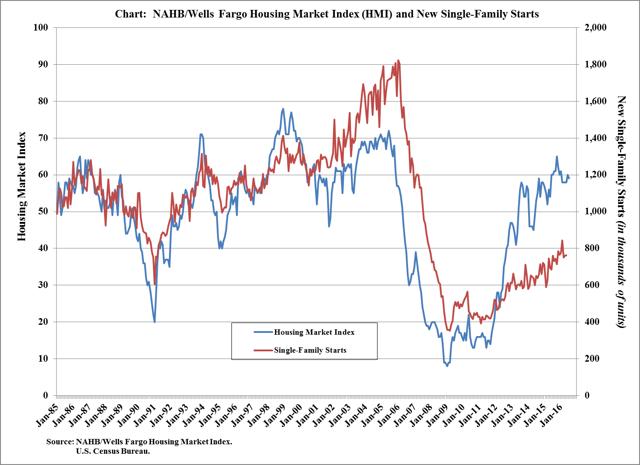 Source: NAHB/ Wells Fargo Housing Market Index
Below I have presented the table produced by the NAHB which displays the final numbers of the Housing Market Index and its components. Analysts expected July's number for the Housing Market index to be slightly higher, 60 instead of 59. I'm of the opinion that this miss is what caused the OC's stock to significantly dip approximately 1% in subsequent day's trading despite positive housing start numbers being released. US housing starts month-over-month beat analyst estimates slightly, 1.189 against 1.17 estimated, according to FX Pro. Despite this positive move, OC shares dropped. Given that a significant portion of Owens Corning revenue is generated by housing starts, it would stand to reason that there is another factor which has negative effects greater than that of this standard indicator.
Table 1. NAHB/Wells Fargo National and Regional Housing Market Index (HMI)

NATIONAL

(Seasonally Adjusted)

2015

2016

Jul

Aug

Sep

Oct

Nov

Dec

Jan

Feb

Mar

Apr

May

Jun

Jul

Revised

Prelim.

Housing Market Index

60

61

61

65

62

60

61

58

58

58

58

60

59

Housing Market Index Components

Single Family Sales: Present

65

66

67

70

67

65

68

65

65

63

63

64

63

Single Family Sales: Next 6 Months

70

70

68

75

69

66

64

64

61

62

65

69

66

Traffic of Prospective Buyers

43

45

47

47

48

46

44

39

43

44

44

46

45
Because of the apparent effect that this indicator has, either indirectly or directly, on the daily trading of this stock, I believe that this index can provide a mechanism to signal upcoming market fluctuations and uncertainty, as well as short-term buying opportunities when this index falls slightly short of estimates.
Disclosure: I/we have no positions in any stocks mentioned, and no plans to initiate any positions within the next 72 hours.
I wrote this article myself, and it expresses my own opinions. I am not receiving compensation for it (other than from Seeking Alpha). I have no business relationship with any company whose stock is mentioned in this article.