(Image: U.S. Silica Holdings)
Important note: This article is not an investment recommendation and should not to be relied upon when making investment decisions - investors should conduct their own comprehensive research. Please read the disclaimer at the end of this article.
The acquisition by U.S. Silica Holdings (NYSE:SLCA) of NBR Sand, an operator of a 2-million-tons-per-year sand mine and processing plant located in Tyler, Texas, puts an end to the speculation with regard to a potential "transformative" acquisition by the company, with Emerge Energy Services (NYSE:EMES) and Hi-Crush Partners (NYSE:HCLP) having been frequently quoted as the likely strategic merger candidates. To expand its footprint, U.S. Silica is pursuing smaller transactions.
In the acquisition, U.S. Silica is paying $210 million, consisting of cash (57%) and restricted stock (43%) for a favorably positioned, high-quality facility. While the acquisition is priced at a premium to the replacement cost, based on my estimate, it is "accretive" on production/firm value and capacity/firm value bases. The equity component of the consideration reduces the financial risk to U.S. Silica and preserves the dry powder for additional consolidating transactions.
While the acquisition is subject to regulatory and other approvals, antitrust review is unlikely to create an obstacle in this situation, in my opinion.
Strategic Mergers Are Unlikely
In my previous note, I argued that a strategic acquisition by U.S. Silica of any of the top five U.S. frac sand producers, including Emerge Energy Services, Hi-Crush Partners or Fairmount Santrol (NYSE:FMSA), is highly unlikely for anti-trust reasons in spite of almost certain exploratory merger discussions entertained by key industry participants and intrigue-creating public comments by some of them. Specifically, I wrote few months ago:
The pro forma [for the equity offering] cash on U.S. Silica's balance sheet, ~$0.5 billion, exceeds the combined market capitalization of Hi-Crush and Emerge Energy Services. I would argue, however, that a takeover by U.S. Silica of either Hi-Crush Partners or Emerge Energy Services is no sure thing, despite the persistent rumors that have circulated in the industry for some time.

The most important reason is that neither Hi-Crush nor Emerge may be for sale as their general partners may be unwilling to sell out at the bottom of the cycle whereas the lenders may be willing to continue to support their clients through difficult times. The risk of antitrust objections is another important consideration. U.S. Silica has proudly reported that its market share has increased to ~18% of the frac sand market. Given that Fairmount Santrol's market share is approximately the same and Hi-Crush and Emerge Energy Services account for more than 20% of the market on a combined basis, the concentration in the frac sand industry is currently quite high. As a result, a consolidating transaction among any of these four companies would inevitably be closely scrutinized by regulators.
The acquisition of NBR Sand by U.S. Silica confirms and reinforces the thesis. Following this significant acquisition, U.S. Silica's market share increases, making a merger with a large rival even less likely.
The Acquisition
NBR Sand is a regional frac sand producer, servicing customers in the Eagle Ford, East Texas and Haynesville areas and capacity to produce approximately 2 million tons of fine-grade frac sand per year (currently produces 40/70 Mesh and 100 Mesh frac sand). In 2015, production volumes from the facility were 0.74 million tons. The processing plant, which began operation in 2009, includes 12 storage silos with capacity of more than 10,000 tons and five load-out lanes. The property has been in operation for more than 20 years. U.S. Silica characterized the NBR Sand as a "low-cost, state-of-the-art facility."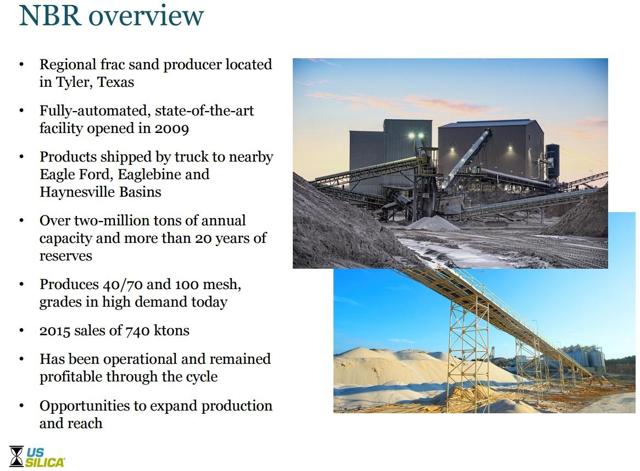 (Source: U.S. Silica Holdings, July 2016)
The acquisition provides leverage to a recovery in both natural gas and oil. I estimate incremental frac sand demand from the Haynesville Shale play alone to exceed 1 million tons of sand in 2017 in the event natural gas prices hit $3.50 per MMBtu.
In Conclusion…
I estimate that pro forma for the acquisition of NBR Sand, U.S. Silica will have over $150 million in cash that can be used for additional consolidating transactions without stressing the balance sheet. As I have argued previously, being a consolidator in the industry is a necessity for U.S. Silica and a tool for the company to offset margin weakness with increased market share and consolidation synergies.
Additional opportunities are likely to present themselves as the market environment for frac sand remains very weak. The current trough is likely to extend into the second half of this year, putting even more stress on operators with high financial leverage. U.S. Silica remains one of the few (possibly, the only one) consolidators in the industry, as most of its rivals continue to struggle financially. The company's strong position in logistics, distribution and customer relationships provides it with leverage to acquire and integrate additional upstream assets.
That said, the NBR Sand transaction clearly illustrates that capturing high-quality facilities and reserves at below-replacement cost may be unrealistic even during the worst of the downturns. High-quality assets require a premium.
Overall, I view the acquisition as a positive for the stock. I argued in my previous note that a smart tactical acquisition would be greeted warmly by the market, which indeed is the case. I expect U.S. Silica to undertake another equity offering this year and pursue additional small-scale acquisitions.
Oil price remains the greatest challenge for the stock. Similar to its peers, U.S. Silica heavily depends on oil-directed drilling activity. With oil prices continuing to languish below $50 per barrel, the negative trend in margins and volumes will likely persist, and the stock price at its current ~$37 per share level may be vulnerable to a correction.
For in-depth data and analysis of commodity fundamentals, please consider subscribing to Zeits OIL ANALYTICS that provides analysis of the crude oil and natural markets.
Disclaimer: Opinions expressed herein by the author are not an investment recommendation and are not meant to be relied upon in investment decisions. The author is not acting in an investment, tax, legal or any other advisory capacity. This is not an investment research report. The author's opinions expressed herein address only select aspects of potential investment in securities of the companies mentioned and cannot be a substitute for comprehensive investment analysis. Any analysis presented herein is illustrative in nature, limited in scope, based on an incomplete set of information, and has limitations to its accuracy. The author recommends that potential and existing investors conduct thorough investment research of their own, including detailed review of the companies' SEC filings, and consult a qualified investment advisor. The information upon which this material is based was obtained from sources believed to be reliable, but has not been independently verified. Therefore, the author cannot guarantee its accuracy. Any opinions or estimates constitute the author's best judgment as of the date of publication, and are subject to change without notice. The author explicitly disclaims any liability that may arise from the use of this material.
Disclosure: I/we have no positions in any stocks mentioned, and no plans to initiate any positions within the next 72 hours.
I wrote this article myself, and it expresses my own opinions. I am not receiving compensation for it (other than from Seeking Alpha). I have no business relationship with any company whose stock is mentioned in this article.