If Nintendo (OTCPK:NTDOY) wanted to catch up with mobile gaming after its long-time hesitation in one big bang, its second smartphone game (after Miitomo) has surely done the job. Pokémon Go has taken the world by storm, and is a perfect example of Nintendo's expertise in creating memorable game experiences based around beloved IP and unique platform features. In its latest title, Nintendo has produced a perfect blend of Pokémon's popular role-play gaming and modern AR, location-based, and social features allowed by the smartphone. But in what I find to be the most interesting twist, despite releasing the game on a 3rd-party platform, the company has also found a way to add its traditional hardware touch to enhance gameplay and drive additional revenue. Nintendo will be selling an accompanying wearable, the Pokémon Go Plus, which connects to your smartphone or tablet and allows you to play the game even if your phone is in your pocket. Polygon has the details:
The Plus lets you know when you're near a PokéStop, the specially marked locations on the game's map that come with items, Pokémon eggs and, if you're lucky, Pokémon to catch. The peripheral will vibrate when you've approached a PokéStop in the real world. The Pokémon Go Plus [also] allows you to catch Pokémon without taking out your phone. If a Pokémon is nearby, the device will light up. At that point, you can throw a Poké Ball, just by using the device.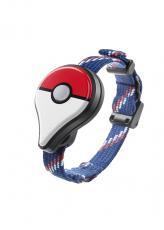 Image source: Nintendo
The $35 wearable is expected to be a big seller, with initial pre-orders already being sold out, and current ebay (NASDAQ:EBAY) listings for the device attracting bids of over $100. J.P. Morgan analyst Haruka Mori then estimates that Nintendo could sell up to 50 million units bringing in $1.8B in revenue. In such a case, the company would quite shake up the wearables market and become one of its dominant players along with Fitbit (NYSE:FIT) and Apple (NASDAQ:AAPL).
The wearables category is another winner
The Pokémon Go Plus is a win not just for Nintendo, but also for the whole wearables category, driving awareness and interest, showcasing wearables' value proposition, and attracting new followers to the market.
Awareness and interest. Wearables still represent a relatively small market in the early stages of its life cycle. According to IDC, total wearables shipments in 1Q 2016 were just 20M units, compared to 335M smartphone units sold in the same quarter. Every product which can attract consumers to the wearables category, be it the Apple Watch, Fitbit health and fitness trackers, or the Pokémon Go Plus, plays an important role in creating consumer awareness and driving interest in the new market. The power of the Pokémon IP, Nintendo's strong brand awareness, and the company's distribution channels outside of the traditional wearables outlets is a positive for the category.
Value proposition. We are at a stage when consumers are still learning about the role and value proposition of wearables. In fact, many analysts still don't understand how wearables can add value, and significantly underestimate the category. The Pokémon Go Plus showcases wearables' benefits related to self-expression (you can identify yourself as a Pokémon fan and even remove the device's strap and wear the Go Plus on your lapel as a badge), convenience (receive notifications), and new experiences (catch a Pokémon on the go without taking out your smartphone). Every new wearable with appealing use cases can help educate the market about the benefits of the category.
Attracting followers. Many developers are sure to capitalize on the success of Pokémon Go and introduce their own take on the AR/location-based gaming. As the majority of app developers have no experience with designing and selling hardware, we will see a new breed of accompanying smartwatch apps which will make use of existing wearables to enhance the smartphone gameplay and keep up the player's interest. This kind of wearable gaming then may remind you of Sony's (NYSE:SNE) PocketStation for the original PlayStation (recently revived as an app for the Japanese users of PlayStation Vita), albeit in a more convenient and connected form.
Investor takeaway
Nintendo's success with the Pokémon Go is not an accident, but a result of the company's long-time understanding of the interplay between IP and hardware. This theme is further expanded upon with the Pokémon Go Plus wearable which is set to be not just a win for Nintendo but also beneficial for the whole wearables market.
As an experienced hardware maker, Nintendo should further increase its presence in the wearables category and develop its own smartwatch to enhance the gaming experiences found in its console, handheld, and smartphone titles, and at the same time offer additional utility which would integrate the device into consumers' lives and prevent other, more versatile products to replace it on the wrist. In the meantime, the best-positioned wearable product to capitalize on the next wave of location-based gaming is the Apple Watch (argued by Neil Cybart to already be a $10B business) with its versatility, sharp and rectangular display, and integration with iOS as the premium destination for latest games and apps.
Regarding Nintendo stock, I will wait for more information about the company's plans for creating and monetizing new game experiences across its whole IP portfolio, while avoiding buying at the current spike.
Author's Note: If you have enjoyed reading my article and found its content valuable, please take five seconds to follow me by clicking the "Follow" button next to my name at the top of the page.
Disclosure: I/we have no positions in any stocks mentioned, and no plans to initiate any positions within the next 72 hours.
I wrote this article myself, and it expresses my own opinions. I am not receiving compensation for it (other than from Seeking Alpha). I have no business relationship with any company whose stock is mentioned in this article.
Additional disclosure: This is no recommendation to buy or sell securities as that carries with it very high risks. The information contained in this article is for informational purposes only and subject to change at any time. Do your own due diligence and consult with a licensed professional before making any investment decision.
Editor's Note: This article discusses one or more securities that do not trade on a major U.S. exchange. Please be aware of the risks associated with these stocks.