Waste Connections (NYSE:WCN) completed its reverse merger with Progressive Waste Solutions (BIN) on June 1, 2016. As a result, WCN is now dual listed in New York and Toronto. My buy recommendation is driven by an expected quick integration of BIN into the WCN operational structure, supported by what I view as industry-leading management.
Above-average growth at WCN:
Waste volumes are typically correlated with GDP and population growth. Factors like economic growth in the US, construction spending, US housing starts and improved pricing have led to GDP growth leading to better fundamentals for the waste sector. WCN has outperformed both Waste Management (NYSE:WM) and Republic Services (NYSE:RSG) delivering higher organic growth. Further the company has continued its ability to pursue bolt-on acquisitions to bolster its organic growth.
A good macro environment is likely to drive waste volumes:
US construction spending: Construction and demolition (C&D) waste is generally linked to industrial production. Looking at non-residential and public spending, these continue to show a high level of resiliency. Housing starts: US housing starts continue to show an upward trend in 2016. Though growth rates in new house construction in the US is smaller than the market expectation, it continues to show an upward trend. This is a good leading indicator for residential waste creation. US GDP growth: US GDP growth remains weak but it is still experiencing an upward trend. Improving economic conditions are a good tailwind for construction and demolition waste.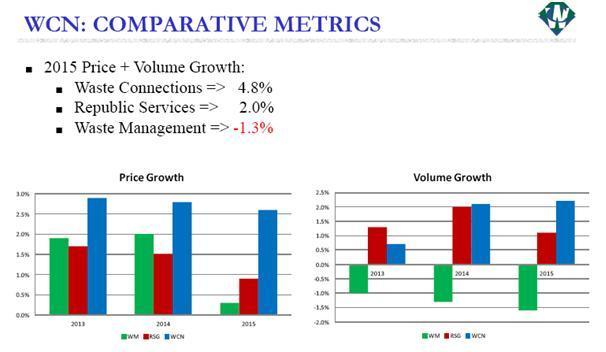 Source: Company financials
WCN has got the best-in-class metrics history:
I think the market sees the reverse merger of WCN and BIN highly favorable for the combined entity. Looking back historically, WCN's margins, FCF conversion, ROC and organic growth rate have been above or near the level of top waste operators. The more diversified nature of the combined entity (both geographically and end-market exposure) will further bolster the ability of being the top operator.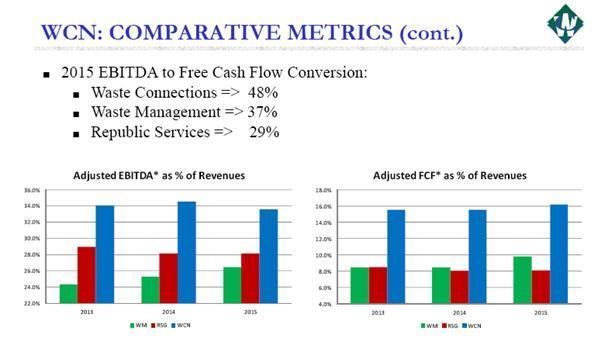 Source: Company financials
M&A fuelling the FCF story:
WCN's continued focus on acquisitions has helped the company grow its free cash flows. I think the company sought more deals in 2015 than in the past 10 years although it stayed disciplined with the valuation. The company expects ~4% incremental revenue growth in FY16 through acquisitions, which will further drive growth for the next few years once integrated. For instance the acquisition of Shamrock Disposal in 3Q 15 will help the company grow for the next three to five years.
WCN expects an average of $125mn in acquired revenues/year and increase in free cash flows. The company also has recently increased its dividend by 11.5% and plans to repurchase 2% to 3% of shares per year going forward. WCN, being a smaller company in size, has been growing rapidly free cash flow 0 nearly ~10% in the last decade similar to big operators such as WM and RSG which have grown 5% to 7%.
WCN trades at premium multiples:
WCN trades at 1 to 2-point premium to its closest peers, WM and RSG which I think could be justified. The first reason for WCN's higher EBITDA multiple could be its higher FCF conversion. The company's FCF as a percentage of revenue is above that of WM and RSG (please refer to exhibit above).
Secondly, WCN's earnings stream is growing at a faster clip. This above-average growth rate reflects WCN's better organic growth profile and the tailwind from the BIN synergies.
.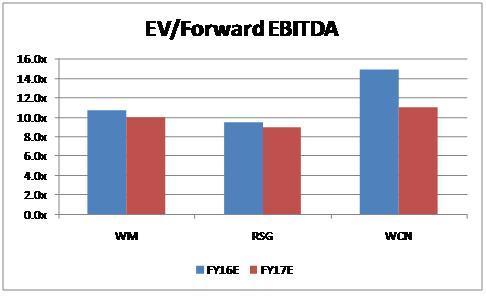 Source: Fundamental Investment estimates
Valuation:
My $84 price target is based on an applied 13x EV/EBITDA multiple on 2017 EBITDA estimate of $1.4bn. I think this provides for an attractive one-year return for investors. Owing to the company's best-in-class EBITDA growth and FCF generation, I value WCN shares at a 13x multiple, and while above the forward peer multiple at 9x, it remains in line with WCN's current forward multiple and the historical premium WCN has enjoyed.
Current Trading Price $

Mcap

PE

EV/EBITDA

Company

Ticker

in $m

FY16E

FY17E

FY16E

FY17E

Waste Management

WM US

67

29,868

23.9x

22.0x

10.7x

10.0x

Republic Services

RSG US

52

17,927

24.2x

22.1x

9.5x

9.0x

Clean Harbors

CLH US

53

3,065

na

38.5x

9.3x

7.8x

Waste Connections

WCN US

73

12,810

30.2x

23.7x

14.9x

11.0x

Average

24.1x

27.5x

9.8x

8.9x

Discount on peer average

26%

-14%

52%

23%
Source: Fundamental Investment estimates
Disclosure: I/we have no positions in any stocks mentioned, and no plans to initiate any positions within the next 72 hours.
I wrote this article myself, and it expresses my own opinions. I am not receiving compensation for it (other than from Seeking Alpha). I have no business relationship with any company whose stock is mentioned in this article.