Before the market opens on August 4, embattled oil & natural gas producer Chesapeake Energy Corporation (NYSE:CHK) will report its Q2 2016 results, and here is what investors should look out for. Chesapeake hasn't updated investors since May, after reporting relatively bullish updates during its Q1 2016 earnings release, leaving plenty of space for new information to illuminate the path the company is heading down.
Cash flow situation
As energy prices continued plummeting in the first quarter of this year, Chesapeake Energy Corporation's operating cash flow fell from $386 million in Q4 2015 to $263 million in Q1 2016. The company realized just $37.74/barrel of crude oil, $2.29/Mcf of dry natural gas, and $11.44/barrel of natural gas liquids in Q1 2016, which included hedging effects. Benchmark prices were slightly/significantly lower than that.
Considering Henry Hub jumped from under $2/Mcf in early 2016 to around $2.75 as of this writing, and WTI shot up to $45/barrel, pushing up NGLs prices as well, Chesapeake Energy's cash flow streams should have grown materially as well. The company needs to show that it can generate enough cash to at least keep its outspend tame after sharply cutting its capital expenditures and ending its dividend.
Last year, Chesapeake spent $3.6 billion on capital expenditures, as it banked on a pricing recovery happening later in the year. It didn't come, so management ended the dividend and pushed the upstream player's 2016 capex budget down to $1.3-1.8 billion, including $300 million in capitalized interest expenses. That will be targeted towards completing Chesapeake's sizeable drilled, but uncompleted, inventory.
Chesapeake Energy plans to drill 85-125 gross wells, complete 280-350 gross wells, and is aiming to turn 330-370 gross wells on-line this year. Before factoring in asset sales, its adjusted production base will decline marginally in 2016.
Managing the balance sheet
At the end of 2015, Chesapeake Energy had received $135 million from its ~$700 million in divestitures at the time. During Q1 2016, the upstream player pocketed only an additional $71 million while entering a deal to sell off 42,000 net acres in the STACK play for $470 million. By the end of the first quarter, it had entered into ~$1.2 billion worth of deals and planned on repurchasing $250 million worth of VPPs, volumetric production payments, at advantageous prices. As the company has received only $206 million of its $1.2 billion expected cash infusion, $950 million after VPP repurchases, Chesapeake should get another ~$744 million over the coming quarters.
Investors should see how much of that Chesapeake Energy was able to pocket during Q2, with all of the deals expected to close by the end of this quarter. After its cash pile shrunk down to $16 million at the end of Q1, leaving just its revolving credit line as its primary source of liquidity, shareholders (including myself) want to see the end result of its divestiture program. As Chesapeake is still aiming to raise $1.2-1.7 billion from asset sales, it's also worth watching out for any new divestitures as the company attempts to sell off assets that aren't backing its revolving credit line.
For those who haven't been following Chesapeake Energy, this company is heavily indebted. By the end of Q1 2016, it had slightly over $10 billion in long-term debt and an additional $343 million in debt maturing within a year. That doesn't look as bad when considering most of that debt is trading at a discount to par, but it will take a pricing recovery for Chesapeake to be able to pay that off in part and/or push back some of its maturities.
Beyond its roughly $1 billion in cash post-divestitures, Chesapeake Energy has its $4 billion revolving credit line that is backed by ~90% of its assets after recently changing the covenants in a very favorable way. That isn't due until 2019, and had $367 million drawn on it at the end of Q1 2016. With that liquidity, Chesapeake now has a decent chance of being able to service its $1.498 billion in 2017 maturities as of May 11. That is down from slightly over $1.6 billion at the end of Q1, implying that the company spent some of its cash/access to liquidity buying back debt at below par (including issuing out shares in return for debt reduction). Investors should see how Chesapeake's debt reduction program is going and if it repurchased/reduced any more of its debt last quarter.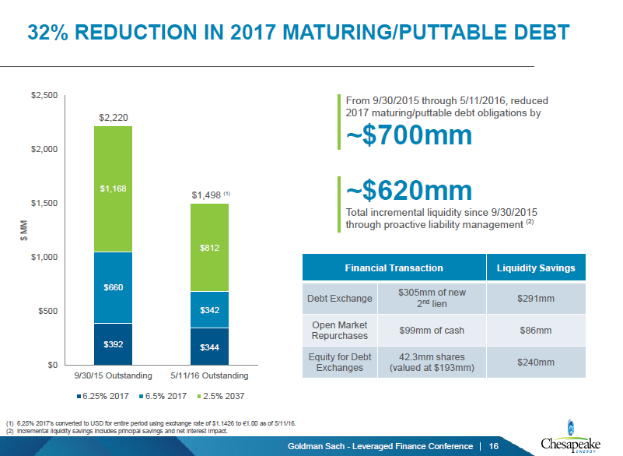 Source: Chesapeake Energy Corporation May Presentation
Midstream gains
Chesapeake Energy Corporation reduced its midstream expenditures through a series of agreements over the past several quarters as midstream players supporting the company's output recognized how distressed Chesapeake was. Minimum volume commitments, while lucrative for the midstream players, have been bleeding the company dry, as it has to keep its output at artificially high levels or risk getting slapped with midstream fines/fees. In part to keep those MVCs going, the midstream players cut the company some slack. Investors should see if Chesapeake Energy can keep up the momentum.
Operational gains
By extending the length of well laterals and engaging in more intense completion designs, the increase in well productivity generally tends to offset the additional costs. A higher estimated ultimate recovery rate is the ultimate goal, which is why the market was so obsessed with 24-hour and 30-day IP rates in the years leading up to the crash. A higher initial production rate tended to mean a higher EUR, but now management teams have adjusted and actively voice EUR guidance in most operational updates.
When Chesapeake Energy updates shareholders, ideally management will provide a material amount of operational updates alongside the extremely high chance it goes into detail on the company's financial state. Improvements at its Marcellus/Utica, Eagle Ford, Barnett, or any of its other core operations could improve its financial state by a significant margin.
Final thoughts
One of the biggest things that will materially improve Chesapeake Energy's standing is that Henry Hub has rallied from under $2/Mcf to around $2.70-2.80/Mcf, which was somewhat overclouded by rebounding crude prices. Higher natural gas prices benefits Chesapeake Energy Corporation more than plenty of its liquids-weighted peers, and over the coming quarters, the upstream player will be able to highlight that impact.
As a shareholder of Chesapeake Energy Corporation (got back in around $6/share after exiting my initial position at a very small gain by lowering my cost basis), what I'm looking for is a contained outspend and/or plans to push spending levels lower, strategic debt buybacks below par value with a focus on its 2017 maturities, additional midstream renegotiations reducing its required capex levels, continued operational gains (especially faster drilling/completion times and higher EUR rates), and any news on further divestitures.
If Chesapeake Energy Corporation can deliver on those endeavors, it has a chance to ride higher energy prices and significantly lower spending levels out of its massive debt fueled conundrum it's in now. It will be interesting to see what the company has been up to after being relatively quiet over the past couple of months.
Disclosure: I am/we are long CHK.
I wrote this article myself, and it expresses my own opinions. I am not receiving compensation for it (other than from Seeking Alpha). I have no business relationship with any company whose stock is mentioned in this article.